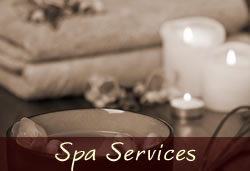 Relax to the Max! Sounds good to all of us after a long winter doesn't it? The phrase conjures up an image of white, sandy beaches, fruity drinks with umbrellas, and tropical nights. Unfortunately these aren't things you typically find in the Northeast in March. But wait! There is a spot in the heart of the Finger Lakes where you can "Relax to the Max." The Inn at Gothic Eves located right outside of Ithaca, New York and adjacent to Cayuga Lake and Taughannock Falls, may be just what you're looking for.
For many of us, the color green and the month of March just seem to go together. In that spirit, the Inn at Gothic Eves has come up with a package deal (good until March 31st) that's affordable, that's guaranteed to turn your friends "green" with envy, and that will be as much fun as a St. Patrick's Day celebration! When you sign up to take advantage of "Relax to the Max" here are just a few things you can expect:
• A one-hour massage for a single person for each night you reserve a room. If you spend two nights at the Inn, you're eligible to receive a couple's massage. Once you've checked in you can enjoy a full-body Swedish treatment. If it's been an extra hard week, you can add a deep tissue massage that concentrates on your problem areas. Massages are provided onsite by New York State licensed nationally certified masseuses who are eager to offer you their knowledge, experience, and caring touch.
• A beautifully decorated room with plenty of natural light and comfortable bedding
• One of the freshest and most flavorful breakfasts you've ever had, including Gimme!, really good local coffee
• The chance to take advantage of other relaxing activities like the outdoor wood-fired hot tub, a board game room, or the parlor, furnished with a leather sofa, recliners, and flat-screen cable television.
Those of you who have been my guests in the past know that my staff's main goal is to make sure your Finger Lakes Bed & Breakfast stay is everything you hoped it would be, and more. At The Inn at Gothic Eves we know how hard you work and how important it is for you to have a place to refresh, rejuvenate, and revitalize yourself over the weekend so you're ready to take on the challenges of the coming week. We're here to make that happen for you. Don't forget to mention "Relax to the Max" when you reserve your room to receive your special rate. It's that easy!
Innkeeper: Rose Hilbert
POB 95, 112 E. Main St.
Trumansburg, NY, 14886
info@f67.62d.myftpupload.com
www.gothiceves.com
1-800-387-7712
607-387-6033
fax 607-387-4035