Sip & Swirl at the Top Finger Lakes Wineries!
The Inn at Gothic Eves is centrally located between the two largest of the Finger Lakes, Cayuga and Seneca. Thankfully, this makes it super convenient to visit the amazing Finger Lakes wineries found along the Cayuga, Seneca, and Keuka Wine Trails right from our doorstep. Each lake offers a different range of Finger Lakes wineries to enjoy: Cayuga wines lean towards the sweet side, Seneca wines lean towards the dry side, and Keuka offers a historic look at the Finger Lakes journey into wine production. 
The majority of our overnight guests include touring and tasting at these Finger Lakes wineries on their itineraries. Lucky for us, there are wonderful local wine tour options to take the guesswork out of exploring our lovely wine region. You'll decide which Finger Lakes wine trail you'd like to focus on and then allow the experienced guides to do the rest. It's best to make these plans in advance, check out these top five Finger Lakes wine tours offering transportation and local wisdom about our Finger Lakes wineries and wine trails. 
Many of these Finger Lakes wineries have food available, either as full restaurants (Red Newt) or more casual dining. Some also have breweries (Wagner, Americana) or other attractions on site. The wineries are open year-round (just like us!) and usually only have a small tasting fee – around $5 – so it is super easy to enjoy a lot of wine. Weather permitting the majority of our Finger Lakes wineries offer beautiful outdoor seating areas with absolutely breathtaking views, so pack your scarves and sweaters to enjoy the fresh country air.
Get to Know Finger Lakes Wine Country
The Finger Lakes Wine Region is known for its white wine but if you are a red fan have no fear – we have those too! There are over 100 Finger Lakes wineries to visit, along with several breweries, cideries, and distilleries around the three lakes. The region specializes in aromatic white varieties such as Riesling and Gewurztraminer and cooler climate red varieties like Cabernet Franc and Pinot Noir. The region is provided a unique microclimate because of the lakes, which creates a longer growing season and limits early frost concerns.
The Finger Lakes AVA was established in 1982 and contains two smaller AVAs within it: The Cayuga Lake AVA and Seneca Lake AVA. Our wine region is often compared to that of German growing areas due to the similarities of the climate. So it's no surprise that our varietals are alined as well. Due to deep, rocky soils the Finger Lakes region has ideal drainage and most of our vines are planted on the steep hillsides along the lakes. Which also helps to create these spectacular viewpoints, only made better with a glass of wine in hand.
Touring and tasting at the diverse array of Finger Lakes wineries is truly a treat. The winemakers of this region are the salt of the earth, many hard focused on using renewable energy, sustainable farming practices, and organic and biodynamic methods whenever possible. We can't wait to take you on a tour of the amazing Finger Lake wineries, the only hard part is choosing where to start!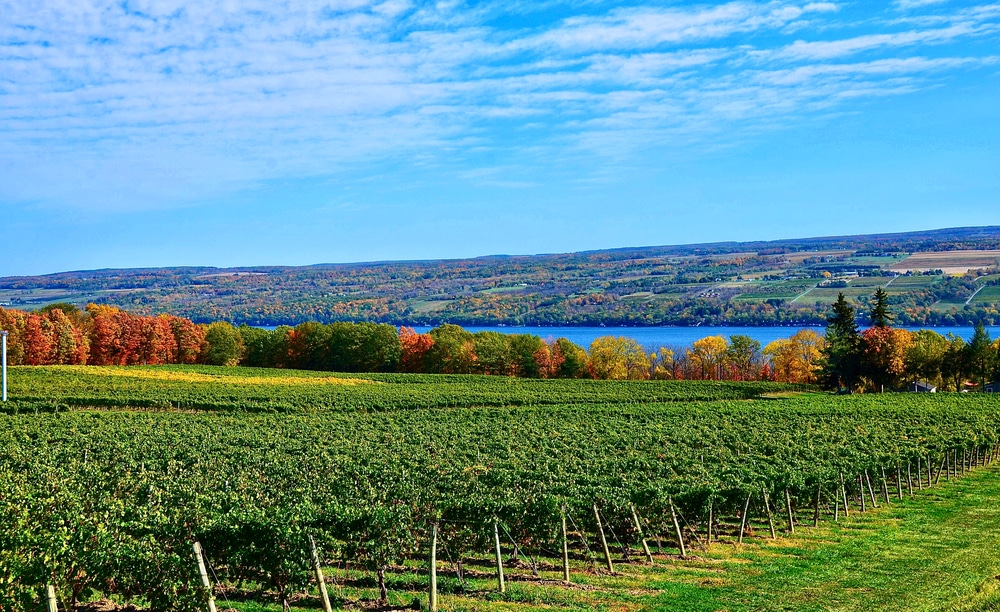 The Best Finger Lakes Wineries
Spending a day out in the countryside of Upstate New York exploring these Finger Lakes Wineries is truly an experience you won't soon forget. You'll taste some the best wine our region has to offer in one of the most beautiful places in the world. 
Here are our top 15 Finger Lakes wineries to visit any time of year:
Be sure to check websites or call ahead to these Finger Lakes wineries, as operating hours are still influx. Allow us or one of our accommodating staff to help with reservations whenever possible. 
Breweries, Cideries, & Distilleries in the Area
As you'll have your pick of Finger Lakes wineries for touring and tasting on a stay at our Bed and Breakfast, there are also a host of Finger Lakes breweries, cideries, and distilleries nearby for lovely days exploring the flavors of our region. You'll be quick to see that we're so much more than just wine! 
Here are some of our favorite Finger Lakes breweries, cideries, and distilleries to check out: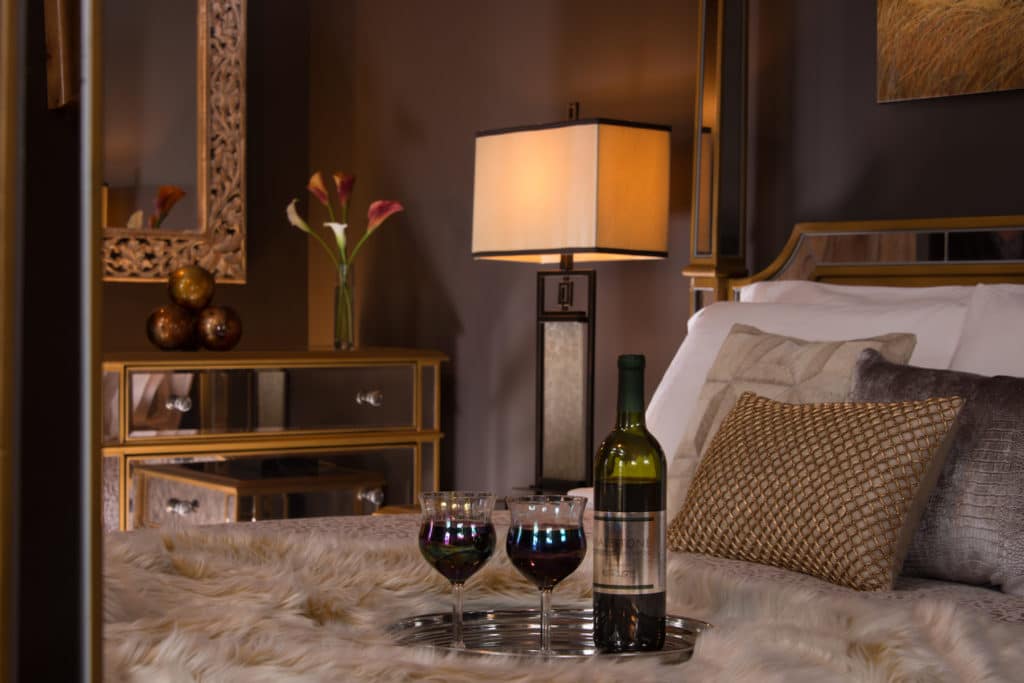 Stay at our Luxury Finger Lakes Bed and Breakfast
As a guest at the Inn at Gothic Eves, you'll be in the ideal location to explore the nearby Finger Lakes wineries, breweries, and distilleries. That is, if you feel like leaving your luxurious guest suite or our beautiful garden grounds designed for a relaxing vacation. Of course, it's always a good idea to stock up at these Finger Lakes wineries and bring a bottle back to enjoy in the privacy of your own room. Upon check-in, you'll quickly come to realize our affinity for a great glass of wine—in fact, most of our guest rooms are named after our favorite varietals. 
Our Finger Lakes Bed and Breakfast is more than just a place to stay, it's a special experience in and of itself. We offer eight unique guest suites, six are located our main house and two are tucked away in the Potter House, which is connected by a lovely patio space. In each room, you'll find fine high thread count linens, modern and stylish decor and fixtures, and all the necessary comforts for a restful stay. Made even more rejuvenating by booking a treatment (or two) at our world-class on site spa followed by a soak in our hot tub.
Each morning you'll wake here refreshed and greeted by the scents of fresh baked goods and hot coffee wafting from the kitchen below. Our gourmet farm-to-table breakfast service is the ultimate way to start your day off right. Guests of our Finger Lakes Bed and Breakfast are treated to elegant home made dishes created with nearby and seasonal ingredients—many from the local Trumansburg Farmer's Market whenever possible. We can't wait to host you! 
Check our availability and book your next amazing vacation with us today!