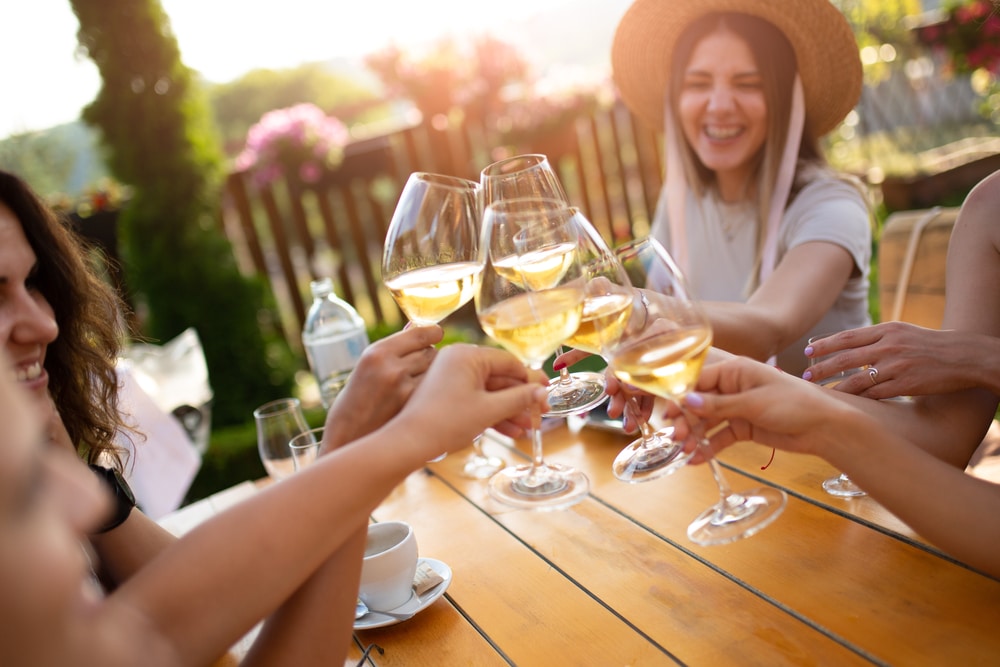 Our location in Trumansburg NY puts you in the vicinity of so many Finger Lakes wine tours right near our Bed and Breakfast. We're tucked between the Cayuga and Senenca Lakes which gives you access to the lakeside wineries peppering this area. Both bodies of water located in the Finger Lakes AVA have wine trails of their own and many local companies offer Finger Lakes wine tours for lovely day trips with transportation to each winery along the route.
You really can't beat a day out wine tasting with your special someone or a group of friends and family. This part of upstate NY is absolutely breathtaking. There's something unique about standing out looking over the rolling vineyards with the vivid blue Finger Lakes as the stunning backdrop. Heading out on one of these Finger Lakes wine tours is truly a treat and a memorable journey to discover the beauty of wine grown here.
As a guest at our Finger Lakes Bed and Breakfast, you'll notice right away of our affinity for fine wine. Each of our eight elegant guest suites are named after a favorite grape varietal and all have special touches to fully relax and reset. If you're interested in taking one of these Finger Lakes wine tours, we're happy to help you decide on which fits your desires. Allow us to help set up a reservation as well, we're always aiming to make your stay as easy as possible.
Start planning your next wine tasting adventure and book your room with us today!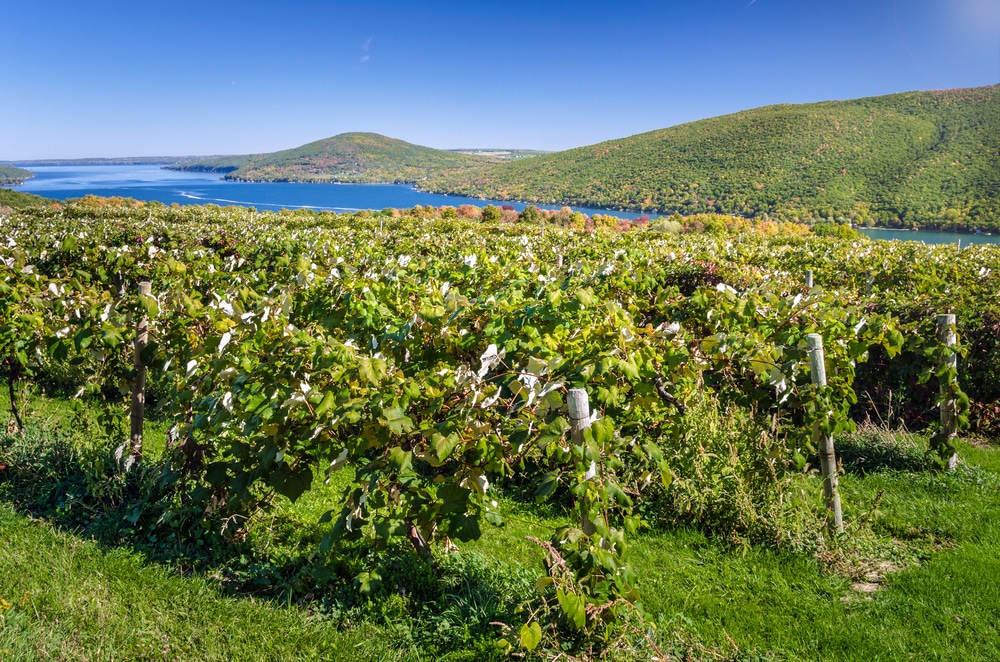 The Finger Lakes Wine Tours to Check out This Summer
The Finger Lakes AVA is diverse and is known for its cool-climate winemaking. This creates the ideal growing for riesling, creating bone-dry to honey sweet varieties. Pinot Noir, Chardonnay, and Cab Franc also do particularly well in this lakeside climate. On one of these Finger Lakes wine tours you'll not only learn a lot about the process of winemaking in this area, you'll also get to taste some absolutely amazing wines.
Here are five Finger Lakes wine tours to check out near our Bed and Breakfast:
Experience! The Finger Lakes Wine Tours:
This local Finger Lakes wine tour company offers the best of Cayuga Lake separated into the East and West side of Cayuga Lake. The West Cayuga Wine Tour will showcase wineries near our Bed and Breakfast. They offer a session earlier in the day with lunch included or an afternoon of touring. Either one of the wine tours gives you a first hand look at the wine making process, as well as tasting an amazing varieties of wine.
Another Finger Lakes wine tour with Experience! is the Cider, Wine, and Waterfalls Tour. It's a great way to check out some of the sights of Ithaca NY while enjoying the bounty of delicious beverages and beautiful scenery of the spectacular Taughannock Falls.
Finger Lakes Winery Tours:
If you'd like to choose your own adventure, this Finger Lakes family owned transportation company will take you where your heart desires. A great path is along the Seneca Lake Wine Trail, where you'll find 35 wineries to visit, which makes this the longest and most popular wine trail in the area.
Water to Wine Tours:
Instead of driving around the Cayuga Lake for a Finger Lakes wine tasting, this tour takes you on the water. You'll have a leisurely float and stop off along the shore to visit these amazing award-winning wineries. The Winetastic Cayuga Lake Boat Tour lasts about 5 to 6 hours and includes snacks, coupons for bottles of wine, and incredible views.
Captain Jim's Wine Cruises:
Climb aboard at Dean's Cove Boat Launch for a day of cruising Cayuga lake, stops at three wineries, and lunch at a local bistro. Captain Jim's Wine Cruise is a lovely way to take in the beautiful landscape and explore the lake in style.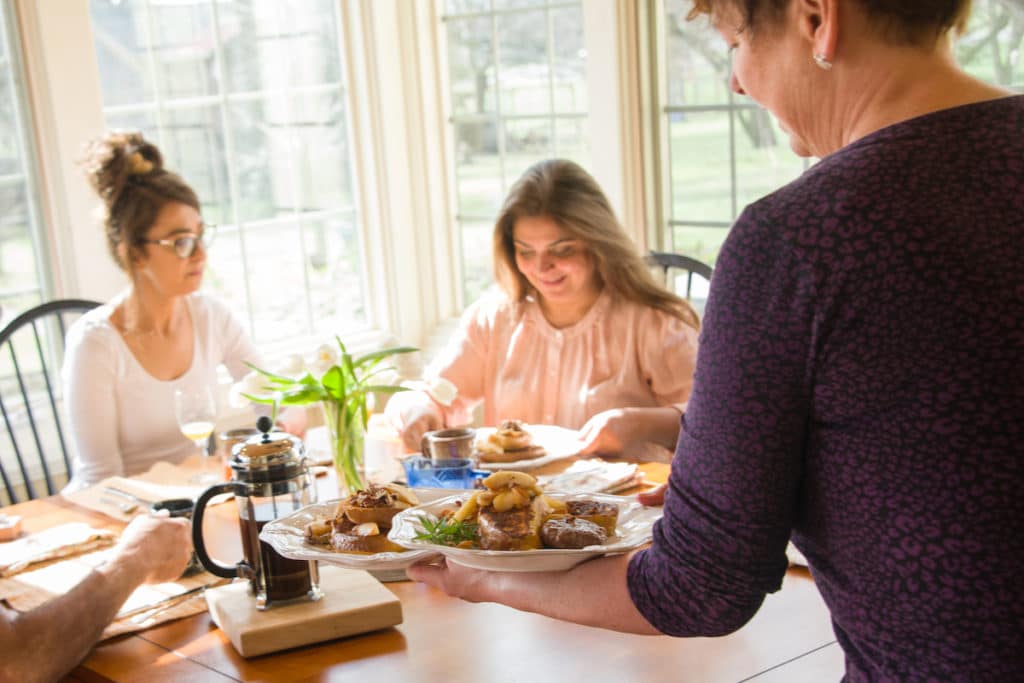 Indulge in our Bountiful Breakfast at our Finger Lakes B&B
Heading out on one of these special Finger Lake wine tours is a perfect way to spend a day with friends, family, or for a romantic outing. We always recommend joining us for breakfast before leaving for any adventure. You'll find that our thoughtfully prepared and seasonally driven menu is the best way to start your day. The coffee is always fresh and baked goods are served warm.
It's the small luxuries that often set apart a good vacation from a great one, and we at the Inn at Gothic Eves strive to make those tiny details perfect. From a bountiful breakfast, comfortable linens, our garden grounds, and amazing day spa, you'll find only the best here at our Finger Lakes Bed and Breakfast. We can't wait to host you. Join us this summer and book your stay today!