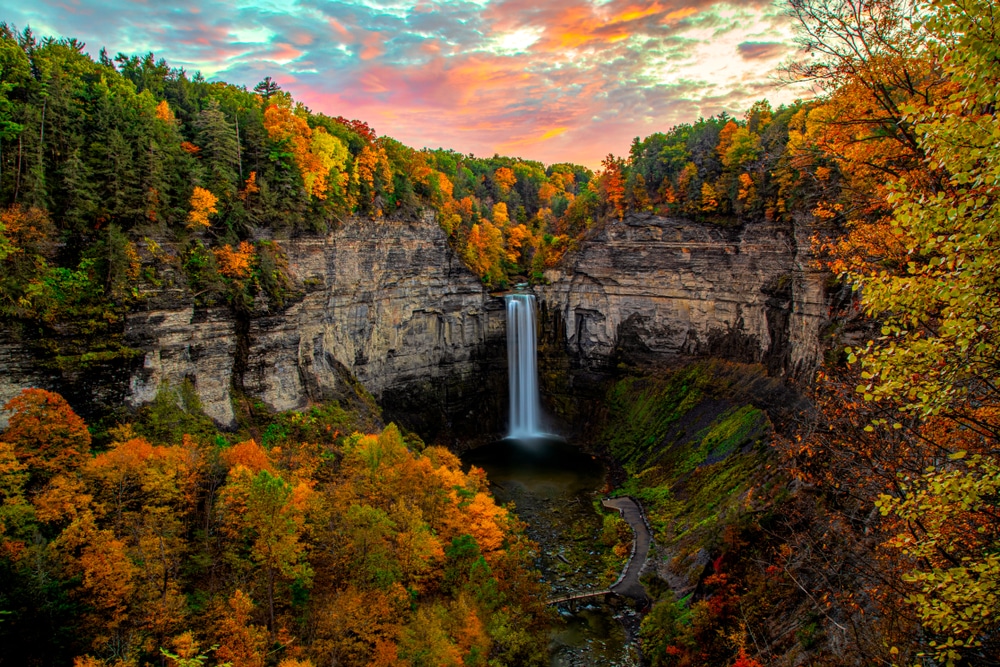 You'll find some of the most beautiful Finger Lakes fall foliage near the Inn at Gothic Eves Bed and Breakfast. There's something so stunning about this time of year, the amazing shades of orange, vibrant reds and yellows, and verdant greens still holding on to the end of summer. You'll especially want to add Taughannock Falls State Park (pictured above) for some prime Finger Lakes fall foliage.
One of the best ways to take in Finger Lakes fall foliage is at the local nearby state parks, but don't forget the journey on the way. Scenic drives to these destinations wind through diverse forests with show-stopping color changes in the fall. We have some excellent recommendations for routes to take for the best views from the warmth of your own vehicle.
Our Finger Lakes Bed and Breakfast is set in a picturesque part of Upstate New York. In fact, the autumn months are one of the most popular times for romantic getaways and weekend vacations. Guests joining us from the nearby metropolitan areas often find the changing of the leaves as absolutely breath-taking. Pair this beautiful season with a stay at our elegant Finger Lakes Bed and Breakfast and you'll be in heaven.
Start planning for fall now, check our availability, and book your room today!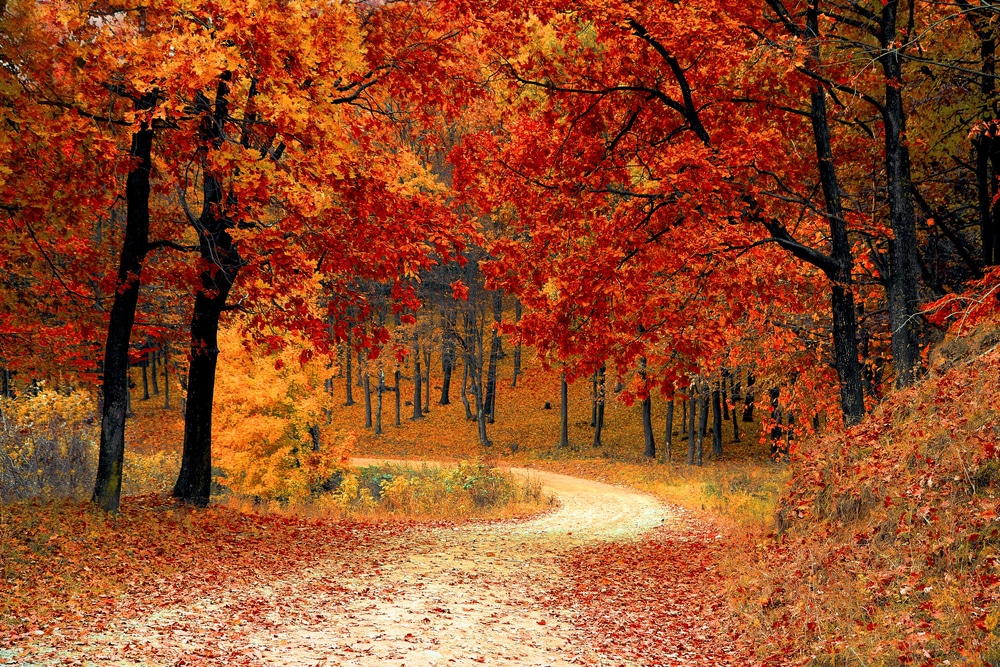 The Most Amazing Finger Lakes Fall Foliage
During the autumn months in this area it's hard to not notice the vibrant colors of the Finger Lakes fall foliage all around us. Thankfully, there are some particular viewpoints and state parks near our Finger Lakes Bed and Breakfast that are ideal for leaf-gazing.
Here are six places for taking in the best views of the Finger Lakes fall foliage:
Taughannock Falls State Park: Just a few minutes from our Inn, you'll find some of the best outlooks and vistas to take in the Finger Lakes fall foliage in all its glory. This state park is also home to hundreds (yes, hundreds!) of waterfalls. You'll find some of the most amazing vistas along the hiking trails, so take your time to explore and admire these amazing colors.
Finger Lakes National Forest: This forest encompasses 16,000 acres of wilderness with trails for hiking, biking, and more. On the quick scenic drive here you'll see some lovely Finger Lakes fall foliage, which will only be the beginning as the forest itself comes alive with bright colors in mid-October.
Watkin's Glen State Park: About a half hour from our Finger Lakes Bed and Breakfast is this natural wonder with unique waterfalls, rock formations, and wooded areas. The beautiful hues of fall set the perfect backdrop for viewing these amazing cliffs with cascading waters.
Robert H. Treman State Park: You'll find a spectacular gorge area here with trails and scenic vistas. The popular Enfield Glen gorge winds through an unusual landscape and past 12 waterfalls. You can't help but enjoy the Finger Lakes fall foliage here as well.
Letchworth State Park: This park is a bit of a road trip from our Finger Lakes Bed and Breakfast, but along the ride you'll take in the golden hues. Letchworth took top honors a few years ago, as it was voted as the reader's choice "Best State Park in the United States" by the USA Today.
Scenic Drive Routes: We're lucky that this beautiful fall foliage is all around us, but the contrast of the bright blue of the surrounding lakes and hills awash with color is quite the scene. There are amazing drives along the shores of Cayuga and Seneca Lakes, and you should plan to stop off at one of our Finger Lakes wineries for a tasting.
For directions for the best routes to take in the Finger Lakes fall foliage, please be sure to ask any of our staff. We're always happy to accommodate inquiries and love to make sure you enjoy every minute of your stay with us.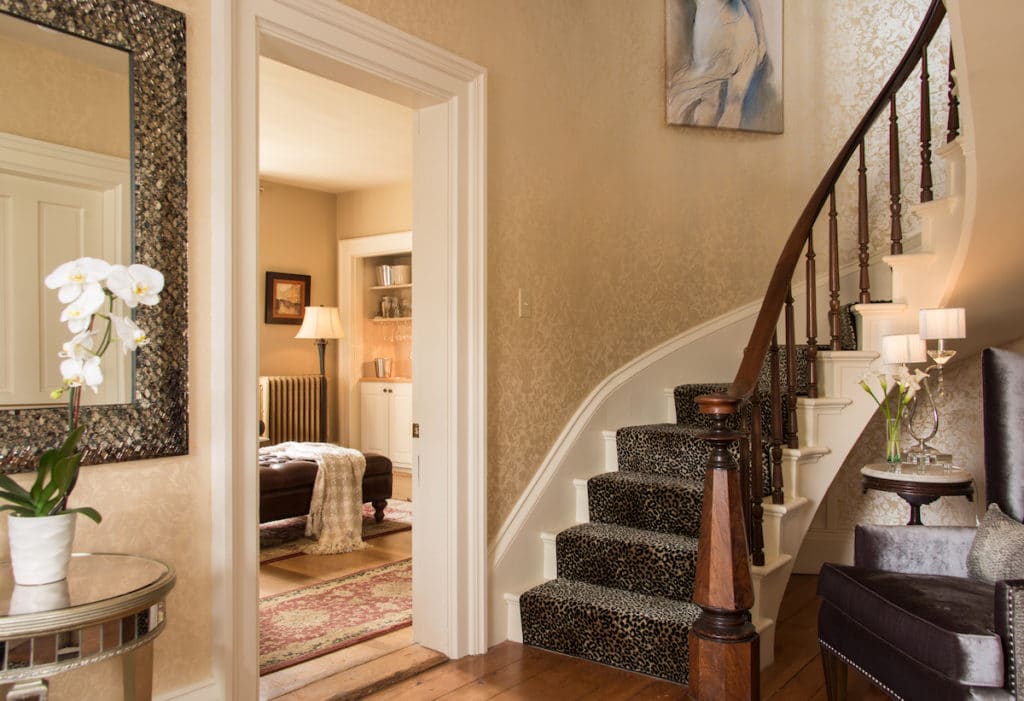 Elegant Lodging at our Finger Lakes Bed and Breakfast
Right now at our Finger Lakes Bed and Breakfast, we're offering an amazing package for you stay: The Footloose and Fancy Free experience. This special has some choices! This 5-night stay can be paired with spa treatments with massage or a two-hour boat ride excursion on a 67″ schooner on the lake. Either option includes time in the hot tub and evenings by the fire pit.
With autumn fast approaching it is best to start planning for your weekend getaways and romantic adventures now. This is a popular season for visitors to this area, particularly for taking in the gorgeous Finger Lakes fall foliage. Check our availability and book today!