The Most Stunning Finger Lakes Waterfalls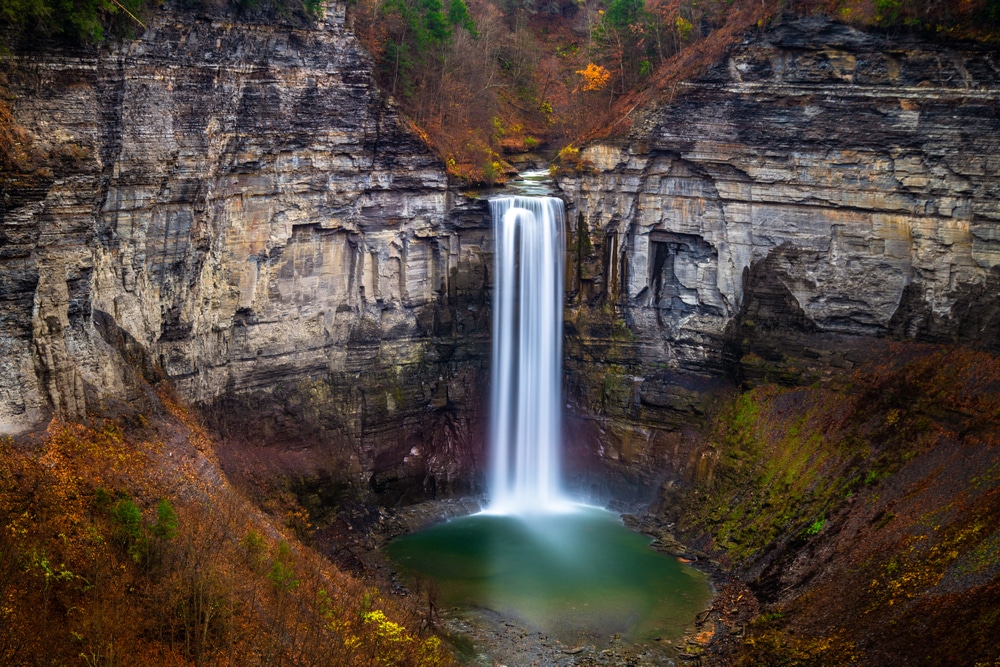 This area of Upstate New York is known for its beauty and pastoral landscape, and it's also home to some of the most stunning natural wonders, the collection of the Finger Lakes waterfalls. Many are easily accessible, and others are hidden in lush, verdant gorges. The Finger Lakes Region formed millions of years ago in the last ice age as behemoth glaciers receded, leaving behind deep valleys, gently rolling hills, and grooves that sculpted the beautiful lakes and rivers we know today. Due to the unique nature of these rock formations and glens, this area is dotted with astounding Finger Lakes waterfalls of all shapes, heights, and sizes. 
"Waterfalling" is a popular pastime in Upstate New York, just as much as wine-tasting or boating on beautiful summer days. Visitors flock from all corners of the globe to take in these unique Finger Lakes waterfalls, some with gentle cascades and stairways of flowing rivers, others with skyscraper streams and intense outpourings. The most well-known and photographed of all of the Finger Lakes waterfalls is Taughannock Falls in Trumansburg, NY. It's one natural wonder that you genuinely have to see with your own eyes to fully grasp the scope of this 215-foot beauty! 
Below we've profiled some of the most popular Finger Lakes waterfalls in the area—all of which are within a half hour or less of Inn at Gothic Eves. 
Our luxurious bed and breakfast in the Finger Lakes is the ideal place to stay for those heading to this area focused on viewing this fantastic collection of Finger Lakes waterfalls. Not only are we less than five minutes from Taughannock Falls State Park, but you'll also find many other stunning waterfalls within 30 minutes of our Inn. You'll wake refreshed in one of our eight spacious and elegant guest rooms, be treated to a made-from-scratch breakfast, and be ready to set out and explore the unique and natural beauty of the Finger Lakes region. 
Start planning your next adventure touring these stunning Finger Lakes waterfalls, and get your lodging on the books today!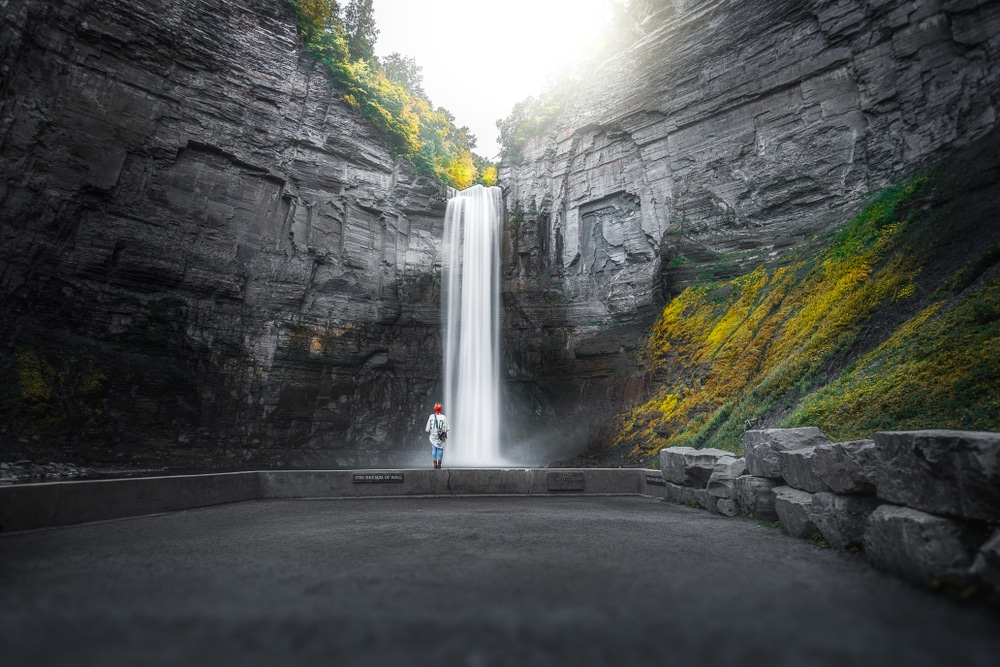 #1 Must Visit: Taughannock Falls State Park
One of the most stunning examples of the Finger Lakes waterfalls in the area is Taughannock Falls, and lucky for us, it's less than five minutes from our bed and breakfast in the Finger Lakes. Nature lovers travel from all across the country to see this striking 215-foot-tall beauty, and though it might have less water volume than Niagara Falls overall, it's noticeably more towering. Located within Taughannock Falls State Park, the 400-foot steely limestone cliffs bookend the falls, and as you stand at the lower observation deck, it looks like it's jutting straight into the sky.
You really must see Taughannock Falls for yourself. From a distance, you'll marvel at the beauty of the tallest free-falling waterfall east of the Mississippi. Many of our guests love to explore the hiking trails at this State Park, which head to both the gorge below and the rim above, giving you a different perspective on this powerful beauty from various angles. While summer and fall might be the most popular seasons to visit this ever-popular Finger Lakes waterfall, the misty water freezes during the winter, creating an icy cathedral within the stone gorge.
The Gorge Trail at Taughannock Falls State Park is under a mile and will lead you into the bowl towards the falls. It's an easy hike, but the rocks can sometimes be slippery, so exercise caution and stay on the trail. This is where the falls take on a skyscraper-like quality. From the north and south rim trail, which can connect to make a loop, you'll find spectacular views of the waterfall from above. These trails are considered moderate and cover approximately 2.75 miles total—a magical addition to your getaway in the Finger Lakes. 
Though Taughannock Falls is the main attraction in this Finger Lakes State Park, there are plenty of other things to do here! Taughannock Falls State Park is located on Cayuga Lake, where visitors enjoy fishing, boating, swimming, and paddleboarding. A monitored swimming area off South Point is an excellent way to cool off on a hot summer's day. Find kayak or canoe rentals for paddling and exploring the crisp water. Summer is also known for the Concert Series at the park—it's a beautiful venue and a fantastic way to experience local talent. 
Ask our lovely staff at our bed and breakfast in the Finger Lakes about more tips and tricks to best enjoy Taughannock Falls! This is one of the must-see Finger Lakes waterfalls during our stay.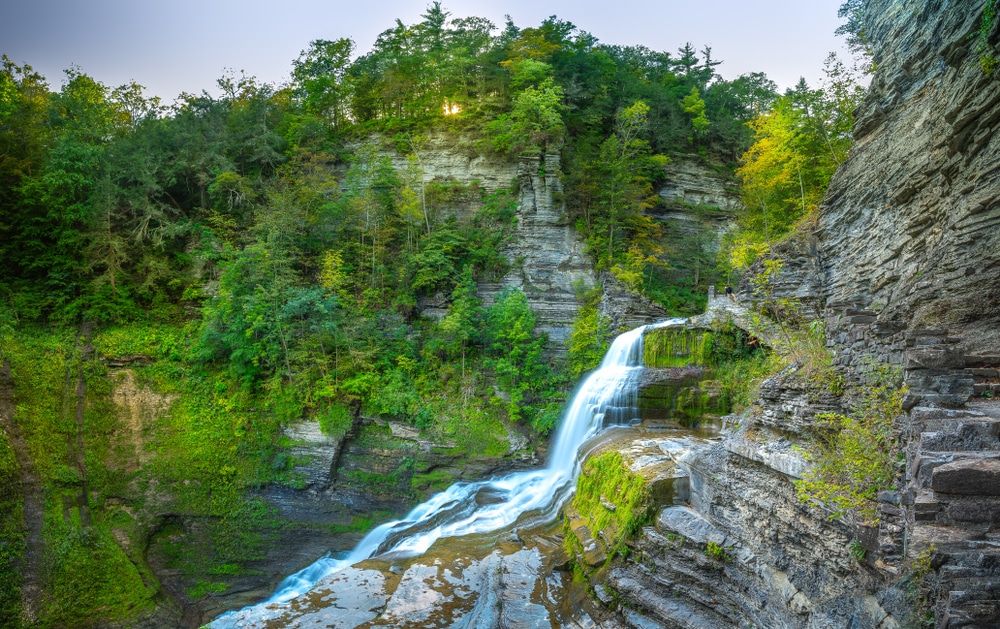 The biggest draw to Robert Treman State Park, only 20 minutes from our bed and breakfast in the Finger Lakes, is Enfield Glen—a rugged and wild scenic area. The winding trails pass by twelve Finger Lakes waterfalls, including Lucifer Falls, a 115-foot behemoth of cascading water into a deep pool area. The park encompasses just over 1,100 acres of beautiful hardwood forests and nine miles of hiking trails.
While none of the local falls can rival the height of Taughannock Falls, you'll find some impressive cascades at this park just outside Ithaca, NY. The majority of the trails at Robert Treman State Park are considered strenuous, with steep climbs, stairs, and uneven surfaces. Make sure you're up for the challenge! 
The unique Ithaca Falls is one of the easiest Finger Lakes waterfalls to reach with minimal effort. Stroll along the less than a half-mile trail for a stunning up-close view. You'll find a bridge over Lake Street for some of the best views of the water flowing off irregular rocky outcroppings. The more than 100-foot Ithaca Falls is particularly impressive for its proximity to the urban core. Swimming is prohibited. 
Take the short hike down to the base of the falls, and explore the beautiful surrounding green space. This is also a fantastic starting point for other hikes in the Ithaca, NY, area to continue your outdoor adventures. Ithaca Falls is just 20 minutes from our bed and breakfast in the Finger Lakes, and you'll be right near some of the best things to do in downtown Ithaca.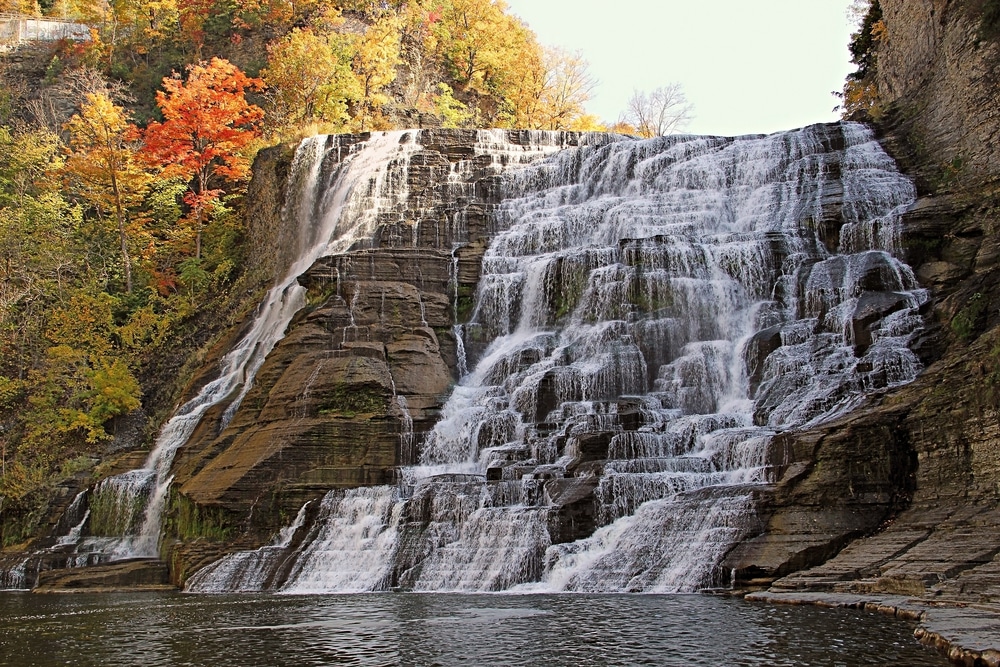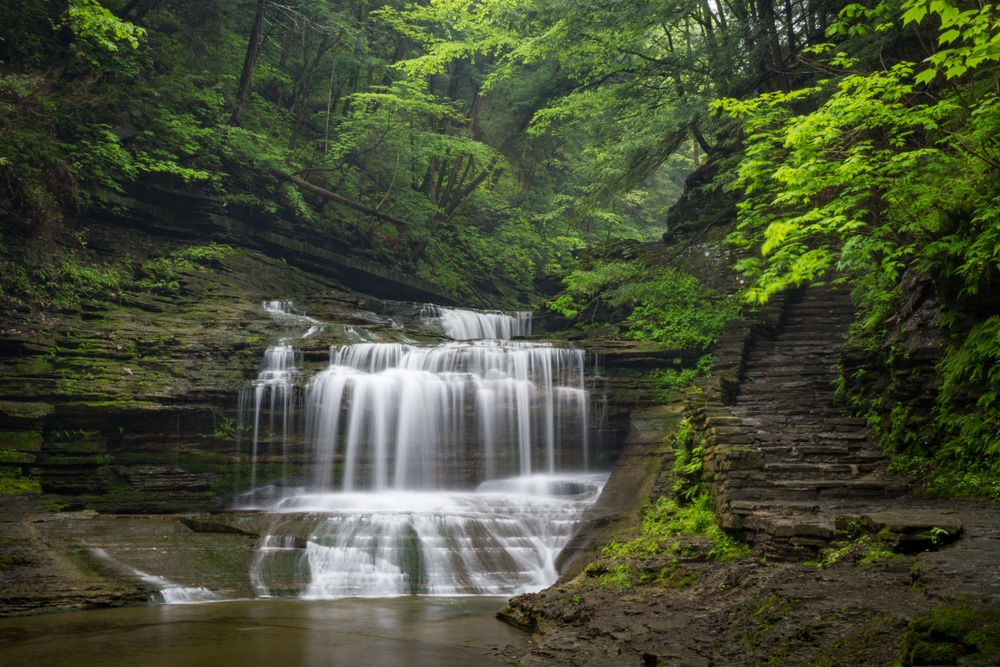 Located within Buttermilk Falls State Park, which is only about a 20-minute drive from our beautiful bed and breakfast in the Finger Lakes, there are ten waterfalls in total in this park. Locals and visitors alike enjoy popping into the cool water for a swim, and you'll find plenty of beautiful picnic areas.
If you want to hike in, the 1.6-mile loop Gorge Trail is challenging but worth the effort; it includes stairs and rocky surfaces, so make sure you're prepared. Still, you'll discover multiple other Finger Lake waterfalls cascading over unique formations. Buttermilk Falls State Park feels like one of the best-kept secrets in Upstate New York, and we highly recommend you visit! 
Another popular natural landmark in Ithaca, NY, the Cascadilla Gorge is made up of eight Finger Lakes waterfalls, six of which are quite sizable. These shale and limestone cliffs create wide stair-like surfaces for the waters of Cascadilla Creek to flow down. Located in a botanically-rich narrow gorge, it's hard to believe that you're just minutes from Cornell College and downtown Ithaca. 
Several small pools and dry banks along the way allow students, visitors, and area residents a beautiful place to stop to read a book in the shade or dip their toes in the refreshing water. Similar to the very popular Watkins Glen State Park, you'll find stone pathways and bridges that wind through the gorge, crossing the creek when necessary and ascending the towering waterfalls.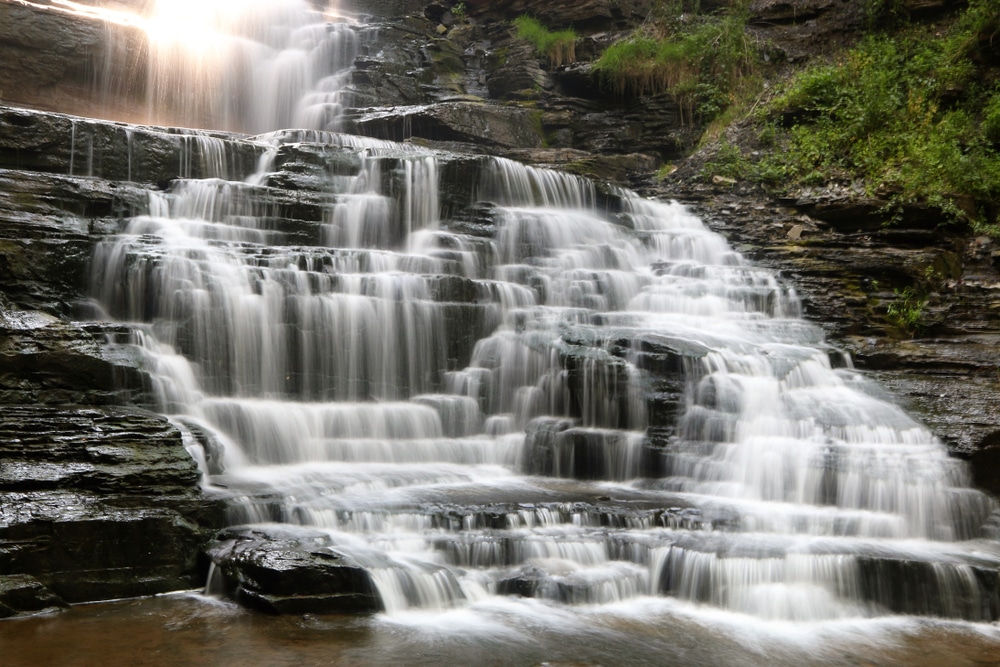 One Park, 19 Finger Lakes Waterfalls: Watkins Glen State Park
Watkins Glen State Park is one of the most popular attractions in the Finger Lakes region, and it sits just south of Seneca Lake, about 30 minutes from our bed and breakfast in the Finger Lakes. It's the ideal scenic day trip, and you'll even pass by fantastic Finger Lakes wineries and restaurants for lunch or an early dinner along the route. Watkins Glen State Park holds the number one spot on TripAdvisor of all the things to do in the Finger Lakes. Of the nearly 5.000 reviews, more than 4,000 of those are five stars—mainly due to the sheer amount of Finger Lake waterfalls you can experience here, an astounding 19 in total!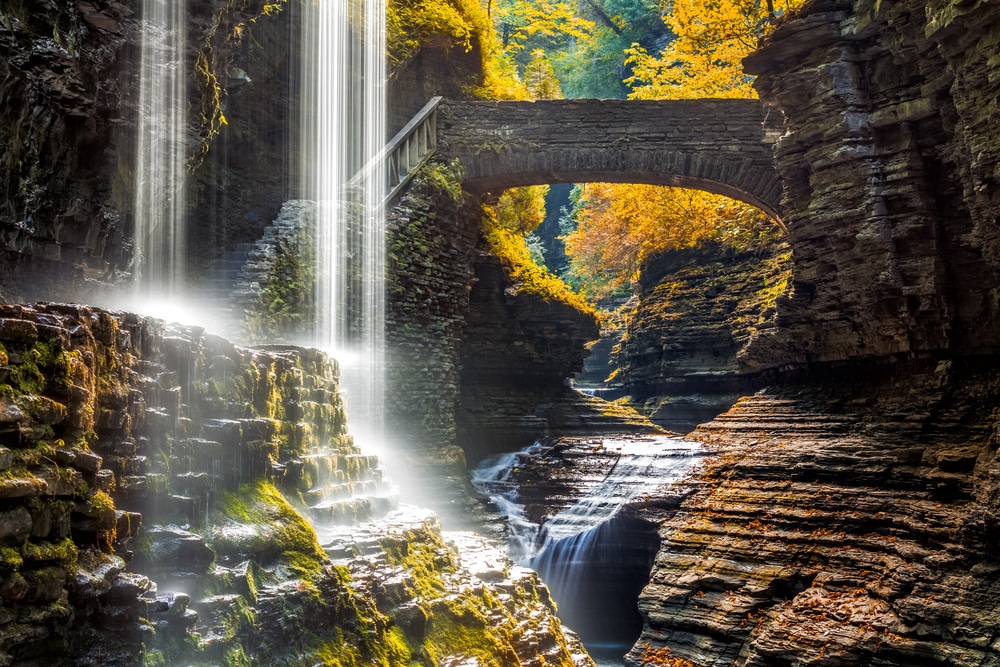 At Watkins Glen State Park, you'll pass by a series of beautiful gorges and waterfalls with stone bridges and steps cut into the rock walls. Some are called cathedrals and caverns, while some are gentle cascades you can walk underneath. All told, there are nearly 20 Finger Lakes waterfalls at this park alone! It's truly a natural wonder of the Finger Lakes region that you don't want to miss.
It's best to plan a half day or more at Watkins Glen State Park. It's an easy half-hour drive from our bed and breakfast in the Finger Lakes down NY-227 to NY-79, which occasionally skirts the edge of the Finger Lakes National Forest. As you arrive at the village of Watkins Glen, you'll find the parking area right in the heart of downtown. It's a $10 parking pass, which you'll pop on your dash and head out to explore the ten spectacular trails for unforgettable views of some of the most astounding Finger Lakes waterfalls. 
Along the two-mile trek at Watkins Glen State Park, you'll find the Gorge Path winds over and under waterfalls, around corners, and through the spray of Cavern Cascade. These 200-foot cliffs are rugged and are made up of unique rock formations. There are also several smaller trails leading from the Gorge Trail, which lead to various other hikes and activities in the park, including swimming pools, guided tours, and picnic sites. It's best to go early before the large summer crowds descend on the area. This park is breathtaking in the fall as the leaves change from greens to golden hues. Add Watkins Glen State Park to your itinerary for viewing the best Finger Lakes waterfalls!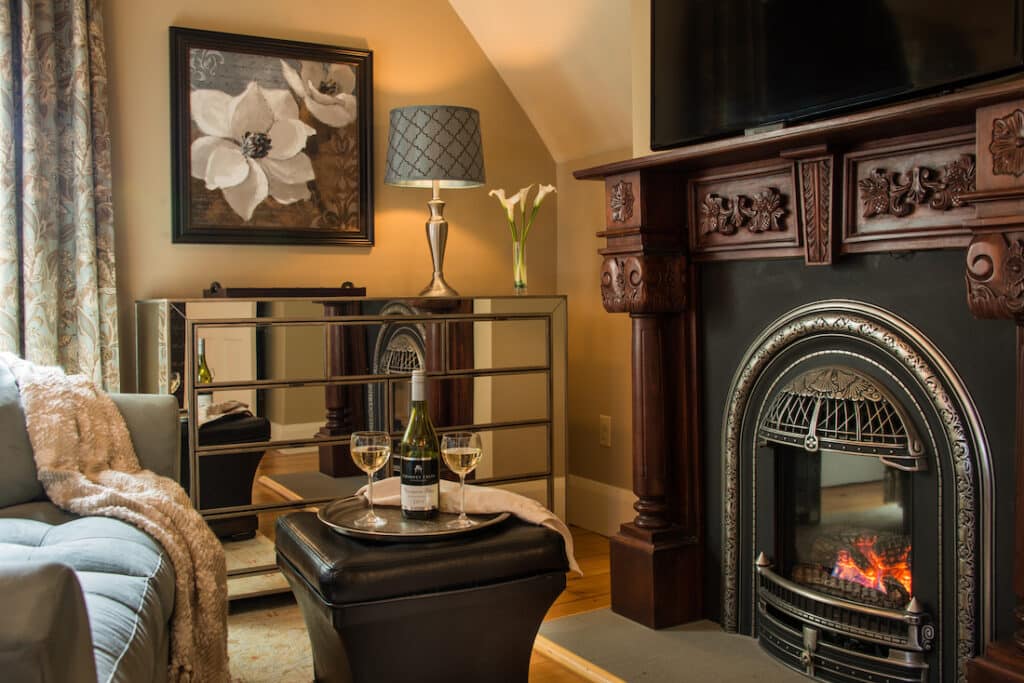 Stay at the Best Bed and Breakfast in the Finger Lakes
There's nothing more romantic than discovering the Finger Lakes waterfalls together near our luxurious bed and breakfast in Upstate New York during your getaway. These natural wonders make your trip even more unforgettable. You'll find our bed and breakfast in the Finger Lakes tucked back on a quiet, tree-lined street, surrounded by seasonal, award-winning gardens—there's plenty of indoor and outdoor space to decompress. Sway the afternoon away in a hammock in the dappled sunlight or inside, curled up by a cozy fireplace.
As a guest at our Finger Lakes Bed and Breakfast, you're here to relax and reset, and our knowledgeable and welcoming staff is here to help. Please allow us to assist you in making your stay as enjoyable as possible, whether that be tips on exploring the nearby Finger Lakes waterfalls, making dinner reservations, or booking spa appointments. Before you head out on your adventure, join us for a lovely home-cooked, seasonal breakfast served in our elegant dining room. After you've had your fill of scenic parks and waterfalls, you'll love to return to your beautifully-appointed guest suite after a long day on the trails and snapping photos of these stunning Finger Lakes waterfalls. 
For incredibly romantic getaways, check out our special packages and add-ons. These options change frequently and can often be the ideal addition for that extra detail to take your vacation from great to spectacular. Our Finger Lakes Bed and Breakfast is your perfect home away from home, and you'll feel at ease from the very moment you arrive. If you're looking for the best location for a quick couples getaway or a leisurely vacation spot, you've found it—your first visit to this beautiful region will very likely not be your last. We can't wait to host you! 
Check out our upcoming availability and get your reservation on the books today!