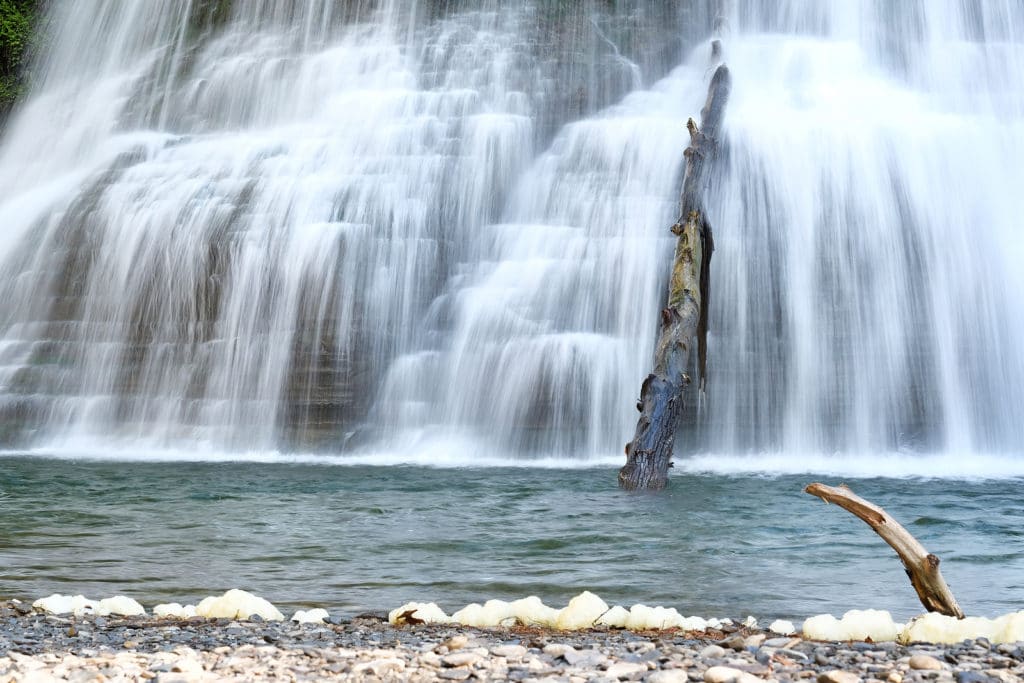 We're lucky here at the Inn at Gothic Eves to be surrounded by some truly wonderful state parks.  The closest to us is Taughannock Falls State Park, but not too far away you'll find great places like Watkins Glen State Park, Buttermilk Falls State Park, and Robert Treman State Park. Each of these parks is uniquely beautiful, each showcasing their own protected part of the Finger Lakes Area and offering the perfect place to relax, unwind, and enjoy the summer.
Speaking of wonderful places to relax, unwind, and enjoy the summer, there's truly no place better than our Finger Lakes Bed and Breakfast. We're located just north of Ithaca and situated between both Cayuga & Seneca Lakes. From here, it's easy to enjoy the very best of the Finger Lakes Region, including wine tasting at local wineries and vineyards, boating on the lakes, hiking and exploring our scenic State Parks, and otherwise unwinding and letting us attend to your every need.  You deserve a vacation this summer.  Book your room now at our Finger Lakes Bed and Breakfast.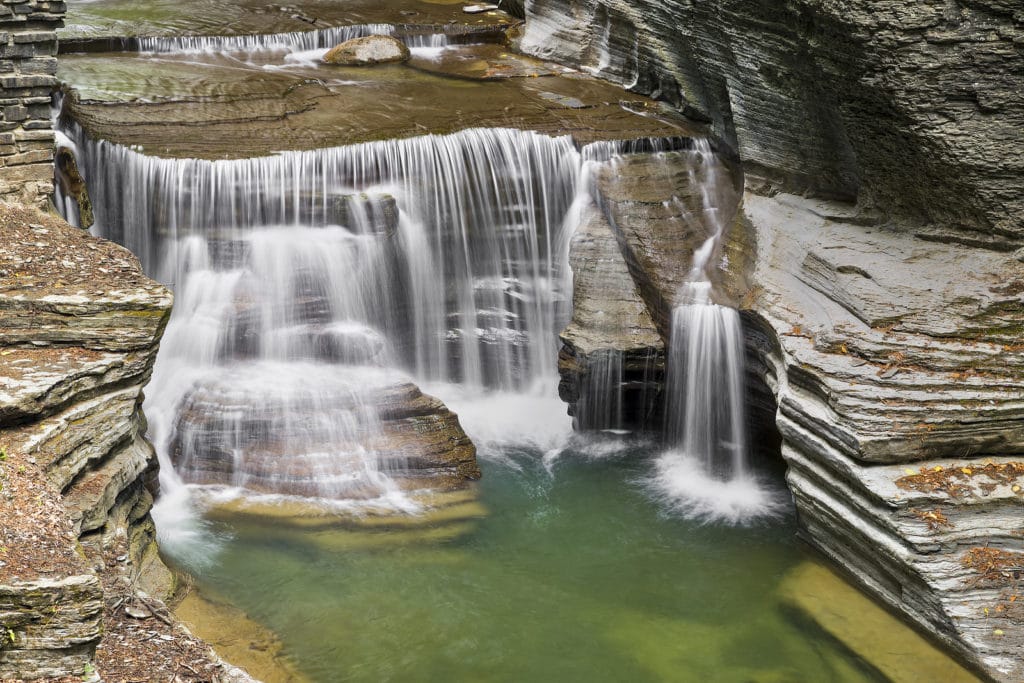 Find the Beauty at Robert Treman State Park
If you're looking to soak up some of the most impressive, wild beauty in the Finger Lakes Region, then don't miss your chance to visit Robert Treman State Park.  It's located about 20 minutes south of our Finger Lakes Bed and Breakfast and offers an unparalleled escape into our area's natural beauty. The park encompasses just over 1,100 acres of land and offers ample opportunity for recreation.
Through the heart of Robert Treman State Park runs the Enfield Glen, a scenic gorge that really is the highlight of the park. The gorge and waterfalls were formed by retreating glaciers 10,000 years ago. Erosion has continued to change the course of the river and appearance of the gorges over the years and revealing its fascinating geology.
There are 9 miles of hiking trails throughout the park, including trails that wind along the bottom of the gorge. As you make your way along the gorge trail, you'll pass 12 different waterfalls, including the dramatic 115-foot tall Lucifer Falls. Don't miss the view from the cliff staircase, either, especially if you visit this area in the fall. Swimming in the stream-fed pools beneath the waterfalls is a popular pastime at the park, and right now is open at 50% capacity.  Swimming is allowed in lifeguarded areas only.
The surrounding forest of Robert Treman State Park is mostly made up of Hemlocks and other codominant hardwood trees, such as sugar and red maple, yellow and black birch, red oak, white pine, black cherry, and basswood. These forested trails are great for birdwatching.  Bird species common to this area are wild turkeys, warblers, Eastern Bluebirds, pileated woodpeckers, Scarlet Tanagers, and a variety of owl species.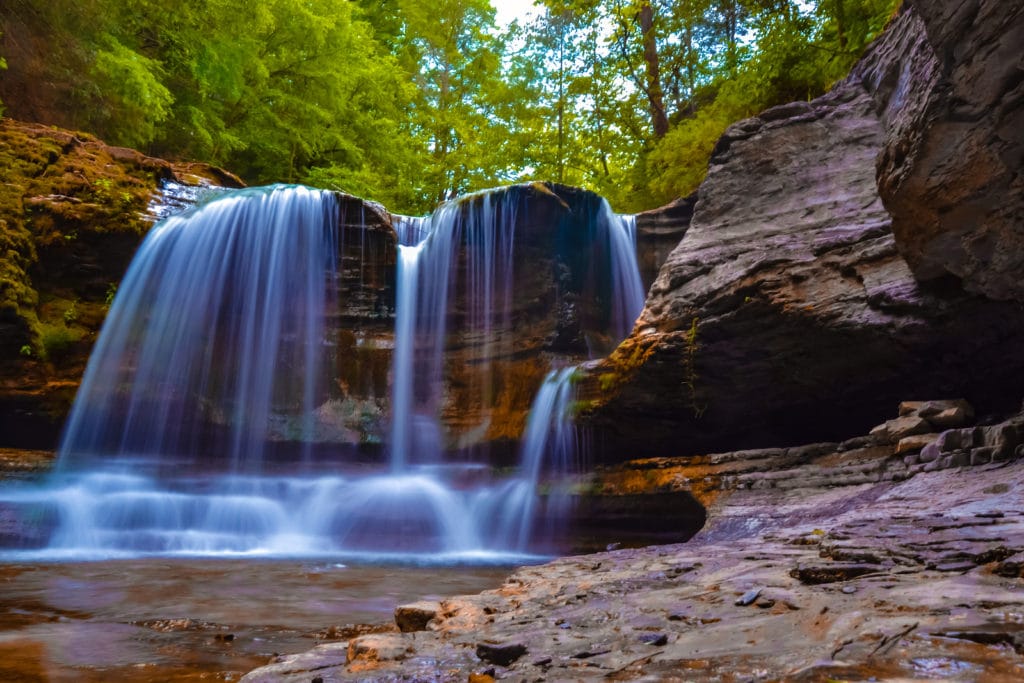 The Best Finger Lakes Bed and Breakfast
Though there are camping and RV sites available at most parks, including Robert Treman State Park, our Finger Lakes Bed and Breakfast offers a far more comfortable and relaxing space for you to stay. Social distancing comes standard at the Inn, too, with just 8 guest rooms and plenty of space to spread out.  Expansive and custom-designed showers, hot tubs, and a delicious multi-course breakfast made fresh for you each morning are just a few of the luxurious amenities we offer.
Our Bed and Breakfast is your perfect home away from home, and you'll feel at ease from the very moment you arrive. If you're looking for the perfect summer vacation spot, you don't need to look any further.  Come for a few days, and enjoy the view, the wine, the food, and the ambiance. It won't take you long to see why the Finger Lakes have grown so popular, and you'll leave wondering when you'll get the chance to visit again. Book your room at our Finger Lakes Bed and Breakfast today!