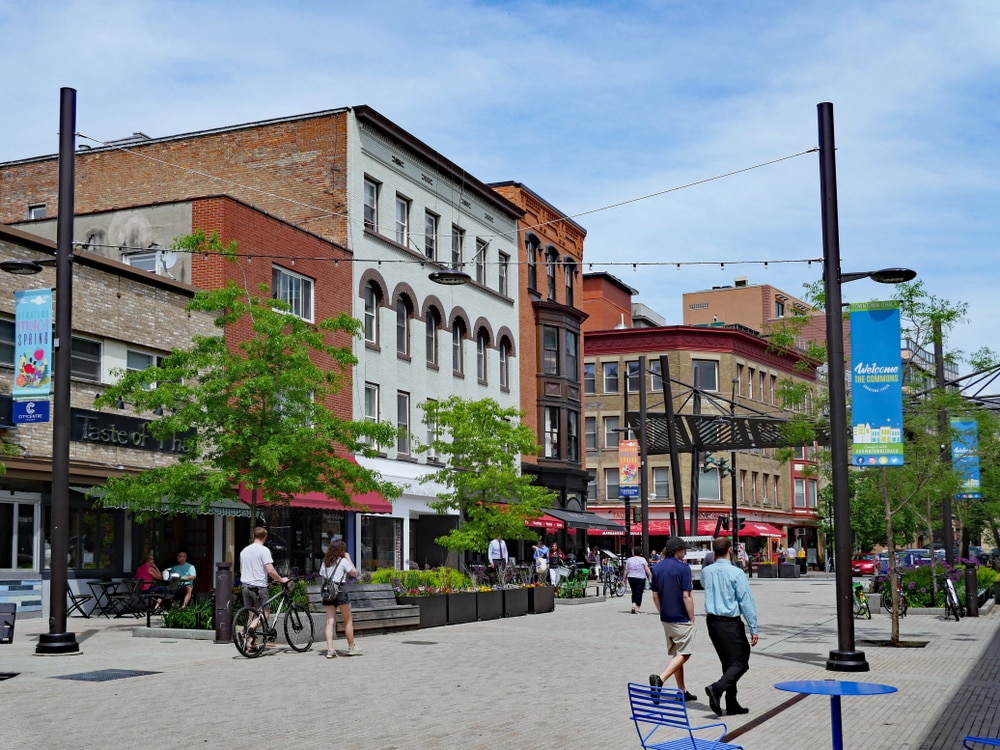 Located on the southern shore of Cayuga Lake, this mini-metropolis is the perfect day trip in the Finger Lakes region—you'll find so many great things to do in Ithaca NY. From a walkable downtown shopping and dining area and the historic Cornell University campus to beautiful waterfalls, state parks, and urban hikes, there's plenty to discover in this charming college town on the lake. Plan a day with wine tastings, happy hour at the Ithaca breweries, and delectable cuisine at the local restaurants.
Our premier Finger Lakes Bed and Breakfast is located about 20 minutes from all of the best things to do in Ithaca NY. Whether you're staying with us for a romantic weekend, a celebratory getaway, or a leisurely vacation to Upstate NY, you'll be in heaven with our accommodations. If you do break away from your luxury guest suite at Inn at Gothic Eves, there's a host of activities in this region nearby to fill the sunny afternoons and evenings.
Head to our availability calendar and start planning your next getaway to the Finger Lakes!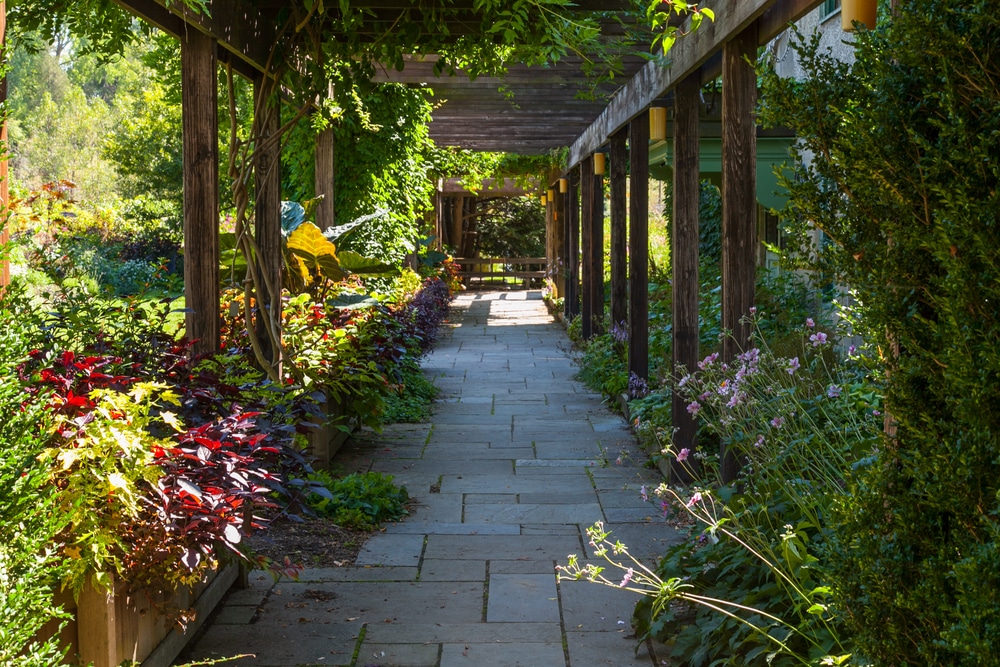 The Best Things to do in Ithaca NY, this Summer
The unique geography of this city creates a diverse roster of things to do in Ithaca NY, especially in the summer— but it's full of action all year round. You'll have your pick whether you're an outdoor enthusiast or love to shop and dine.
Here are a few of our favorite things to do in Ithaca NY:
Explore the Cornell University Campus: This school was founded in 1865, so a tour through the historic campus is picturesque and informative. Be sure to check out the Cornell Botanic Gardens, a 25-acre nature preserve with 17 specialty gardens. Tag along on one of the guided tours for a better understanding of their conservation work.
Grab a beer at Ithaca Beer Company: Part local brewery, part farm-to-table restaurant, the beer garden at Ithaca Beer is an excellent spot for an afternoon pint. Pair an ale with salads, pizza, and sandwiches for a casual lunch.
Ithaca restaurants worth a stop: If you're looking to stop for dinner in Ithaca, there's a host of lovely fine dining and quick meal options. A couple of our favorites are The Heights for Mediterranean cuisine or Cent Dix, serving excellent Parisian dishes. For more restaurant recommendations, head to our blog here.
Shopping in The Commons: This two-block pedestrian mall is right in the heart of Ithaca near Cornell University. You'll find cute, local clothing boutiques, craft shops, vintage goods, and more.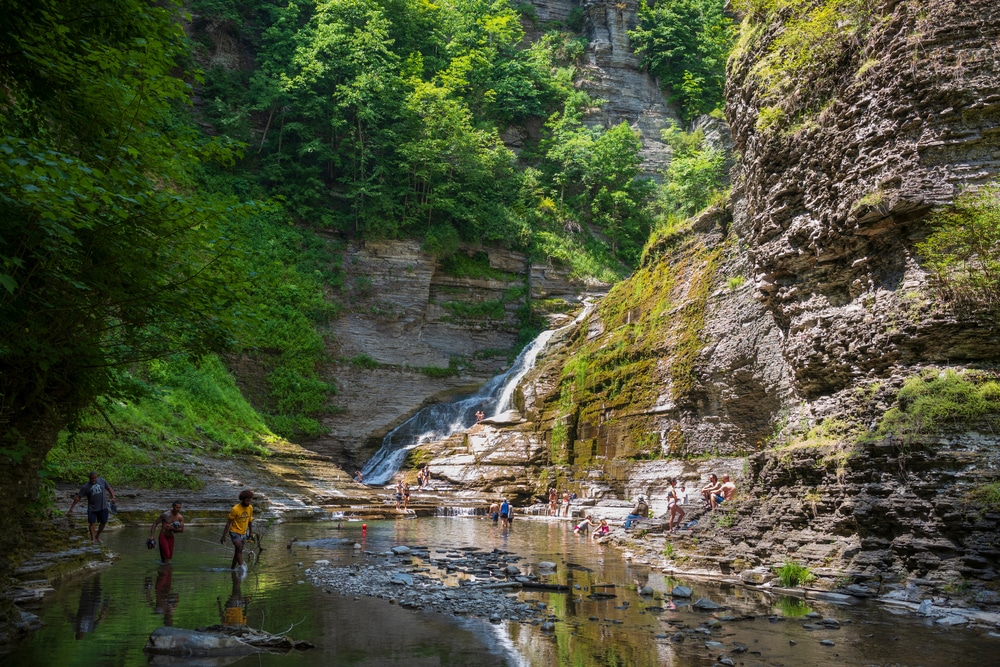 Explore the Outdoors in Ithaca:
One of the best things to do in Ithaca NY is to discover the beautiful urban hikes, state parks, and waterfalls surrounding the downtown area. The most popular spot is Robert H. Treman State Park, known for its astounding waterfalls (Lucier Falls pictured above.) Head here for hikes and some truly amazing sights, perfect for your Instagram feed. Another lovely waterfall can be found at Buttermilk Falls State Park. Located on the southeast side of Ithaca, it's a beautiful natural area not far from the city center.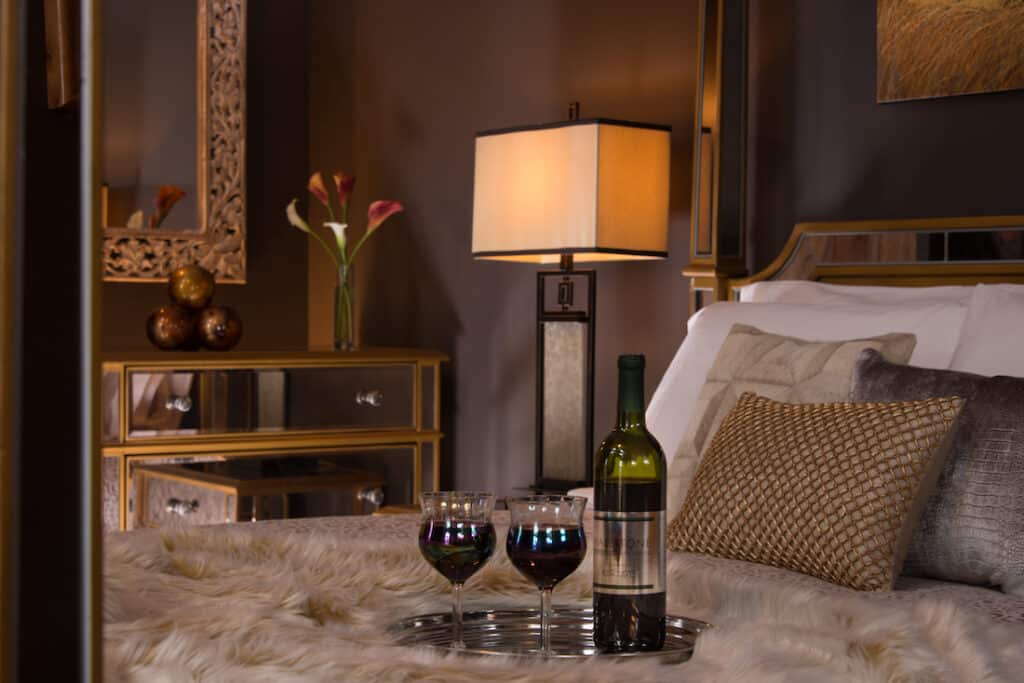 Beautiful Lodging at our B&B near Ithaca NY
After spending the day exploring all the best things to do in Ithaca NY, there's no better place to relax than our Finger Lakes Bed and Breakfast. Head up to your beautifully appointed guest room to freshen up, take a quiet nap, or sit with a glass of wine. Or, if you prefer, feel free to explore our Inn's shared rooms or the garden grounds for cozy and comfortable seating areas and the possibility of lively conversations with other guests.
Each morning, you'll have more opportunities to interact with our staff at our lovely homemade breakfast. Every dish is made daily with local produce and ingredients—some of which come directly from our veggie and herb garden. We love to support other small businesses in the area. Enjoy a steaming cup of coffee, freshly squeezed juices, and even a mimosa! We can't wait to host you at our breakfast table; book your stay today!