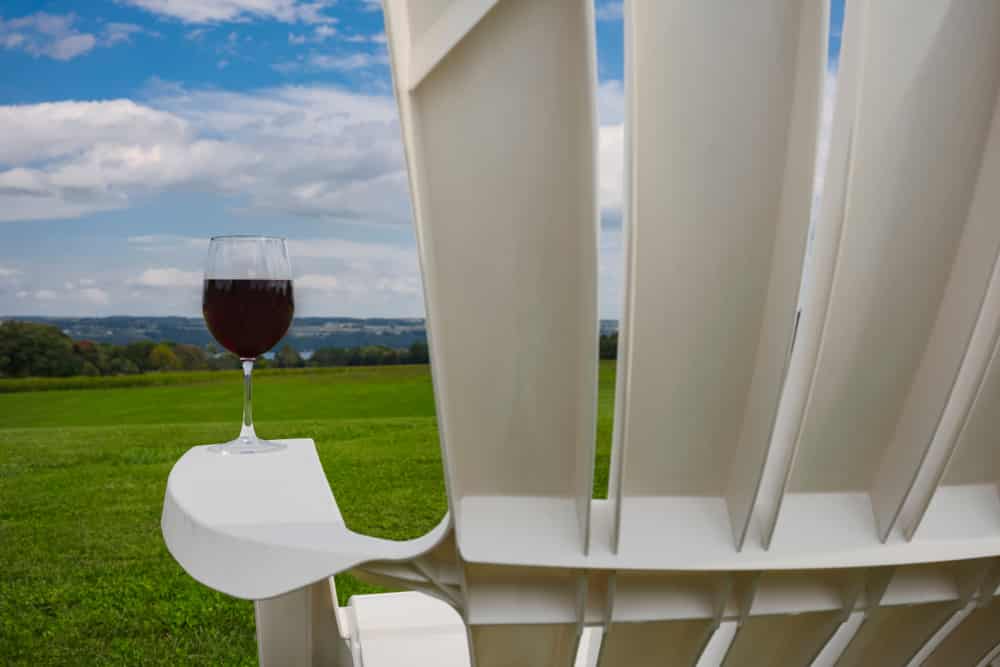 Only 15 minutes from our Inn is the perfect spot for a wine tasting on Cayuga Lake: Sheldrake Point Winery. Not only was this Finger Lakes Winery named New York State's Winery of the Year twice, but it's also been listed among the "Top 100 Wineries" by Wine & Spirits Magazine three times. This Finger Lakes winery is known for its 100% Cabernet Franc, Dry Rosé, a spectacularly balanced, bright, pink wine perfect for summer days by the lake. We're particularly fond of Sheldrake's sparkling wines, Rieslings, and Muscat, which are refreshing, and a great substitute for most Champagnes.
Founded in 1997, Sheldrake Point Winery has 60 acres of land dedicated to its estate vineyard, producing more than 8,500 cases of wine annually. The eastern-facing location is the key; set in between two deep gorges, the vines are planted on the slope heading down to the shores of Cayuga Lake. This only enhances the drainage, and the breeze off the lake's cool waters helps moderate the temperatures year-round.
For those hoping to explore the bounty of beautiful Finger Lakes vineyards like Sheldrake Point Winery, you'll want to secure your lodging for your upcoming wine tasting excursion. Our Trumansburg B&B is the ideal spot—with eight elegantly-appointed guest rooms packed with comfort amenities (included in the cost of your stay) and the warmest hospitality in Upstate NY. Join us each morning for a full breakfast with baked goods, hot coffee, and sweet and savory dishes to satisfy every palette and preference.
Start planning your next getaway to the Finger Lakes and book your stay today!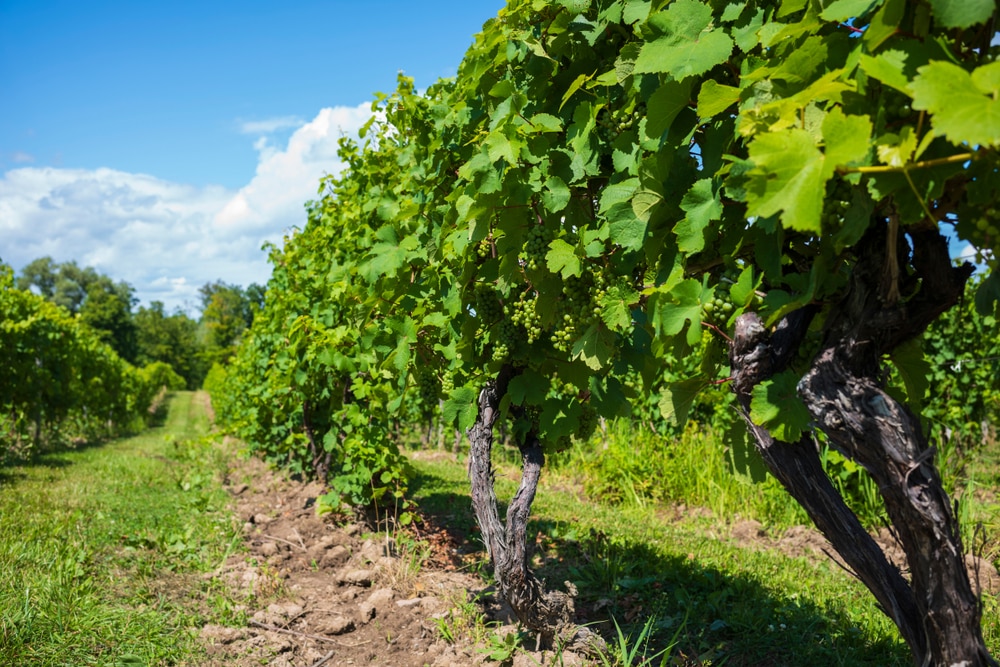 A Wine Tasting and Tour at Sheldrake Point Winery
You'll find a few options to choose from for your experience at Sheldrake Point Winery. If you're there for the classic tasting, you can enjoy a selection of six pre-selected flights for only $12 per person. These flights include a diverse selection of their wines, from dry, traditional, and reserve wines to our scrumptious late harvest and fruit-forward ice wines. Taste inside the charming winery or in the garden area. Pro tip: grab a picnic bench with a cheerful, yellow umbrella for shade.
For those really hoping to dig into the Sheldrake Point Winery portfolio, the Vintage Room experience is the best choice for you. In fact, they have one of the most successful library programs in the Finger Lakes, with bottles dating back to the first year of production in 1997. The space itself is sleek, and the atmosphere is dreamy with a vaulted trellis ceiling, stained glass windows, and a cork floor. Vintage Room tastings consist of three pre-selected options from the library and come paired with local cheeses and crostini.
If you happen to be out sailing or cruising Cayuga Lake, Sheldrake Point Winery welcomes visitors by boat. Tie up to one of their eight slips on the shore and head up the beach to the tasting room. Reservations are recommended, but they are happy to take walk-in guests.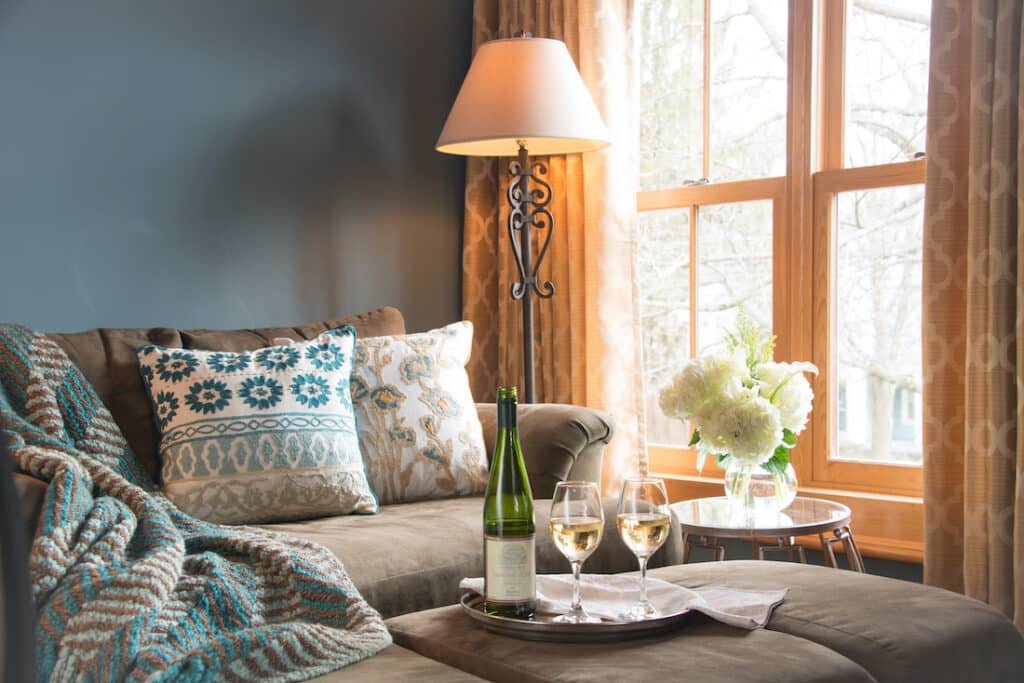 Tasteful Lodging for your next Finger Lakes Getaway
The Cayuga Suite is one of two impeccable suites in The Potter House at the Inn above The Spa at Gothic Eves. The suite has a separate bedroom with a comfy queen-size bed, a cozy sitting room (pictured above), and a custom-tiled bathroom. This suite is ideal for guests who want to indulge in a spa-focused getaway. Our guests in this suite often stay the whole weekend enjoying spa treatments, reading their favorite books, napping, and soaking up the quiet with their favorite person. If you never leave the Inn (except maybe for a lovely wine tasting at Sheldrake Point Winery), we wouldn't judge. Wine and massages? Count us in.