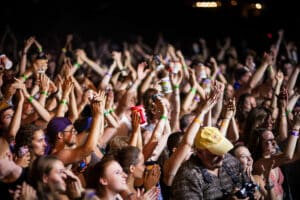 If you have been around during the summer months, you've probably heard local chatter about the GrassRoots Festival held in Trumansburg, NY. Every year locals and commuters alike pack up their camping gear and coolers in preparation for 4 days full of music, art, dancing, yoga, local food vendors, workshops, and more. 
This year was a notable one for the GrassRoots Festival, as this was its 30th year running and the first year that it operated at total capacity since the pandemic began. In honor of GrassRoots having turned 30, it only makes sense to share with you the history of our favorite, fun-filled music festival. 
In 1990, Donna the Buffalo, a local band and the festival's host, along with bands Neon Baptist and The Horse Flies, joined forces to hold a benefit show for the AIDs crisis at the State Theatre in Ithaca, NY. The show was a hit, as it sold out and raised $10,000 for Tompkins County's AIDS work. The show's success was inspiring, and the fundraising efforts would not stop there. 
In 1991, with the help of family and friends, Donna the Buffalos' Jeb Puryear started the GrassRoots Festival of Music and Dance. Jeb's Mother, Leslie Puryear, was especially important as she was a supporter, creator, and director of the event for many years. Thirty-one years later and the festival continues to be an event enjoyed by many while raising money for various organizations within the community and beyond. What was once a 3-band concert sharing a stage in the State Theatre for an evening is now a 4-day festival, hosting over 75 bands across 4 stages. Happy Belated-30th Anniversary, GrassRoots! Thank you for another great year! 
Check out our upcoming availability and book today!
Source: grassrootsfest.org