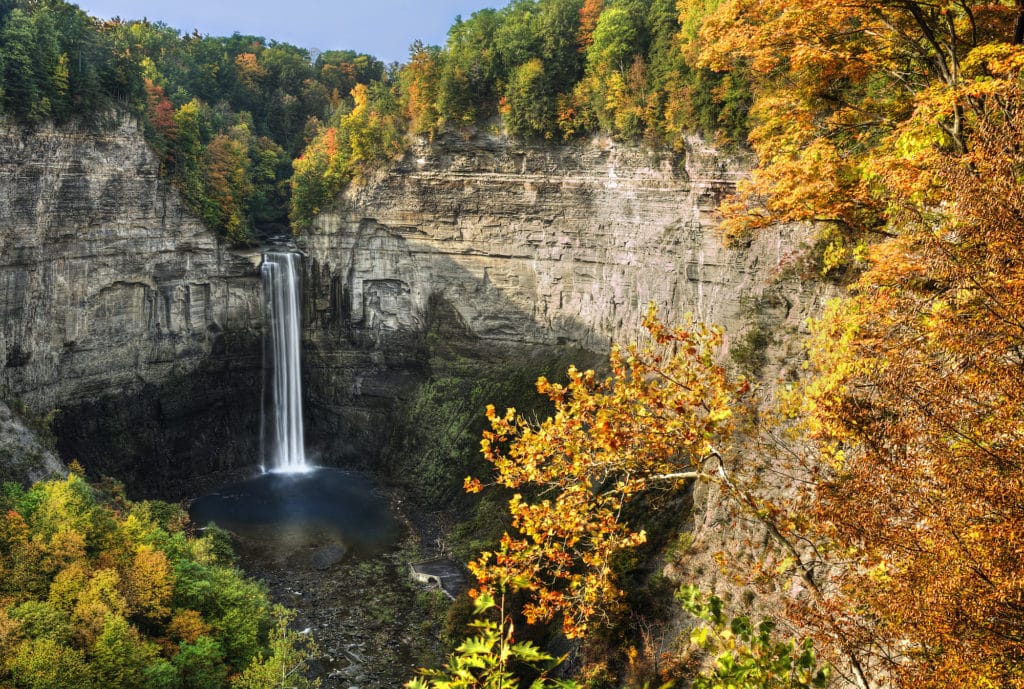 Taughannock Falls State Park is one of the most beautiful state parks in New York, and it's only 5 minutes from our Finger Lakes Bed and Breakfast!  It's the perfect place to explore this fall, too, as fall foliage begins its annual display of color. There's plenty of things to do at Taughannock Falls State Park, including, of course, visiting the namesake of the park, Taughannock Falls itself.  It's also a great place for hiking, kayaking, fishing, paddle boarding, and just enjoying some restorative time in nature surrounded by nothing but the beauty of fall.
Though the chance to visit Taughannock Falls State Park is reason enough to visit the Finger Lakes Region of New York, there's plenty more to see and do here.  Continue your adventure in the outdoors with a visit to Watkins Glen State Park, enjoy boating on the various lakes found here, and sip and swirl your way from one winery to the next.  Don't forget to spend plenty of time relaxing at our Finger Lakes Bed and Breakfast, too.  We offer incomparable luxury and balance; the perfect complement to a fall getaway!  Book your room at the Inn at Gothic Eves today!
5 Things to do at Taughannock Falls State Park
Taughannock Falls State Park is easily one of the top attractions in the Finger Lakes Region, and for good reason. The towering drop of the waterfall, which comes from a height of 215 feet over a sheer limestone bluff, is a sight to behold.  It's the tallest free-falling waterfall east of the Mississippi, which in part is what makes it such a popular attraction.  It's pretty amazing at any time of year, but it's especially magical when surrounded by the vibrant glow of autumn.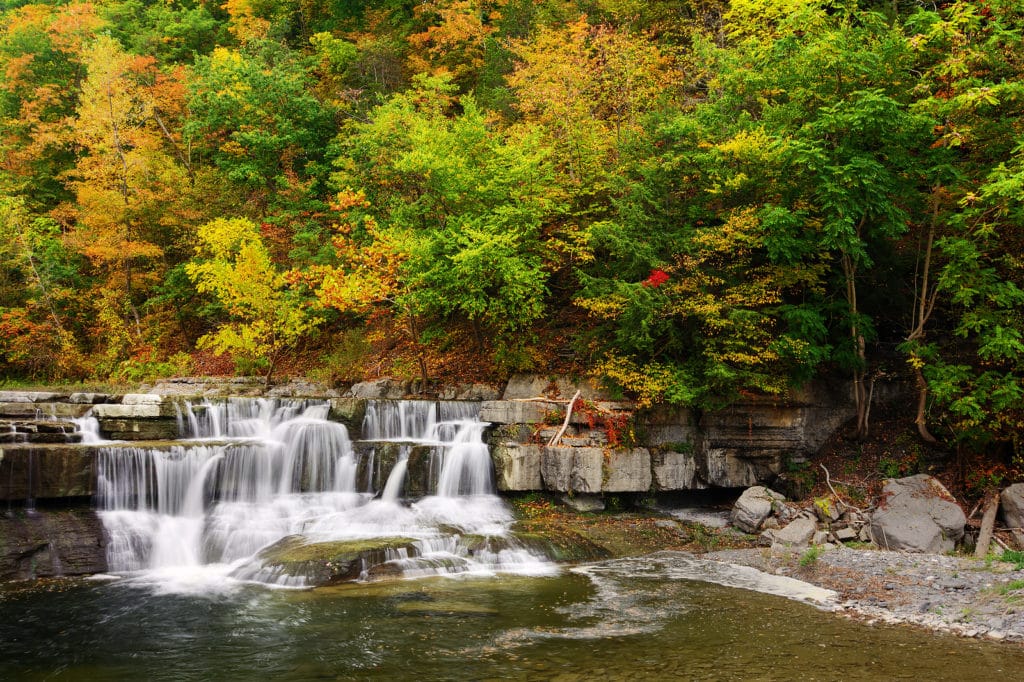 Whether you're there just to see the waterfall, or would like to spend some more time exploring and enjoying the time in nature, there are plenty of other things to do at Taughannock Falls State Park.  A few of our favorite recommendations for enjoying this special place this fall include the following:
Hike along the gorge as you make your way to Taughannock Falls.  There are hiking trails that allow you to traverse the gorge below and the rim above, which allows you to witness the power of this waterfall from multiple angles. the Gorge Trail is 0.7 miles long, and while easy can be slippery.  The south and north Rim Trails can be connected to make a loop, which is just under 3 miles total.
Head to the North Point area at the park, and enjoy a beautiful view of Cayuga Lake.
Make sure you take the time to nature watch!  Not only will the hemlock forests surrounding the Taughannock ravine be beautiful at this time of year, but they are also home to many species of woodland birds.  Fall is a great time to see them, as they migrate south for the winter. Common bird species seen here are common loons, Great Horned Owls, Northern Rough-winged Swallows, Ravens, and Turkey Vultures.
Taughannock Falls State Park is situated on the shores of Cayuga Lake and also has a marina and swimming area.  This is a great place to boat, and there are canoe and kayak rentals available here if you don't have your own.
Enjoy some of the best fishing in the Finger Lakes. The shoreline at Taughannock Falls State Park, where it meets up with Cayuga Lake, has a rapid drop-off.  This makes these waters' ideal for a variety of different fish, including lake trout, yellow perch, and landlocked Atlantic salmon.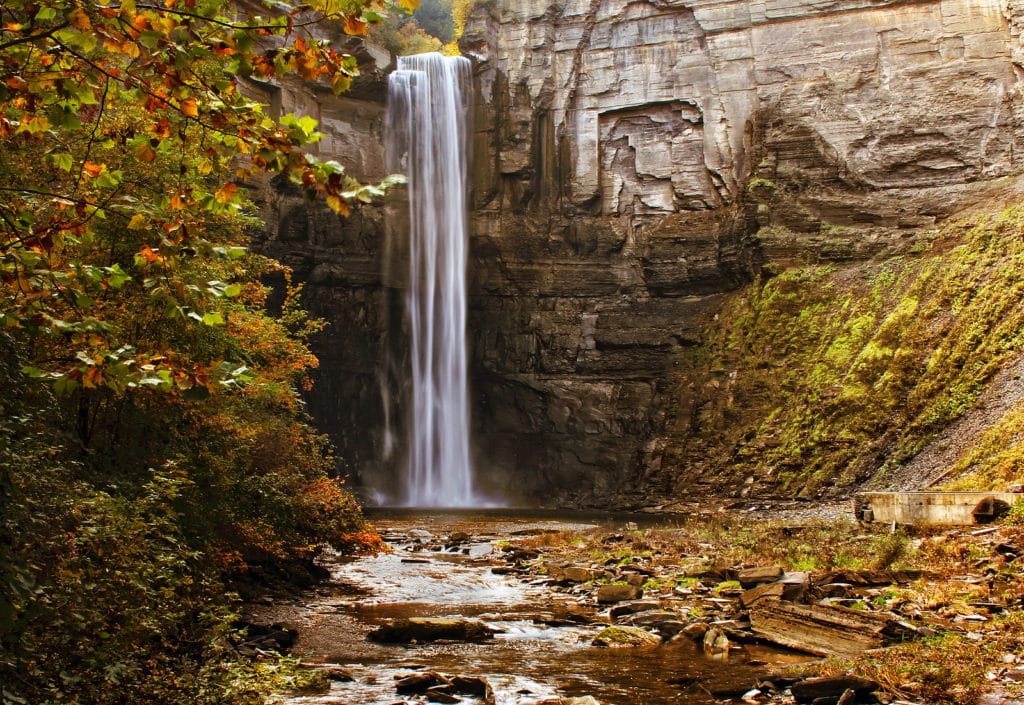 Stay at our Finger Lakes Bed and Breakfast
Fall is such a magical season, and it's one we treasure every year here in the Finger Lakes.  While we love getting outside and visiting beautiful locations like Taughannock Falls State Park, fall is also a season to relax, unwind, and let ourselves enjoy some quiet reflection. The Inn at Gothic Eves offers you a place to do exactly that. With 8 luxuriously appointed guest rooms and plenty of room to spread out and relax, you'll revel in the restorative tranquility of our Finger Lakes Bed and Breakfast.
Fall is also a time to celebrate our seasonal bounty, on full display in local restaurants, farms, and wineries.  Harvest has already begun at local wineries and will continue at least through October if not early November. Not only will our Finger Lakes Wineries be in full swing this fall, but it's also a great time to visit local orchards and farms, where you'll certainly enjoy the sights, sounds, smells, and even tastes of fall. All of this and more is waiting for you, you just need to book a room at our Finger Lakes Bed and Breakfast today!