Each year, the New York Wine and Grape Foundation hosts the Wine and Food Classic.  This is a most important wine competition for the state of NY, with prizes awarded to the finest vintages of all wineries throughout the state.  In 2010, the two wineries taking the most awards, Swedish Hill Winery (top winner) and Sheldrake Point Winery (runner-up), were members of the Cayuga Lake Wine Trail!  In honor of this accomplishment, and because both wineries are within easy driving distance of Trumansburg, we'd like to tell you a little more about both!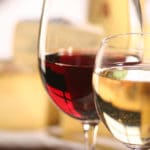 Swedish Hill Winery, located at 4565 New York 414 in Romulus, is owned and run by the Peterson Family, who began making wine in 1985.  Since then, three generations of the family have taken active roles in running and expanding operations.  While they also own two additional wineries (Goose Watch and Penguin Bay), Swedish Hill wines have taken many area honors.  In 2012, Swedish Hill was bestowed "Winery of the Year" at the 31st annual Riverside International Wine Competition held in Riverside CA (imagine, a NY winery took this title at a CA competition)!  Wine tastings are offered daily from 9am-6pm in their gorgeous tasting room, where you can also pick up some great wine-related items.  Swedish Hill is just a 25-minute drive from the bed and breakfast.
Sheldrake Point Winery at 7448 Country Road 153 in Ovid, is a 44-acre winery and vineyard which overlooks Cayuga Lake.  Owned by Chuck Tauck and Bill Madill, the winery is a relatively young one which began production in 1997.  Producing a variety of White, Riesling, Red, Reserve, and Ice/Dessert Wines, Sheldrake has something for every palette out there – find your favorites at their beautiful tasting room and gift shop!  Sheldrake is a short 20-minue drive from the Inn.
Just two of the fantastic Cayuga Wine Trail members, these wineries are worth putting adding to your list of "must visits" during your Finger Lakes getaway to the Inn at Gothic Eves.  For more information on these wineries, or any others on the Cayuga Wine Trail, just ask Rose during your stay!