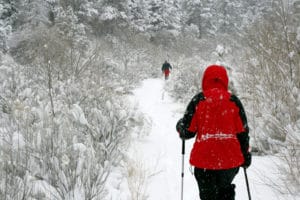 Fresh new snow is all the excuse you need to strap on the snowshoes or pull out your cross-country skis and head to the woods. Guests at the Inn at Gothic Eves can just head out the door and have a lot of fun. But there are several other choice locations close by that you will want to check out too.
Just six miles south in Hector is the Finger Lakes National Forest, which offers numerous options. A favorite route is the moderate Burnt Hill Loop that combines the Burnt Hill Trail and Iterlochen Trail into a 3.8 mile path, taking you through trees and across pasture.
Hammond Hill State Forest, about a 45-drive southeast from the Inn at Gothic Eves via NY-96 and NY-79, is another great option, with a 16-mile trail system rated by difficulty and length. For shorter routes, from .2 to 1.9 miles, look for trails with blue or green signs. Longer trails have yellow or orange signs. The setup of trails here makes it easy to start short and slow and add trails and distance on as you wish.
Located almost entirely in the town of Danby in Tompkins County, the 7337-acre Danby State Forest is home to popular summer hiking trails that become quiet escapes in winter. Bisecting the forest is The Finger Lakes Trail that meets up with the North Country Scenic Trail. Enjoy a leisurely trek, keeping an eye out for deer and other winter critters. If you want more of a workout, you can follow the Abbot Loop as it winds its way through the forest up to Thatchers Pinnacles. Your rewards will be beautiful vistas. The forest is a 35-minute drive south of the Inn at Gothic Eves, off NY 96B on Michigan Hollow Road, is
Sitting on one of the highest points in the region, Connecticut Hill Wildlife Management Area—located in Newfield, 30 minutes south of the Inn at Gothic Eves—offers wonderful panoramas and options for winter hikes. The varied habitat of the land also means a wide variety of wildlife, and skiers often have to give the right-of-way to four-legged friends.
Flora, not fauna is the highlight of a winter walk at Cornell Plantations. Visitors can choose to snowshoe or cross-country ski in one of the natural areas, or enjoy a more sedentary stroll through one of the facility's special gardens. There, instead of bright flowers and green shrubs, you'll find colorful berries and interesting bark. A highlight is the Mullestein Winter Garden, where snow-dappled plants create their own winter sculptures. The gardens and natural areas are open free of charge, seven days a week, sunrise to sunset. Before starting your hike, be sure to stop by the Nevin Welcome Center to get oriented and learn what to look for along the way.
124 Comstock Knoll Drive, Ithaca
607-255-2400
Nevin Welcome Center hours: Tuesday-Saturday 10a.m.-4p.m.; closed Sunday and Monday.
And of course, once local golf courses are under cover of snow they become a lovely place for snowshoeing and cross-country outings.
Plan a weekend stay at the Inn at Gothic Eves to take advantage of all these great winter activities—and of course, the cozy accommodations!