Innkeeper Rose Hilbert believes that, while "homey" is good, luxurious is better! It is also imperative that the inn fulfill the needs and tastes of the times. Therefore, Rose is quickly changing the homespun, "lacy" look of some of the rooms to more up-to-date decor with modern amenities.
To this end, she would like to welcome you to the new Pinot Suite at the Inn at Gothic Eves!
———————————————————————-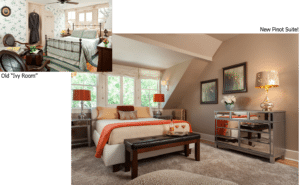 ———————————————————————-
What was once an almost-country look has become a zen-like room of comfort. Rose has traded the cozy ivy motif for the look of a modern-getaway. The room still boasts views of the flower and herb gardens, but the space has been renovated and expanded to a cathedral-ceiling height and more spacious room. Latte-colored walls and a cream-colored ceiling complement the rose' and deep brown accents throughout the room. New furniture boasts quirky-comfort with a queen-size white leather bed frame, mirrored tables, and a leopard chaise. At the foot of the bed, a dark brown bench-seat acts more like a table for wine, snacks, or personal items. Calming decor adds to the sense of relaxation, and a full-length mirror lets you thoroughly inspect any outfit before leaving for your day-trip destination.
Also new to this room is a flat-screen, smart TV, plenty of outlets for any electronics you may bring with you, and Wi-Fi access. In deference to these updates, Rose now calls this her "tech room!"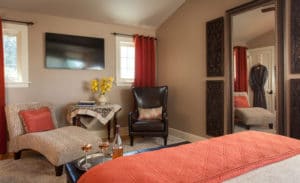 Of course, the new Pinot Suite comes with all the amazing amenities that only the Inn at Gothic Eves can offer: a two-course gourmet organic breakfast each morning of your stay, optional spa-service add-ons such as massages or time in one of the on-site Jacuzzi Tubs, use of multiple common areas, natural bathing products, luxurious bathrobes and Egyptian cotton towels for your use, and hypoallergenic bedding.
Rose offers concierge services to her guests, helping to arrange any spa services, certain add-ons to their stay, and an abundance of information about the area. Curious about events happening in the area? Want to have a great restaurant/wine dinner? Want to have a bottle of Finger Lakes' Merlot waiting in your room? Rose will be happy to assist you if she can!
Plan an upstate New York vacation to the beautiful Finger Lakes Region and enjoy the luxurious comfort of the new Pinot Suite here at the Inn at Gothic Eves!