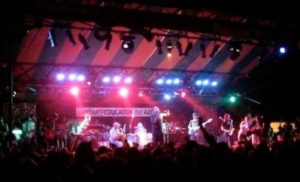 Today is the beginning of the Finger Lakes Grassroots Festival 2011 of Music and Dance located in Trumansburg, nearby Ithaca, New York. Less than a five-minute walk from our Finger Lake bed and breakfast, this music festival brings in tens of thousands of attendees and numerous performers from all over the world. It is located on the Trumansburg Fairgrounds. 2011 marks the 21st year of this non-profit organization. Grassroots raises money primarily for the fight against AIDS, education and other community needs. It is held on the second to last weekend in July, Thursday through Sunday.
Hundreds of people set up campsites in the sweltering heat and got ready to enjoy the music this year. This has been the hottest year of Grassroots that I can remember. Fortunately, volunteers were providing relief through the use of misting stations, sprinklers on the dance floors and a fire truck that roamed the grounds drenching anyone who needed it. It is no easy feat to have this festival each year and there are hundreds of volunteers who spend time putting this together before the festival and another large crew to break it all down.This morning tents were raised and trailers were put into place. The Dance Tent and other venues were set up a few days before the gates opened. People from all ages and generations come to this festival and are seen dancing at many of the stages all day and through the night. Grassroots is one of my favorite times of the year. I have noticed that more and more younger people are coming each year. I love the music, and I love to dance. When I am not at the Inn at Gothic Eves taking care of my guests, I am usually at the dance tent. Our guests come back every year so they are seasoned festival attendees, I usually get a chance to dance with them too.
The music was scheduled to start at 1:30 today. Donna The Buffalo, a popular local band, is traditionally one of the opening acts because they are responsible for putting this festival on each year. They play twice more including closing Grassroots on Sunday evening. Their fiddle player, Tara Nevins, usually stays at our Bed and Breakfast. She graced us with a jam session two days in a row this year. It was awesome.
Each year the Grassroots committee does a great job of choosing music acts from sub-genres of Zydeco, Native American, rock, Irish, bluegrass, country, folk, reggae, pop, Latin, blues, and more. Personally, I enjoy most music but folk is one of my favorite and almost anything that is good for dancing. The Carolina Chocolate Drops played tonight (and will play once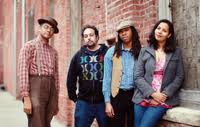 more on Friday) and they were my favorite group. The lead female singer had a voice that shook my soul and the bebop singer who imitated all kinds of instruments was amazing as well. This band was playing traditional black folk music. There are very few black performers still playing this music. They won a grammy for one of their CDs this year and I am not surprised. I had favorite band members but they all were extremely talented and I would have just listened to them individually if they had played.
There are many musical reasons to attend Grassroots but the organizers have given me another reason to attend because they make an exceptional effort to eliminate waste. Compost, recycling, and trash bins are easy to access on-site. The "Compost Station" teaches people about composting and is where all of the compost is brought. They even have Compost Theater, a musical comedy act teaching the ways of composting. The vendors are also expected to have as minimal waste as possible. All utensils and other tableware are biodegradable. Volunteers sort through the recyclables. The proceeds from the return deposits go to the local program of giving holiday gifts for lower-income families in Tompkins County. We make a large effort to compost and recycle as much as possible at our Finger Lakes Bed and Breakfast so we are very aware the affect such a large event can have on our environment. There are many festivals who actually strive to have a zero foot print. Grassroots is approaching this effort and we hope to see more of this. One vendor had a solar panel to run their food stand which was mostly organic, local foods.
Speaking of food, at Grassroots the cuisine is delicious. If you do not see me at the dance tent, I am probably at one of the food stands. Many different cuisines are represented such as Mexican, Thai, Mediterranean, American, Cajun, and Chinese. One of my absolute favorite things to eat at Grassroots is the chocolate dipped frozen cheesecake on a stick. Yup, the whole slice is on a stick and it is as decadent as you can imagine. No guilt, I dance it off. I cannot wait for another day at Grassroots!
Innkeeper Rose Hilbert
POB 95, 112 E. Main St.
Trumansburg, NY, 14886
info@f67.62d.myftpupload.com
www.gothiceves.com
1-800-387-7712
607-387-6033