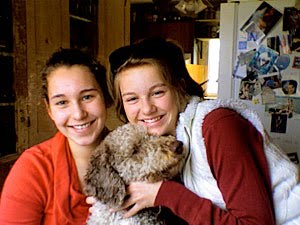 I have to say the weather was spectacular, sunny with a cool breeze for Mother's Day in the Finger Lakes Region of NY. My daughter, Rachel, got up and presented me with a card and a pair of very cool running shorts for the summer. I have been wearing hand me down shorts from someone and they were looking pretty bad. I was presented with another gift from one of my young ladies who work for me. She is really like another daughter who will be leaving me in August. She presented me a soft red scarf with beautiful black lines. Last, an old friend stopped in to the Bed and breakfast and gave me macaroons. I loved them, chocolate and pistachio flavored.
After breakfast dishes, straightening up the beds and a nap (ahhh!), Roman and Rachel took me out for a late lunch to Simply Red Lakeside Bistro where we had crab cakes and a burrito. This Bistro is located at Sheldrake Point Vineyard and Winery about 15 minutes north of our Bed and Breakfast. chef Sam's cooking is being recognized in many places and the last publication is Edible Manhattan. Check it out! We sat at the bar and enjoyed Simply Bloody Mary's overlooking Cayuga Lake. The food was excellent and we ended the meal with a blackberry Marsala trifle. I would go back for dinner and do it all over again if they were open in the evening.
We got back to the Inn around 4PM, and I needed to walk off lunch in the Finger Lakes National Forest with the dogs. I walk Chicken Coop Road which is mostly uphill but is west of the Inn about 10 minutes. There are many trails in this forest visiting ponds, fields, tree groves and mature forests but when I have the dogs, I avoid the more popular areas to let the dogs run free. The service berrys were all in bloom, wild strawberries and the may apples are just coming up. The dogs found their favorite ditches to swim in, dead animals to roll in, tasty treats to bury for next time and a swim in the pond which was not warm. Lucy and Copper enjoy this walk more than any other walk we do. It was a fine evening walk with my daughter Rachel. This walk always ends up with some dog shampoo and a hose.
I came back in and checked on the guests and then my emails to see if Anna, my oldest daughter, who is living in Thailand wrote me. I miss her so much but there were no emails. I was not content with this situation so I went to her blog, I found an excerpt about a summer salad and how all of the ingredients reminder her of something different from the states. This was my unintentional gift from her. I am going to paste it in for you to read if you want. My day is complete with a slow day spent with Rachel and Roman and a blog from my daughter. I hope that all of the mothers had as good of a day as I did.
Innkeeper Rose Hilbert
POB 95, 112 E. Main St.
Trumansburg, NY, 14886
info@f67.62d.myftpupload.com
www.gothiceves.com
1-800-387-7712
607-387-6033
fax 607-387-4035