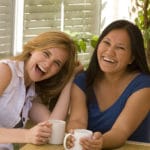 Over the past several years, a new trend in women's gathering has evolved:  the Girlfriend Getaway (or Girls' Getaway).  I personally love the idea of women being able to get away together to a comfortable environment where they can enjoy each others company and activities they love without the worries of home to preoccupy them.  And what better place to come together than my beautiful New York bed and breakfast inn with welcoming grounds and outdoor gathering spaces?  The serenity and comfort you'll find at the Inn at Gothic Eves makes it the perfect place to hold a weekend event for you and your female friends!
Why have a girls getaway?  To renew and grow friendships, enjoy activities of common interest, and just enjoy some time away from testosterone.  You can even enjoy a birthday, holiday, wedding shower, or baby shower celebration weekend.  Why NOT have a girls getaway? might be a better question!  And with the natural beauty and variety of activities in the Finger Lakes Region, Upstate New York is the ideal getaway location.  Whether you stay a weekend, several days, or even a week, this is the place to be for a perfect celebration of sisterhood and serenity.
There are so many ideas for your women's retreat in the Trumansburg area.  For example:  take an area winery tour, discover our farmer's markets and cooperative farming, enjoy on-the-lake activities, hike (or even sunbathe) at our gorgeous local parks, find treasures at our area antique stores, try skiing at area slopes, enjoy leaf peeping in the fall, take a sweet-tooth tour of the area, or get creative during a crafting/scrapbooking gathering.  If you are in need of additional ideas, just contact me and we can chat about the perfect activities for your particular group!
How many people can you bring to my Upstate New York inn?  The B&B has a total of eight suite rooms in two houses that can ideally accommodate 16 people total.  If you have a few additional guests, arrangements can be made to accommodate extras in some rooms (includes additional fee for adults and older children).
If you have less than 16 girls attending, the Main House has six rooms that will ideally accommodate 12 people (plus a few, if needed).  The Parlor and Game Room are available for indoor group gatherings and activities.
For a more intimate girls' getaway, the Potter House has two rooms that can ideally accommodate four people (plus a few, if needed):  The Cayuga Grande Suite and The Seneca Grande Suite.   The Cayuga Grande Suite has a bonus sitting room,  perfect for indoor socializing and activities.  The fireplace in the sitting room makes for a cozy weekend gathering!  During the late spring, summer, and early fall, the Potter House terrace can also be utilized for activities.
Of course, I recommend renting the entire main house or Potter House for your activities, for convenience's sake.  This will assure that you will have ample space for your activities, and the common areas to yourself in the Main House (if that's where you are staying).
To make your weekend even more perfect, why not indulge yourselves in our spa services?  Swedish massages can be arranged with prior notice, and our wood-fired hot tub can be reserved for your use (up to four people can fit comfortably in the hot tub)!
Take a look through my website and you'll understand why my beautiful inn near Cayuga Lake is the perfect place for you and your friends to enjoy time together.  Trumansburg's quiet, small-town environment and beauty welcome visitors to relax and enjoy their stay, and my inn's top-notch amenities and atmosphere guarantees you a wonderful weekend to enjoy the company of friends doing the things that you enjoy!
Innkeeper Rose Hilbert
POBox 95, 112 E. Main St.
Trumansburg, NY, 14886
info@f67.62d.myftpupload.com
1-800-387-7712 | 607-387-6033