The Finger Lakes region is known far and wide for our wineries and renowned wine trail tours.  However, sometimes (especially in the fall) my guests' tastes run less to the grape and more toward, say, the apple.  When that happens, I'm only too happy to let them know about our area's cideries.  In fact, this is the perfect time to tell you more because Finger Lakes' Cider Week is Setptember 28 – October 7, 2012!
Cider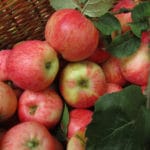 At the start of America's colonization, apple cider was often found at tables because water was seldom safe to drink.  Sometimes this cider would take a slightly alcoholic turn when the cider was fermented.  While the term "cider" was once the proper name for fermented apple juice, the times have twisted the language so that today's "cider" is non-alcoholic, and "hard cider" is the alcoholic version.  In this article, I will use the two interchangeably to mean the alcoholic beverage.
Today's methods of producing cider can yield a drink of almost any tannin-content.  True cider apples produce richer tannins and are drier in nature.  Mixing apple varieties results in a sweeter product.  Both are fermented and may then be mixed with carbonation to produce a "sparkling" variety, much like apple-based champagne.  The non-sparkling products can be consumed at any temperature, and some even choose to add mulling spices and heating up their cider for a hot winter drink.
Producers
Trumansburg is lucky to have its own establishment that creates hard ciders:  Bellwether Hard Cider is located about two miles north of town.  This cidery produces a full range of 10 different ciders, ranging from sparkling-sweet to still-dry in tannin.
Two additional cider distilleries are within a reasonable distance to visit during your bed and breakfast vacation:
Redbyrd Orchard Cider – This family-owned cidery in Burdett (14 miles southwest) produces artisanal craft ciders annually.  You can also find them on Facebook.
Montezuma Winery produces wines of apple/blend varieties in Seneca Falls (about 31 miles north of our Trumansburg inn).  They also produce other fruit wines as well.
FLX Cider Week
Fall is truly the time to honor the apple!  Cider-friendly restaurants, bars, bistro, shops, cheese-mongers, and farmer's markets celebrate and showcase ciders and cideries from New York and the Eastern Region.  Trumansburg's own Farm Market will feature a Cider Salon on Wednesday, October 3, 2012 for your tasting pleasure.  Trumansburg's Black Diamond Farm, Crystal Lake Cafe at Americana Vineyards, and the Hazelnut Kitchen are all participating in the celebration with apples available at the Farmer's Market (from Black Diamond), and incorporating apples and cider into daily dishes (at the Crystal Lake Cafe and Hazelnut Kitchen).
If the crisp fall air has brought you to Upstate New York, you're just in time to celebrate and enjoy this year's apple crop and apple wine offerings!  If you would like any more information during your Bed and Breakfast stay, just ask me, your helpful innkeeper!
Innkeeper Rose Hilbert
POB 95, 112 E. Main St.
Trumansburg, NY, 14886
info@f67.62d.myftpupload.com
1-800-387-7712 | 607-387-6033