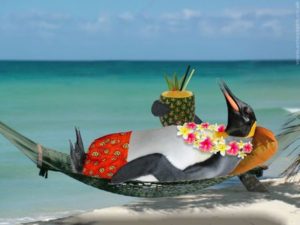 The Seneca Lake Wine Trail Events for 2011 have already started but there are still more to enjoy. If you have never come to the Finger Lakes to enjoy the wine, the events are a great way to start. Most people come for long weekend and travel around the lakes stopping at wineries and savoring their wine with a special food prepared to show off the best qualities of the wine . These event tickets need to be purchased before you arrive or they may sell out before the event starts. Last weekend, they paired chocolate with wine. The next event is Cruisin' the Tropics, March 25-27.
Most wineries are serving some tropical specialties with their wine during this event. This event usually evokes a lot of creativity in decorations and spicy foods. This Bed and Breakfast owner likes spicy food served with Riesling and Gewurztraminer. Who doesn't want to cruise the lake and visit wineries decorated to make you feel like you are in the tropics? Most people who are also traveling around with you, are also enjoying the warm feelings from the wineries who participate. It is a very social event. Straw hats, sundresses, Hawaiian shirts, leis, lots of beads and sandals are paraded around and you know they were dug out of the darkest corners of their closets. Getting dressed for this event is only part of the fun, but enjoying the other outrageous outfits is almost as fun.
The event is a 3-day weekend long and this allows people to spread out the wine tasting so no one has to over indulge to visit all of the wineries. Many participants spend their weekend at a local Finger Lakes Bed and Breakfasts. Many Innkeepers add to the success and enjoyment to the vacation by providing a delicious beginning to your day and a great nights sleep. My Seneca Lake Bed and Breakfast is also known for providing the best places to find a gourmet dinner every evening. My Bed and Breakfast also has couple massages on location and an outdoor wood-fired hot tub to soak in at the end of your day to ensure a restful sleep. My Inn has 8 suites which allows a group of friends to come to enjoy this great time away together. Don't be late for the Cruise, and Bon Voyage!
Innkeeper Rose Hilbert
POB 95, 112 E. Main St.
Trumansburg, NY, 14886
info@f67.62d.myftpupload.com
www.gothiceves.com
1-800-387-7712
607-387-6033
fax 607-387-4035