It has been a busy year here in Trumansburg NY at the Inn at Gothic Eves.  Not only have we updated several of our rooms and bathrooms, but we have also added a spa as an additional offering to our guests! The goal was to not only update the bed and breakfast, but to offer a better overall bed and breakfast experience with a serene and relaxing environment for all who visit:
Some smaller rooms were opened up for more "living" space during your stay.
In many rooms, busy wall coverings were replaced with clean palettes.
Some rooms have increased surface space for morning routine use, computer use, and overall functionality.
Additional outlets were added in rooms to accommodate your electronic devices.
Large showers with high ceilings, and beds without footboards provide a more comfortable stay for tall guests.
Furniture and fixtures were replaced to complement the new decor.
Our old (and dare we say beautiful) windows with bubble glass were replaced so that windows can be easily opened and closed.
Many bathrooms now feel like mini-spa spaces.
In the end, our modern updates made the home more efficient and quiet thanks to added interior and exterior spray insulation. New room-darkening drapes provide more privacy and allow for a deeper and longer sleep. Let us show you a little of what has changed. The Bordeaux Suite This room underwent a cheerful update.  While red highlights remain, staying true to the Bordeaux name, the room now has cleaner lines and a more modern feel.  The Bordeaux Suite bathroom features an artistically tiles shower and updated fixtures.
The Merlot Suite From dark and confined to light and airy, the Merlot Suite is now a welcoming retreat with much lighter decor and updated furniture.  The Merlot Suite Bathroom now has a spa-like feel with a spacious, tiled, walk-in shower with body sprays.
The Pinot Suite While this room update was featured in a post last year, it is worth again showing the differences in this collective post.  The Pinot Suite benefited from an addition that was added to the inn, creating vaulted ceilings and a much more spacious room.  The updated bath is now a place of relaxation with a soaking tub for two and walk-in shower.
The Syrah Suite This serene room also benefited from our addition, creating a much larger guestroom with vaulted ceilings and additional space for a beautifully luxurious bathroom.
The Reisling Suite While this room's changes aren't as extreme as the rest, we have updated the decor for a wonderfully serene feel.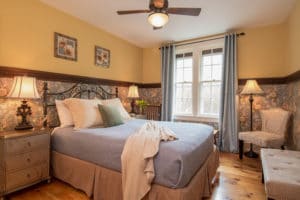 The Spa at Gothic Eves Possib
ly our favorite update is a place for guests and patrons to relax and be pampered: our beautiful new spa in the Potter House!  Offering 60- and 90-minute massages for one person (from one or two therapists) and couples in our a naturally relaxing space, our spa may become your new favorite place at The Inn at Gothic Eves!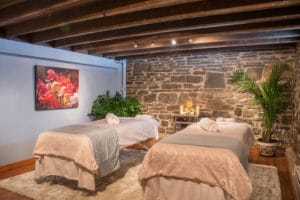 Our goal is, and has always been, to offer relaxing and enjoyable bed and breakfast accommodations in one of the most beautiful areas in the entire United States.  The Finger Lakes Region is truly a gorgeous area, and we're working hard to make The Inn at Gothic Eves as beautiful as our surroundings so that our guests not only look forward to visiting the area, but to our inn in particular!