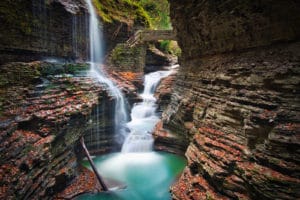 One of the many things the Finger Lakes Region of New York is known for is the waterfalls. The geography of this region is unique, with its large lakes, rolling hills, and deep grooves; perfect for water to squeeze its way through.  The most famous of these is Taughannock Falls, which is a jaw-dropping 215-foot waterfall. Though Taughannock Falls is extraordinary, there's another park where you can get some pretty spectacular views in a short amount of time. Watkins Glen State Park is the most famous of all the State Parks in the Finger Lakes, and for good reason. In total, there are 19 spectacular waterfalls in this park, all within a relatively short distance from each other.  Come chase waterfalls with us this summer, and book your room at our Finger Lakes Bed and Breakfast today.
Waterfalls at Watkins Glen State Park
Watkins Glen State Park is approximately 30 miles southwest of the Inn, and worth every second of your time. It has been ranked as one of the top 3 State Parks in the entire nation, and for good reason.  This one park is home to 19 spectacular waterfalls, each located along its walkable Gorge Trail. Within a short two mile journey, the water of the glen's stream drops 400 feet into a gorge with 200-foot walls.  As it drops, it cascades down 19 different waterfalls, each one just as spectacular as the next. Rim trails overlook the gorge, and there's also the Gorge Trail itself that winds alongside, over, and under the falls.
There are also a number of smaller trails leading from the Gorge Trail, which lead to a variety of other hikes and activities in the park, which include swimming pools, guided tours, and picnic sites.  It's best to go early in the morning before the large summer crowds descend on the park. Watkins Glen State Park is also an exceptional place to view fall foliage, and now is a great time to start thinking ahead and making those fall reservations!
Relax in Luxury at the Inn at Gothic Eves
Our Bed and Breakfast is centrally located between Cayuga and Seneca Lakes in the Finger Lakes Region, making it the perfect home away from home for your time spent in this incredible region. Our luxuriously appointed rooms will sweet you off your feet, and our spa provides you with unbeatable relaxation.  Pamper yourself, and come stay at our Finger Lakes Bed and Breakfast today.