Love great wine?  Have a passion for gorgeous classic cars?  Enjoy the bounties of the rhubarb harvest?  All this and more can be found at the annual Olde-Tyme Rhubarb Festival and Classic Car Cruise-in on June 1, 2013!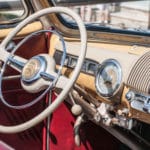 This is the sixth year for the event sponsored by Montezuma Winery and Hidden Marsh Distillery in Seneca Falls.  Located about 35 miles north of our bed and breakfast nestled between Cayuga and Seneca Lake, you will enjoy a picturesque drive through the area's stunning landscape to find classic cars, great wine, yummy food, unique spirits, great local music, and Upstate New York hospitality during this single afternoon (12-4 pm) extravaganza.
Of course, you will find dozens of automotive classics, lovingly restored to driving and showing condition.  Talk details and restoration methods with the owners, admire the lines and details of these amazing cars, and even dream of days gone by.  In the mood for a little fun?  Try your hand at the hula hoop contest and the rhubarb stalk throw while you're there!
Samples of award-winning Montezuma wines, in Red, White, Fruit and Honey variates.  And just for kicks, see if Hidden Marsh Distillery's BEE Vodka, Corn Whiskey, Brandies, and other Liqueurs tempt your pallet!  This is also a celebration of the rhubarb harvest with rhubarb chili, pies, and other goodies all offered to tempt your taste buds!
Besides rhubarb, classic food offerings such as hot dogs and hamburgers will also be available.  If the day is warm, you can also cool off with the event's signature wine slushies!
While the event is free, all food and wine offerings will be provided at an on-purchase basis.
Have a classic car of your own?  It is free to register for a spot at the non-judged show, although space is limited: pre-registration for a spot is required before May 30!
This is a very popular event for Inn at Gothic Eve guests, so reserve your room early to enjoy the relaxing comfort of the inn, the hot tubs, and our available spa services.  We look forward to seeing you!