When coming to the Upstate Region of NY to relax and enjoy the Cayuga Lake Wine Trail, you need a comfortable place to stay. The Inn at Gothic Eves is located between Cayuga Lake and Seneca Lake Wine Trail. The location allows for multiple day stays to this region. To be the place that makes you happy and gives you all that you need to be comfortable during your stay, changes have been made to accommodate your requests. This post is the beginning of many to come. Follow the progress during makeovers to all  rooms at the Inn with before and after pictures.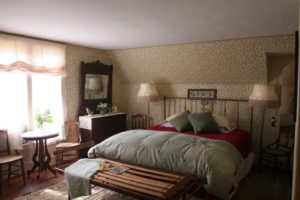 The National Geographic Room, an upstairs room with a king bed and a single bed, had a few challenges for  guests. As much guests returned and requested this room, they also commented about the lighting, sound, space and extra seating in the room.
The before picture is to the right. Wallpaper has always caused decorating problems when matching it to the linens, so I opted to change the linens and spreads for the bed to more of a Champagne color. A wall of fabric was added behind the bed to warm up the room and quiet the room. A larger rug with a great design was brought in to coordinate with the rooms decor. In addition, 3 side tables, a chair, and two lamps were added which also increased the comfort and space for guests. Finally, the National Geographic Magazines were removed, and the room was re-christened The Chardonnay Room.
With pride, I present The Chardonnay Room,
Innkeeper Rose Hilbert
POB 95, 112 E. Main St.
Trumansburg,NY,14886
info@f67.62d.myftpupload.com
www.gothiceves.com
1-800-387-7712
607-387-6033
fax 607-387-4035