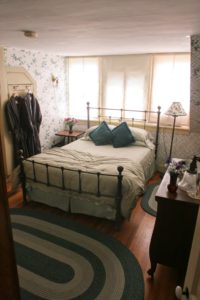 The Inn at Gothic Eves has been busy this winter. When everyone else was hunkering down and waiting out this economic crisis, I was busy giving the Inn a facelift. When my guests are feeling more financially secure, I will be ready to make them feel special and help them recover from the long worrisome winter. I are continuing the Facelift Series with Followup II, The Ivy Room.
The Ivy room is on the second floor and is named for its wallpaper. This room is a bright room with a wall of windows facing East. It must have been one of the last rooms to be renovated by the previous owner. ( Before shot is second photo, right) There were 3 types of wallpaper in this room and the room was busy. A large armoire faced the windows which took too much space to have any seating, and the linens did not quite match the colors in the room. There was also not enough lighting to accommodate guests' needs. One side of the bed did not have a side table for lighting and bedside guest belongings.
To remove 2 out of 3 wallpapers, the wall of windows was remodeled and wood paneling and trim was added below the windows. Cracks in the plaster were also repaired. The paneling was painted and 2 wallpapers were removed. This provided one palette of color to match. I found great choices for the bed linens and settled on this blue/green spread. The armoire was then removed from the room and replaced with two armed-chairs and a table that was refinished with a matching ottoman. This unique ottoman piece has a style similar to a horse saddle, and I love it in this room. A second side table was added, as well as three lamps which gave the room a warm feeling at night. Last but not least, closets were cleaned of extraneous items to give guests more useful space.
The room is still bright but it feels much larger, less busy and it is much more comfortable for guests to relax without always sitting on the bed. You can be one of the first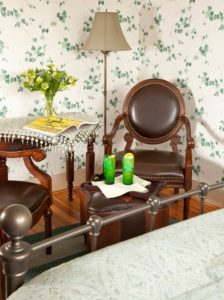 guests to reserve the new Ivy Room at this Finger Lakes Bed and Breakfast. The website is still trying to catch up with all of the work, but should show all of the new changes this week.
I look forward to taking care of you and showing you the fruits of so much hard work.
Innkeeper Rose Hilbert
POB 95, 112 E. Main St.
Trumansburg, NY,14886
info@f67.62d.myftpupload.com
www.gothiceves.com
1-800-387-7712
607-387-6033
Photography by Jumping Rocks