Last week, we brought you news of the upcoming events on the Seneca Lake Wine Trail. But The Inn at Gothic Eves does not like to play favorites with nearby Finger Lakes Wine Trails… and it would be remiss of us to overlook the upcoming fun to our east! On the very same weekends of the Deck the Halls Weekends, the Cayuga Lake Wine Trail is hosting their Annual Shopping Spree on the weekends of November 22-23-24 and December 6-7-8, 2013!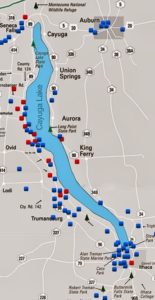 All 16 member wineries along the shores of Cayuga Lake will be participating in this holiday event – you choose your Starting Point Winery and proceed from there! Each participant will be provided a souvenir wineglass, a grapevine wreath, cookie-cutter ornaments from each winery visited, a shopper's card ($5 off a purchase of at least $35, good at any and all wineries), and holiday recipes! Member wineries will feature complimentary tastings and plenty of shopping opportunities.
Participants must begin at their designated starting point to receive their passes, wineglass and goodies before proceeding to other member wineries. Select wineries will be open for the event on each Friday: King Ferry and Long Point on the east side of the lake, Montezuma on the north shores, and Six Mile Creek on the south in Ithaca (all of these wineries are starting points on Friday). On Saturday and Sunday, all wineries are open, but King Ferry and Long Point on the east are the only options for starting points for the event on these days.
Advance Tickets are $40 for a single-taster ticket, and $60 for a couples-taster ticket. If you wait until you arrive, tickets will be $45 for a single and $65 for a couple. In either case, designated drivers are offered a $5 ticket discount.
Wine Trail events are the perfect way to find your new favorite wines, and take care of some holiday shopping! Tickets are now available for either weekend (follow links for specific weekend dates above). Now is also a great time to reserve your favorite bed and breakfast room here at the Inn at Gothic Eves for the events. We'll keep the inn (and a hot tub, if you wish) nice and toasty for you!
The Inn at Gothic Eves asks that you consider a designated driver during this event. While samples are small, they can add up quickly… and we'd rather see you back at the Inn safely!