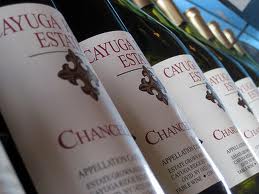 The Cayuga Wine Trail is offering 4 wine-tastings in the Finger Lakes Wineries at one low price, $115 for couples and $70 for individuals. The Season Pass may be purchased in advance, and will save you 35% off the ticketed price. The 4 events along the Cayuga Lake Wine Trail are the Mardi Gras Scavenger Hunt; "Say Cheese"; the Wine and Herb Fest; and the Holiday Shopping Spree.
The Cayuga Wine Trail's first event of the year is the annual Mardi Gras, March 5 and 6. If you can't make it to New Orleans, join the celebration on the Wine Trail! You will be served award-winning wines paired with Cajun cuisine; the recipes will be provided, as well. The weekend includes new features such as St. Patrick's Day beads and a scavenger hunt. The hunt for the gold coin will result in one lucky winner taking home a case of Gold Medal-winning wines from the Cayuga Lake wineries. Are you feeling lucky?
"Say Cheese" is the newest of the Finger Lakes Wineries Trail events. Bring your camera, and be ready to show your best side, as there will be a contest for the best photo taken during this event, being held March 26 and 27th. Wine tasters will be treated to local cheeses chosen specifically to compliment each local wine. You do not want to miss this event!
The Wine and Herb Fest is the third event included in the Season Pass. The Fest will be held April 29-May 1, and again on May 6-8. Participants will be treated to savory dishes paired with wines for the year 2011, and participating wineries will provide everyone with an herb or vegetable plant to take home to your own garden. This is a Cayuga Lake Bed and Breakfast's favorite event. It occurs just at the beginning of the planting season, when all things seem possible and new. Each wine taster/gardener can receive 16 herb or veggie plants perfect for the garden.
Last but not least, the year wraps up with the Holiday Shopping Spree, November 18-20 or December 2-4. Wine enthusiasts take this opportunity to supply their wine cellars for the winter holidays. Participants also enjoy receiving one-of-a-kind, unique ornaments from each winery.
The Season Pass is available for a limited time, and can be purchased through the Cayuga Wine Trail office at (800) 684-5217.
These events provide an opportunity for you to plan a getaway that allows you to explore award-winning Cayuga Lake wineries and discover this beautiful region of upstate New York. To fully enjoy the experience, spending the weekend at a Finger Lakes Bed and Breakfast will help you truly relax and make the most of your time here. The Finger Lakes Region is a beautiful spot for vacationing, and this innkeeper will help you start each day right with a breakfast crafted from local organic foods. You can choose to finish each day with a massage or a soak in an outdoor wood-fired hot tub. Most weekends there is live music and/or theater, and there is always an abundance of wonderful cuisine. Let us help customize your experience.
Innkeeper Rose Hilbert
POB 95, 112 E. Main St.
Trumansburg, NY, 14886
info@f67.62d.myftpupload.com
www.gothiceves.com
1-800-387-7712
607-387-6033
fax 607-387-4035