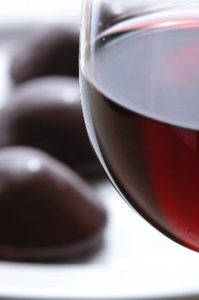 The top 3 Chocolate and Wine Pairings for Valentine's weekend in Upstate NY for 2011 are held by the Niagara, Seneca Lake, and Keuka Wine Trails.
If you're looking for a memorable Valentine's weekend, you can't go wrong with one of the following three events being held by Upstate New York's finest wineries.
The Niagara Wine Trail: Be Mine With Wine event, held February 11-13, features local chocolatiers paired with local wines at participating wineries. Tickets are $20 in advance (online at www.niagarawinetrail.org) or $25 at the door and include one sampling at each winery, as well as a commemorative wine glass. Event hours are Friday noon to 6 p.m., Saturday 10 a.m. to 6 p.m., and Sunday noon to 6 p.m.
The Seneca Lake Wine Trail: Chocolate and Wine Weekend occurs February 11-13. This event pairs local wines with Bridge Brands' Wine Lover's chocolates. Most of the wineries have designed a special dish made with this gourmet chocolate for your tasting. Tickets are $30 per person, $20 for designated drivers; hours are Friday 1 to 5 p.m., and Saturday and Sunday 10 a.m. to 5 p.m. You will assigned a starting place at one of the wineries where you will be able to pickup your starter package. You will be able to visit more than 30 wineries. Order your tickets now at senecalakewinery.com.
The Keuka Lake Wine Trail: Truffles and Tastes event, held February 12-13, features wines paired with culinary delights of sweet or savory foods. The event guests will receive a gift box at the first winery which they can fill with truffles all day. This innkeeper would not need a box to collect chocolate. Tickets are $27 per person, or a discounted $20.25 for designated drivers. Tickets may be purchased at www.keukawinetrail.com.
The combination of red wine with chocolate is as natural as vanilla ice cream with apple pie. New York wineries are gaining quite a reputation; their wines are winning competitions all over the world. What better way to enjoy Valentine's weekend then to take your sweetheart on a romantic getaway where you can spend the days enjoying chocolate and wine pairings. Choose a romantic Finger Lakes Bed and Breakfast that is an easy drive to two of the three wine trails. While you are visiting this beautiful region, save time in your schedule for a relaxing massage in the morning, and an evening spent enjoying a wonderful dinner at one of the many restaurants that serve regional cuisine. This will be a weekend that you and your Valentine will not forget.
Innkeeper Rose Hilbert
POB 95, 112 E. Main St.
Trumansburg, NY, 14886
info@f67.62d.myftpupload.com
www.gothiceves.com
1-800-387-7712
607-387-6033
fax 607-387-4035