Part One of Journeys Introduction
The spa has taken another evolutionary step towards providing a holistic experience for our guests at Gothic Eves. We are calling this new experience "Journeys". These Journeys are complete packages that have a single focus, for example, Mindfulness.
Here is a snippet of what's to come:
"Are you looking for an experience that can help shift your consciousness in the midst of daily challenge and struggle? In a world that has so much going on, it can be tough to maintain a state of inner peace and balance. Fortunately, we have tools you can use to restore clarity and tranquillity on many levels. In the healing space at Gothic Eves, we have created specific environments for the body as well as the mind to shift towards balance. The tools we use are energy medicine, massage, healing sounds, crystals, aromas, and more. Thus, the creative Licensed Massage Therapists at Gothic Eves have combined these therapies in a unique format called "JOURNEYS" to support your specific challenge. This is not an a la carte menu where you must pick services that interest you, but rather a guided experience that supports all aspects of you and the many ways in which your body heals."
Sounds good, right?
This is very exciting because we are using the many skills of our practitioners and building on their knowledge to create treatments aimed towards healing our physical, mental, and spiritual bodies. We will still offer our current range of services, "Classic" treatments, that our guests have always enjoyed. The journeys have been created by the practitioners and are designed to immerse you in a transformative space.
We would like to introduce two of the massage therapists today!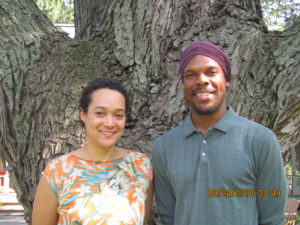 Two of these gifted practitioners are Lang and Gazel. Some of you may have already received a treatment from them and are familiar with their work. They are truly incredible healers and I feel so lucky to have them working with us. They feel it is time to provide complementary ways to remain healthy and aware on the path of wellness! They will be facilitating the "Mindfulness Journey" as this month's new feature.
Lang put it beautifully – "The work I do is meant to benefit the individuals whose needs can be met through the gifts I have to share."
As graduates of the Finger Lakes School of Massage (Ithaca, NY), they have spent many years evolving their healing techniques to where they are today. Before massage school, however, Lang entered the healing realm when she found herself as a client of Diana Warren in New Jersey, and once Diana was introduced to Gazel, the fire was lit. Diana taught them about Eden Energy Medicine (EEM), a remarkable healing practice centered around energy work (as opposed to Western techniques for healing that focus on the physical body alone) and how to realign your energies to revive yourself. Both Lang and Gazel can share stories of how it has helped them personally. Lang used to require the aid of corrective eyeglasses, but by using EEM and adjusting her diet she no longer needs to wear glasses. Gazel improved his coordination both in the body and in the brain with the help of EEM and traditional Chinese medicine. He had practiced meditation and was familiar with energy but didn't have the language to communicate it effectively. EEM gave him the language.
Together Lang and Gazel have expanded what massage means for themselves and their clients. Their existing practice already goes beyond what is expected by incorporating their knowledge of EEM and providing techniques for clients to continue healing on their own.
They also have taught many workshops to pass on their knowledge of the human body and its energies. Beyond bodywork and EEM they facilitate sound therapy with the Aboriginal didgeridoo, Tibetan singing bowls, guided meditation, green light therapy and breathing exercises to create an enriching and innovative healing experience.
As we share more in the coming months about these creative journeys look for the updates and info on the spa website. The website has been revamped and looks beautiful so make sure to check it out!