Have you checked out our other itineraries? Are you looking for a mix of what the area has to offer? Try this on for size!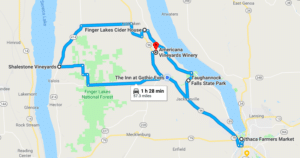 Start with our yummy breakfast at the inn.
Head down Route 96 to the Ithaca Farmers Market for some delicious local produce, cheese, bread, candles, t-shirts and more! Sit out by the Cayuga Inlet and maybe see some rowers training. Note: This is mapped out for a Saturday or Sunday. If you're visiting mid-week do not fear! The Trumansburg Farmers Market is on Wednesday evenings.
Then head north to Taughannock Falls State Park to eat your goodies, take a swim (if you're brave enough!), and hike to the gorge! 
Keep the eating theme (one of my favorites) with lunch and drinks at the Finger Lakes Cider House. They're now serving lunch every day from 12-4pm with a delicious menu.
Go west to Shalestone Vineyards for some great wine tasting. Check out some of our other favorites here.
Bring it back to Trumansburg with local live music at Americana Vineyards Winery.