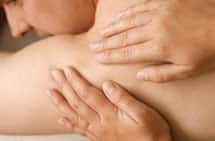 As a resident of upstate New York, I certainly appreciate the nearby Finger Lakes School of Massage. Not only can a massage ease your aching muscles, but it results in a deep relaxation that is good for the soul as well.
The Finger Lakes School of Massage has been training massage therapists in upstate New York for more than a decade. Students undergo 1,000 hours of holistic massage education, where they gain an underlying knowledge of the human body, as well as hands-on training in bodywork. Graduates from the program are then prepared to take the New York state licensing exam, the National Certification Board for Therapeutic Massage and Bodywork's national exam, or other exams that qualify them to practice their craft.
You may (or may not!) be surprised to find out that the health benefits of massage are being accepted as positive complementary medicine. According to the Mayo Clinic, some studies have found that massage is helpful for stress relief, managing anxiety and depression, pain, blood pressure control, and boosting immunity. In addition, many people benefit from the caring and comfort of the physical touch of a trained massage therapist.
Newsweek magazine also touted the benefits of massage, and also offers tips about the benefits of massage. One study cited in the article occurred at the University of South Florida. Study subjects were hypertension patients who received ten 10-minute massages during a three-week period. The blood pressure of patients who received massage showed significant improvement relative to study participants who simply rested in the same environment, but did not receive massage treatment.
Because I have personally benefited from a relaxing massage helping clear my head and rejuvenate my body, my Ithaca B and B offers a massage service. If you wish to explore this experience, you can reserve a massage time when you book your room, or after you arrive (if there are still spots open!). My massage therapists offer full-body Swedish massages for relaxation and increased circulation, which may be combined with a deep tissue massage concentrating on problematic areas. Massages can be reserved for individuals or pairs of guests, or can be part of a romantic couples' getaway. After treating yourself to the pampering benefits of a trained massage therapist, I think you'll find yourself determining how to work a regular massage into your schedule!
My massage therapists have been with me for over 4 years. Renata Walls Boyle, LMT graduated from the Finger Lakes School of Massage in 2004. She has her own practice but comes to The Inn at Gothic Eves on a regular basis. I tease her often about the expressions of our guests faces after one her sessions. Lots of compliment,s but my favorite was a guests who said it was better than drugs. I recommend you have your couples massage after breakfast on a day that you do not have plans for the rest of the day. Many guests just take the day off, rest, read and then head out to dinner in the evening to end their day and others add a hot tub soak.
Innkeeper Rose Hilbert
POB 95, 112 E. Main St.
Trumansburg, NY, 14886
info@f67.62d.myftpupload.com
www.gothiceves.com
1-800-387-7712
607-387-6033