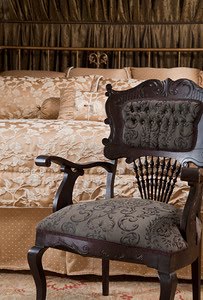 I am taking careful steps with this winters renovation of one of the rooms in my Bed and Breakfast in the Finger Lakes. The goal is to give guests a more luxurious experience than just a bed at night and a breakfast in the morning. I have been making improvements for 4 years to many parts of the facility. This winter I chose the Chardonnay Suite (photo to your left before renovations) to concentrate my efforts. I started by raising the ceiling about 4 feet to give the Chardonnay Suite a more spacious feeling. The king bed will remain in the room, but the single bed has been taken out to make the room even more spacious. I have changed the colors in the room to give it a more modern feel, shades of brown and blue. I also wanted room for a beautiful gas fireplace. This fireplace is from the Valor Portrait line which is a British company who makes gorgeous replicas. I am also putting some extra seating in the room so people will have space to sit and talk and relax in the privacy of their own room. More amenities will be added like a new flat screen TV, cable and sofa.
The bathroom has been enlarged and it will be tiled including the curved wall. A large vanity was chosen for all of us women who have their creams, solvents, makeup and other toiletries that are necessary to get ready every morning and still have room for their mates belongings too. It has 6 drawers so there will be ample room to store your toiletries away for privacy. The shower is large enough to fit two people with a spa body shower added to indulge your yourselves. There will be two large mirrors to help you prepare for your special dinners and events while you are in the Finger Lakes Region of NY. The improvements are scheduled to be finished by May 1st.
The Parlour last year, pictured to the left, was greatly improved with new chairs and sofa with comfort in mind. This winter I have also added a flat-screen TV, cable and DVD player. To make things even more enjoyable and special for guests, I am installing a wet bar and cabinets for the ice maker and beverage refrigerator. My guests said they wanted access to ice, a TV, refrigeration and a bar setting for them to mix drinks. Many of you bring your friends and the Parlour will now accommodate a social gathering. I expect to be finished with this project by the beginning of April. I look forward to meeting you there in the evenings to share the happenings of the day.
the Main house will be closed till the end of March. At that time, the work will be restricted to the Chardonnay and Syrah Suite only, and the other suites will be available to accommodate your visit. If you need a place to stay in March, the Potter House suites are available for the entire season. So if you are coming to Ithaca, NY for a special getaway this season, consider staying in the Chardonnay Suite at the Inn at Gothic Eves or stay in one of the other suites and just enjoy the new social environment of the Parlour. New photos will be available on our website in late June showing all improvements. I look forward to taking care of you.
Innkeeper Rose Hilbert
POB 95, 112 E. Main St.
Trumansburg, NY, 14886
info@f67.62d.myftpupload.com
www.gothiceves.com
1-800-387-7712
607-387-6033
fax 607-387-4035