Every loaf of bread baked at Wide Awake Bakery, located in Trumansburg, is one part local wheat and a huge helping of community. If ever a company was a reflection of its area, this gem of a company is it.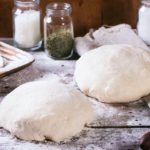 And it all started as a hobby, a stress-releaser for owner Stefan Senders, who made his bread with flour from local organic grain growers. (Most of the flour still comes from this source, Farmer Ground Flour in Trumansburg). We're all thankful he decided to turn his love of baking into a profession we all get to enjoy!
The bakery opened a few years ago using CSA's as a model for securing local ingredients and distributing product. At the heart of the operation is an impressive oven. Built of brick, steel, stone and insulation and fired by wood, it has the perfect atmosphere for creating the bakery's great breads, which can be found in stores throughout the area.
The bakery makes up to 50 varieties of bread, including Gary's Bread, a big, crusty loaf that's one of the most popular; and Sunflower Farmer's Bread, a German-style light rye that's studded with sunflower seeds and covered in poppy and sesame seeds. These are chewy, hearty, delicious breads that are the makings of great toast and wonderful sandwiches. What makes Wide Awake Bakery's loaves even more satisfying, is knowing how they are made, using organic ingredients, local suppliers and sustainable methods.
For our Inn guests who'd love to learn how to make breads like these, the bakery offers classes. The next one is coming up on Saturday, November 21, and includes a light breakfast, lunch, and lots of hands-on practice.
Wide Awake Bakery
4361 Buck hill Road South, Trumansburg
607-387-9970
Breadmaking Class
Saturday, November 21, 2015
8:00 a.m. – 6:00 p.m.
$195/person
If you'd like to take the class—or would just like to hang out in the area, and buy a loaf or two at the store—give us a call. We'd love to have you spend the weekend!