Step into the 100-year old Dewitt Mall in downtown Ithaca and you'll find music, colorful displays, haunting aromas from two wonderful restaurants—and some great gifts for everyone on your holiday shopping list!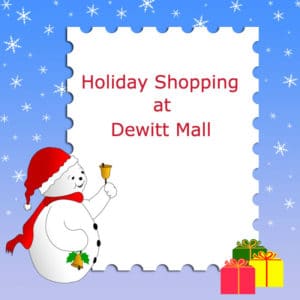 Built in 1915 as a high school, the building underwent major renovation in the 1970's to become a multi-use building that houses apartments, offices, shops and restaurants. Now the mall, located at the corner or Cayuga and Seneca Streets, is a favorite Ithaca place to shop for unique gifts and specialty items.
Dewitt Mall
215 Cayuga Street, Ithaca
607-273-6464
Several of the stores have been around since the mall first opened, including Pastimes, an eclectic shop that features a whopping range of collectibles and antiques, including furniture, antique buttons and postcards, glassware and china.
Pastimes
Monday – Saturday, 10:00 a.m. – 5:00 p.m.
Sundays, December only, 11:00 a.m. – 3:00 p.m.
607-277-3457
A book is a classic holiday gift and you'll have fun poking around The Bookery, another of the original stores here. The selection includes more than 35,000 new and used books. In addition to fiction titles, you'll find rare books about New York or local history, art, poetry, and even entire collections purchased from collectors.
Bookery  
Monday – Saturday, 10:00 a.m. – 5:30 p.m.
607-273-5055
Follow the sound of the music and you'll end up in one of two fun shops, one featuring strings, the other drums. At Ithaca Guitar Works you'll find a superb selection of guitars (electric and acoustic), basses, banjos and ukuleles. The shop also has a fun roster of events, so be sure to check their website for information.
Ithaca Guitar Works
Monday – Wednesday and Saturday, 10:00 a.m. – 5:30 p.m.
Thursday – Friday, 10:00 a.m. – 8:00 p.m.
Sunday, 12:00 p.m. – 4:00 p.m.
607-272-2602
Drums are the musical focus of Toko Imports, which is an unlikely combination drum and hat store. Owner Tom is passionate about drums, and makes the unique models found here. He also sells other musical instruments, from a quirky finger piano to exquisite Native American flutes. After perusing the drums and such, check out the hat section. It's a delightful selection of hats for men and women—bowlers, fedoras, berets and more, all made from quality wool felt. Just the thing for Ithaca's wintry days!
Toko Imports
Monday – Saturday, 11:00 a.m. – 5:00 p.m.
607-277-3780
Fibers is a wonderful shop that features the beautiful fiber works of local weaver, Joan Reuning, plus clothing and jewelry from designer Connie Shipos. The shop also sells items the duo has found in their travels throughout the world, as well as a very affordable line of clothing.
Fibers
Monday – Saturday, 11:00 a.m. – 5:30 p.m.
Sunday, 11:00 a.m. – 2:00 p.m.
607-277-277
Looking for something fun? Head into the Cat's Pajamas! The eclectic shop is filled with delights for the young and young-at-heart. Find all sorts of games and amusements, science kits for kids, toy trains, and lots more, including clothing for infants.
Cat's Pajamas
Monday – Friday, 10:00 a.m. – 5:30 p.m.
Saturday, 10:00 a.m. – 5:30 p.m.
Sunday, 12:00 p.m. – 3:00 p.m.
607-319-0944
Also in the Dewitt Mall is Decorum – Too, a shop selling Oriental rugs and fine home furnishings; and Harold's Coins, selling coins, stamps, postcards and covers, and philatelic supplies. If you get hungry while shopping, you've got two great choices right at the mall: Café Dewitt , which serves brunch and lunch, and the renowned Moosewood Restaurant.
When coming to town, be sure and stay with us at the Inn. You'll not only have a comfy room to come back to—and a delicious breakfast next morning—but you could treat yourself to a relaxing spa treatment too!