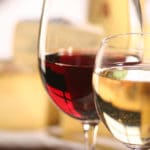 Spring is almost here, and with it comes winery tourism season!  The Inn at Gothic Eves is in the perfect position for access to two different wine trails:  Cayuga Wine Trail and Seneca Wine Trail.  Much like the names imply, the trails encircle the lakes they are named after.  Thirteen of the Cayuga Lake Wine Trail's members and fourteen of the Seneca Lake Wine Trail's members are located within 20 miles of Trumansburg.  That's a lot of wine-tasting opportunity for guests staying with us!  If you're a wine-lover and want even more of a reason to plan a Finger Lakes bed and breakfast getaway, let me also mention the added incentives offered by the Wine Trails:  Seneca's Riesling to Visit Passport; and Cayuga's 30-year celebration, and Vino Visa Coupon book!
Cayuga Lake Wine Trail:  30 Year Anniversary Celebration
2013 Marks the 30th Anniversary of this Trail's creation.  This, America's very first wine trail, began with just five wineries, but has grown to encompass 15 different winery destinations, 1 cidery, and four distilleries.  The locals aren't the only ones who think that the Cayuga Wine Trail's wineries produce great wines:  trail wineries and their vintages have accumulated over 5300 medals, here in the United States and abroad!
To honor what is becoming a very rich wine history around Cayuga Lake, the wine trail members are offering specials on the 30th of each month throughout 2013!  Including specials on wine, food, pairings, and tastings, all welcome you to take advantage of this great occasion!

Note:  Check with each winery before your visit to ensure they are open, as the different wineries have their own hours of operation.  Some wineries do not open until later in the year.

Cayuga Lake Wine Trail:  Vino Visa Coupon Book
If your visit will not fall over the 30th of the month, you may be interested in this inexpensive coupon book, offering a variety of savings opportunities at both the wineries, and also select restaurants and attractions along the way!  Costing just $15, there is the potential to save over $300 if you manage to visit all the participating establishments during the year!
Seneca Lake Wine Trail:  Winery Passports
During the winter and spring/summer seasons, the Seneca Lake Wine Trail offers a passport  for your wine-tasting pleasure!  Each passport treats you to a free flight of wines for tasting at each winery featured (one visit to each winery per passport).
Note:  One passport per taster.  Passports are not intended for large groups over 7 tasters – tasting fees apply for large groups.
Polar Passport
If your visit to Upstate New York's wine country is to take place soon (during the month of March), this is a great time to take advantage of the final days of the Polar Passport!  Cost is just $12 ($12.96 after tax); this late in the season, it is best to purchase the passport from one of the wineries.
Riesling to Visit Passport (good between 4/1 – 7/31)
In honor of our regions great Rieslings, this passport costs $18 plus tax (and online reservation fees if purchased online), and go on sale both online on March 29, and at the area's wineries on April 1 (no joke).  If you order online, you will have your passport in about a week.
Plan your visit to Trumansburg and enjoy lodging that rivals any Ithaca hotel.  In fact, the hospitality and personalized service you receive during your stay at The Inn at Gothic Eves might just have you swearing off hotels for good.  Come enjoy a slower pace, beautiful scenery, and of course the wineries and their specials along the Cayuga and Seneca Lake Wine Trails!