Part Two of Journeys Introduction 
There's not a person that doesn't arrive at the inn or spa that isn't drained and simply glad to have made it to their destination ready to relax. The logistics of getting off of work, finding a babysitter, dog sitter, packing and traveling can be stressful. When they leave the Inn, it's so rewarding to see the change in them after a stay of rejuvenation with us. The cozy room, delicious breakfast, hiking, wine drinking, clean air, sitting by a beautiful waterfall or in our hot tub, massage, and whatever else they take part in attribute to this wonderful feeling.
But what happens when you return home? You go back to your hectic routine with work and family and all the responsibilities. It is rare that people change their lifestyle after a vacation so you end up being exhausted soon after you return.  It isn't all terrible, there is lots of joy raising a family, living with the one you love. But you long for that satisfying vacation that uplift your spirits.
Healthy Routines
We all have techniques we use to cope when our health systems – physical, mental, spiritual and energy – are stressed.
I try and exercise at least a few times a week because I know it's important and I've reached a point where I can tell when I haven't been active enough. Sometimes I'll just do some stretching and yoga in an effort to relax my muscles. Eating healthy foods is also key and I can guess if I'm feeling gross it's probably because I've been eating out too much or eating the wrong things.
When I'm stressed or emotionally out of whack I try to concentrate on the feeling and journal, Netflix binge, paint my nails, dance and sing, or get together for drinks with a friend. I try and listen to what I need to do to feel better and recharge.
In a spiritual sense sometimes I will meditate if I feel like whatever I'm trying to do on my own isn't working and I need some guidance and quiet reflection.
The thing I appreciate is how it's all connected! Everything you do to help a system will also boost the other systems.
When you come to stay with us and inevitably have to leave you will enter your real life again and likely struggle to keep up. It's okay to admit, we all struggle. So depend on your techniques (or develop some new ones!) to recharge.
Energy Work with Focus & Self-Empowerment Journey
What we want to offer at the Inn & Spa at Gothic Eves is a new technique you may be unfamiliar with (or simply want to do more with). Through the Focus & Self-Empowerment Journey, we launched last week, you will be introduced to Eden Energy Medicine (EEM). The practice was developed by Donna Eden and she is working hard to bring into common practice by training a number of interns to teach and spread the information.  Our very own Lang Miller and Gazel Cadet have been trained and have been practicing for a number of years. These techniques can be incorporated into most massage sessions that we offer at the Spa. Both of them have been gracing our guests with Eden Energy Medicine since they arrived two years ago.  Most of our guests say the massage was different and one of the best massages they have ever had. Donna Eden says "Energy Medicine awakens energies that bring resilience, joy, and enthusiasm to your life – and greater vitality to your body, mind, and spirit!"
Lang and Gazel now want to bring attention to this practice and teach people how to achieve this resilience.  The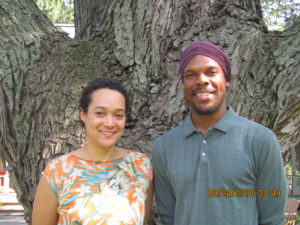 Focus & Self-Empowerment Journey was the result of this effort.  It was designed to teach you the Daily Energy Routine and allow you to do the work yourself to keep your energy strong and allow you to progress with more ease.  You don't have to go to the gym, dress in exercise clothes, drive anywhere or even leave the house. This routine can be done in less than 15 minutes in your street clothes, in your living room with little to no effort. It's also simple to use when you need a boost during the day.
Lang and Gazel are very knowledgeable and excited about the path towards greater wellness. Lang or Gazel will guide you if you are in solo, and if you are a pair (friends or family) committed to learning and healing together, they will work with you both. Giving you a unique opportunity to see how your energies effect one another. It is suggested that people who live with each other, learn the routine so the whole family and the home can grow in harmony. Both therapists are very excited to introduce this journey!
Journey Experience
The journey starts with testing your energy for each meridian. At each level tested they will teach you the exercise to strengthen that energy and retest to show the difference. Each client will be different and they will encourage you to do more repetitions for specific weak areas. This individual approach gives each client a chance to ask questions and acquire a good understanding of the practice. Following this session, you will be asked to follow the routine on your own that evening and/or the next morning.
The following day, they will retest your energy and answer any further questions that you may have after processing and following your practice on your own. More guidance will be given and they will check to make sure you have a good understanding. They will retest your energy meridians to see how much you have progressed since the initial teaching and doing it on your own time. Once they are satisfied with your progress, you will receive a 45 minute Eden energy based massage. They will follow along your neurolymphatic reflex points to passively release your toxins. If there are areas that tested weak, they will also focus on those in the massage. It is not a Swedish massage but it is very relaxing. During the massage, you will be given the crystal healing treatment. The 7 crystals chosen to activate each chakra are aligned with your body below the table. Crystals have a subtle energy to enhance the journey.  Each client will go home with one of each crystal.
In the short term, the changes you may feel might be subtle or extreme. It will depend on the health of your energy before coming to the spa the first day. To feel the real long-term effects it will be important to keep with the routine and maybe incorporate the exercises into your existing routine.
Useful details:
For the journey, you will be wearing your clothes but be advised to wear something comfortable and nonbinding.
You may book the journey online or over the phone (607-387-6033).
If you plan to stay at the inn we are also running our winter special that incorporates the journey.