Tricks, treats, goblins and games—there'll be something spooky and fun for everyone this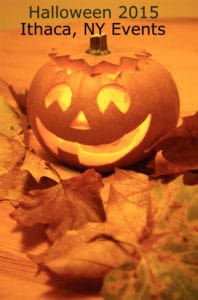 Halloween season. So pack your costume and head to Ithaca to enjoy any or all of these fun events. We may even have a few treats of our own at the Inn!
Everyone loves a parade, especially when you get to wear costumes. Ithaca's annual Downtown Halloween Parade marches through downtown where kids can trick or treat at local businesses along the way. You can enjoy free music, hot cider and chili before or after the parade. Kids will love the bounce house, face painting, games and other fun.
Downtown Ithaca Halloween
Friday, October 30, 2015
Parade 3:45 p.m.
Cider and chili, 4:00 -6:00 p.m.
Greater Ithaca Activities Center
301 W. Court Street, Ithaca
607-272-3622
Cayuga Lake may look calm and beautiful but underneath lurks all sorts of mysteries and horrors! This Ithaca History Tour will tell you all the scary details.
Haunted Lake Walk
October 12 and 26, 2015
4:00 p.m.
Adults, $12; students and seniors, $10; children under 18, $5
Ithaca History Tours
607-351-9524
If you think sipping wine and hurling pumpkins sounds like fun (we do!), head to the Varick Winery in Romulus for its Pumpkin Chunkin Weekend. You can test your aim trying to hit the target, then watch others try while you enjoy a glass of Cabernet Franc, Dry Riesling, or one other of the winery's fine offerings.
Pumpkin Chuckin at Varick Winery
October 10-11, 17-18, 24-14, 2015 5102
State Route 89, Romulus
315-549-8797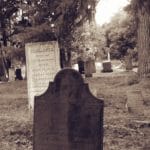 You may not find ghosts, but you'll learn about where the dead are buried on Historic Ithaca's Annual Halloween Graveyard Tour. The setting is Ithaca's City Cemetery—which offers beautiful views and magnificent trees—where visitors hear the tales and enjoy cider and donuts.
Annual Halloween Graveyard Tour
October 24-25, 2015, 11:00 a.m.
October 31, 2015, 2:00 p.m.
November 1, 2015, 11:00 a.m.
Adults (age 12 and older), $8; Friends of Historic Ithaca, $5; children under 12, free
Historic Ithaca
212 Center Street, Ithaca
607-273-6633
Vampires come to life on screen at the Willard Straight Theatre during its showing of What We Do in the Shadows. This 2012 New Zealand documentary follows a group of real vampires, in a creepily unflinching look at what they do and how they do it.
What We Do in the Shadows
Friday, October 30, 2015, 9:20 p.m.
Saturday, October 31, 2015, 7:30 p.m.
Cornell Cinema/Willard Straight Theatre
104 Willard Straight Hall, Ithaca
607-255-3522
Adults, $8.50; Seniors 62+, $6.50; CU Grad Students, $6; Students, $5.50
After all that drama, a little fun is in order, so don your favorite costume and head out to Americana Vineyards' Hallowine Spooktacular. This festively themed evening includes music by elephant sound, prizes, food and, of course, some of the winery's excellent pours.
Hallowine Spooktacular
Saturday, October 31, 2015
8:00 p.m. – Midnight
Americana Vineyards
4367 E. Covert Road, Interlaken
607-387-6801
One thing we can guarantee, there will be only treats and sweet dreams when you stay at the Inn! Give us a call soon—and come enjoy the fun and our glorious fall colors.