Oh the joy of summer cooking! This is especially true when you are blessed to live in an area rich with farms and dairies, such as we have here in the Finger Lakes.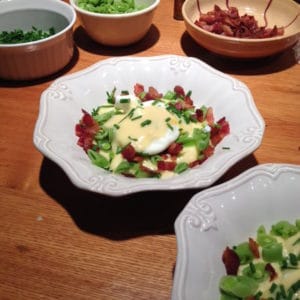 For breakfast at the Inn, we create dishes based on the fresh ingredients we find, so the end result is often a surprise even to us! The entrée shown here is a favorite "recipe" made with organic eggs from Silver Fox Farm, feta from Lively Run Farm, sugar snap peas from our CSA, feta cheese from Pully Hill, and garlic scapes from the Inn's garden. (Garlic scapes are the tender curly stems of hard-necked garlic, found in late spring-early summer.) The eggs are served over a cheddar polenta and topped with Hollandaise sauce. We accompany the dish with a refreshing salad of watermelon, mint and feta, sprinkled with a bit of olive oil, and a tasty whole wheat bread with oatmeal crust from Ithaca Bakery.
Check out your own garden, Farmers markets and local farms, then adapt this recipe to what you find. Whatever the ingredients are, when they're fresh, you know it'll be delicious!
To make Fresh Garden Eggs:
Poached eggs
Sugar snap peas, sliced diagonally
Garlic scapes, chopped
Cooked and chopped bacon
Cheddar polenta (recipe follows)
Hollandaise sauce (recipe of your choice) 
Place a portion of polenta on each serving plate. Top with poached egg and Hollandaise sauce. Sprinkle with peas, garlic scapes and bacon.
Bon Appétit!
Cheddar Polenta
1 1/2     cups    water
2            cups    milk
2            bay      leaves
                          a few sprigs of fresh thyme
2            Tbsps garlic scapes, minced
1/2        tsp       ground black pepper
1            cup      polenta or grits 
4            Tbsps butter, cut into cubes
½ – ¾   cup    cheddar cheese
Place first six ingredients in medium saucepan and simmer for 10 minutes.
Stir in grits. When soft, add butter and cheese and stir till combined. If you prefer a thinner polenta, add a little milk or water.