The Ithaca Artists Market, scheduled for Friday, July 24, 2015, is a great chance for our Inn guests to meet local artists and to check out their works—all in one place during a fun event!
Sponsored by the Community Arts Partnership, a non-profit group that supports and promotes the artists of Tompkins County, this year's show will be held at the Ithaca Farmers Market on Steamboat Landing.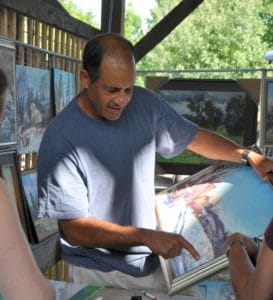 Plan to spend the afternoon wandering among the booths of more than 70 established regional artists, while you learn about their works and how they create them. This year's juried show will include paintings, prints, photographs, sculptures, functional and fiber arts, stained glass, collage, and digital work. Also included for 2015 will be books, music and videos.
In addition to artists, around a dozen Tompkins County arts organizations will be hosting booths, giving the public a chance to learn a bit about each of their missions and events.
The East Hill Jazz Group, featuring well-known local musicians, will provide a bit of mood music for the day.
Other boots at the event will provide a variety of food, from nibbles to meals, desserts and, of course, some of our fabulous Finger Lakes wines.
Ithaca Artists Market
Friday, July 24, 2015 2:00 p.m. – 8:00 p.m.
Ithaca Farmers Market, Steamboat Landing
607-273-5072
Plan to stay at our Inn for the weekend and you'll enjoy more local art in our rooms, as well as a relaxing stay and delicious breakfast!