We are lucky to have some fabulous places to eat right in downtown Trumansburg. Convenient when you don't feel like driving to Ithaca or it's a beautiful day and feel like a short walk. All the restaurants listed are within a 15-minute walk from the inn. Each location offers something different so this is your guide to what to expect.
Local & Yummy
Hazelnut Kitchen – Well known for their farm-to-table cuisine with an ever-changing menu to pair with what is in season. They offer a range of choices and are able to work with dietary restrictions when asked. Reservations are strongly recommended (we can make one for you!). Prices range $9-$35 between appetizers and entrees. They were featured in the NY Times article "36 Hours in the Finger Lakes Region of New York" last year about visiting the area!
Atlas Bowl – An app-tastic menu featuring upwards of 12 appetizers,  delicious salads, and a variety of entrees covering many forms of meat and seafood. You can't go wrong with Atlas. Prices from $6-$25. Excellent drinks with a lot of local choices. And don't forget the bowling – it's in the name. $25/hr for the lane and $2/pair for shoes.
Quick & Delicious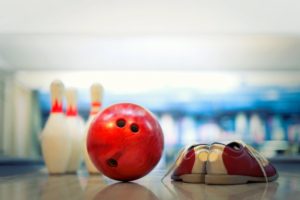 NY Pizzeria – Just amazing pizza. No question. Whatever the secret to the sauce is I want it! Call ahead to order and it'll be ready in 20-40 minutes depending on the time of day. They also have slices and garlic knots. Closed Sundays and Mondays.
Good to Go – Heading to the lake and need some picnic materials? Grab prepared foods in the refrigerated case or order from their hot sandwich list. If you are someone that will eat breakfast all day, order the breakfast burrito. Olivia swears by it. It's a natural foods store so you can pick up a variety of stuff that's good to eat. They also have a Wide Awake Bakery delivery on Tuesdays & Fridays.
Ice Cream!
How Sweet It Is – We are so lucky to have such amazing hard ice cream in Trumansburg! How Sweet It Is is the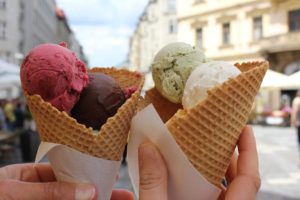 production facility for Sweet Melissa's ice cream in Ithaca, and a dessert cafe with bakery treats, coffee, and Sweet Melissa's ice cream. The flavors change often. All mouthwatering and handmade. It's right along Main St. in walking distance. Open 1-5, closed Sundays and Mondays.
Trimmer's – Owned by the beloved Broadfields' (their daughter Kelsey used to work at the inn) serving up your favorite soft serve flavors and Hershey hard ice cream on the North end of town. Open 12-9 daily.
Not My Dad's – Soft serve, Flurries, and some local Purity hard ice cream flavors! Open 11-10 daily.
Family-Style
Little Venice – An Italian family diner style restaurant serving up some well-known pasta dishes, pizza, with a salad bar. You can also catch sporting events on TV in the bar area. A good place for comfort food – Italian style.
Falls Tavern – An American family diner style restaurant across from Not My Dad's. Family owned and operated serving breakfast, lunch, and dinner with a wide selection of classic American dishes. And daily homemade desserts!