School has started, the weather has begun to cool down, and the first touch of color kisses the
leaves… at this point, those in Upstate New York (and anywhere else with four distinct seasons) are starting to look toward fall!  And what is every child's favorite fall holiday?  Why Halloween of course!  But it isn't just for the kids… adults also like to experience the thrill of a good scare…
If you are one of these people, why not consider a visit to one of the area's haunted attraction, whether man-made or of another dimension?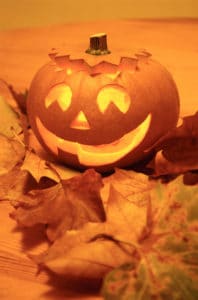 Here in Trumansburg, many of our area homes dating back to the 1800s have plenty of legend and lore surrounding them… including sightings that have been claimed over the years!  Sadly for the more sporting guests the Inn at Gothic Eves does not have such stories to boast.  Personally, I am rather happy about this, as I much prefer to take care of expected guests with reservations, and not surprise-appearance guests from the far, far past!  Having said that, I AM a fan of Halloween and highly recommend Americana Winery's epic Halloween Party, located just 5 minutes from the Inn!
Americana Vineyards' 11th Annual "Hallowine Spooktacular": October 26, 2013 from 8:00 p.m. until midnight.  They do it right with one very large and outrageous party, complete with tents, an open (and decorated) barn, with the wine-tasting room and restaurant open for business.  Attendees are encouraged to dress to the nines in costumes to support each year's theme!  This year's theme is Gatsby (as in "The Great Gatsby")… so you'll probably see a lot of suits, tuxedos, and dresses in Roaring 20's style!  Of course, you MAY also see zombie Myrtle, Gatsbys, and Nicks; yellow car costumes; and green lights…. or maybe not.  You never know WHAT guests will come up with for costumes! 
The Hallowine Spooktacular is a highly-popular event, and attendance is limited to 400 people.  If you are interested in attending, call the winery at 1-888-600-8067 to RSVP!  Please note that there is a $15 cover charge to help allay the costs of the party itself.
Area Haunted Locations
Whether or not you are a believer in the things that go bump in the night, the many ghostly and unexplained sightings in the Finger Lakes happen to be in locations that are both interesting and/or historic locations, and are easy to visit during your bed and breakfast stay at the Inn at Gothic Eves.
So you've probably heard of Nessie, or the Loch Ness Monster, in Scotland.  But did you know that Cayuga Lake is said to have its own "monsters"?  Supposedly, TWO serpentine creatures have been seen over the years/decades.  Both possess serpentine bodies that are 12-35 feet in length, .  Both Cayuga Katie (last reported to be seen more than 30 years ago) and Old Greeny (last reported sighting in 2009) have been seen in these waters.  With a depth of over 400 feet, it's no wonder that researchers have found it difficult to prove that these creatures exist.  Could they be one and the same?  Only time will tell.  Why not bring your binoculars and see if you can spot them for yourself?
Once a private residence, the Seneca Falls Historical Society is the site of three separate hauntings.  Edward Mynderse built the house and is said to have started haunting the location when the next owner made significant changes to the exterior.  Crying on the home's back staircase is said to be that of an Irish girl who died while staying with the third family on the premises – the Beckers.  Also related to the Beckers is the third ghost – their nanny, who is said to still haunt the third floor where her rooms once were.
Fatzinger Hall in Waterloo, NY is home to cold spots throughout the building, claims of unseen hands touching guests, and objects mysteriously moving without human intervention!
In nearby Geneva, you'll find the Belhurt Haunted Castle.  Another haunted castle?  Why yes.  This one happens to reside on land with Native American history: always a red flag!  Now home to a winery and spa, guests sometimes see the ghost of an Italian Opera singer on the front lawn, having died with her lover in tunnels beneath the building while trying to escape her husband, who had tracked her there.
Wells College in Aurora is one of the country's most-haunted campuses!  You may see shadows moving about the third floor of Morgan Hall at night after it has been closed.  The Main Building is said to be haunted by nurses who once served on the fourth floor during a flu outbreak.
Spooky Locations
If you are less of a 'believer' but enjoy the atmosphere of spooky surroundings, take a drive up to Willard and visit the old Willard Psychiatric Center.  With a history of questionable treatments and studies on their mentally ill patients, the entire location oozes creepiness!  While visitors are not allowed in the building itself for safety purposes, the site is creepy enough when you simply look from afar!
"Haunted" Attractions
Now then, if October simply brings the want for a thrilling tour, holiday gathering, or traditional haunted house attraction, check out these options!
Nearby Ovid offers the Terror at Toro Run haunted attraction during weekends in October and Halloween night.  Held at Toro Winery, a haunted wine trail, haunted adult village, and a hay ride provide plenty of fun for guests 18 years of age and up.
Ithaca offers Haunted History Tours & Ghostwalks.  The walk through downtown and nearby neighborhoods features a tour guide who will take you to a number of sites, where costumed actors will regale you with spooky tales of the location.  Find out who is buried under the State Theater, why a murderer still haunts Lake Cayuga's shores, what happened on Buffalo Street that will not let the area rest, and more!
Also in Ithaca, the Kingsbury Cemetery offers  both the Kingsbury Manor – Phantom Opus, and The Cabinet of Curiosities.  A freaky cast of characters and plenty of special effects are on-hand to thrill you on weekends in October and into November!
Whether you want spooky occurrences, or blatant scares, thrills and chills await at any of these locations when you come to Upstate New York in October.  Reserve your room today and we guarantee an eerily-good time!