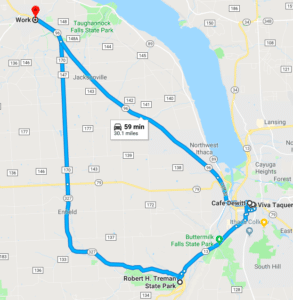 Need a day to get out and move? Be among nature for a while? Look no further.
Start your morning with a hearty breakfast at the inn featuring freshly ground Gimme coffee, local eggs and meat, and vegetables from our garden.
Set off using our Google Maps route for Robert H. Treman State Park. Have your pick of the Rim or Gorge Trail (or both!). Both trails are 2 miles each with a moderate difficulty. OR Go to Taughannock Falls State Park and do the Rim Trail, a moderate 2.5-mile journey. Both parks have a place to swim.
Hungry? Head up Route 89 to Americana Vineyards for some lunch at the Crystal Lake Café and follow it with some wine tasting. Bacchus Brewery has a tasting room downstairs for those interested in beer. OR Go to downtown Ithaca, do some shopping on the Commons and grab a margarita  (We like Mickey's or the Smoky Joint!) and lunch at Viva Taqueria. 
This is when I suggest a nap! Relax at the inn on our patio furniture or hammock. Enjoy yourself!
Feel like seeking out your own path?
Visit the Ithaca is Trails website for heaps of information about the various trail offerings in the area with an easy to use drop down menu to find your perfect trail.