Is there anything better on a hot summer day than ice cream? We think not! That's why we often suggest our Inn guests pay a visit to Cayuga Lakes Creamery in Interlaken. It's a perfect stop when you're out touring the area—and trust us, you will be happy you did!
Cayuga Lakes Creamery creates all their own ice creams and sorbets on the premises, mixing them in small batches so they can control the quality. The key is using choice ingredients, such as a 14% butterfat mix from the Upstate Farms dairy. As with the milk, many ingredients are sourced from local Finger Lakes' suppliers.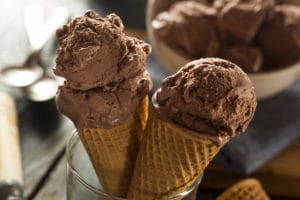 The results are yummy, but also mind-boggling. It you have trouble deciding among flavors, you'll be in for a challenge here—the Creamery has a dizzying number of choices. Along with the traditional flavors, you'll find delicious options such as Banana Nut Fudge and Black Raspberry. But what's really fun are all the unexpected and clever combinations, incorporating flavors such as lavender, maple bacon and Seneca sea salt. Summer choices might include Cantaloupe and Grape, both made with locally-grown produce. Maple Bacon mixes New York State maple syrup with caramelized bacon for a sinful delight. Fluffer Nutter combines creamy peanut butter ice cream with marshmallow swirl, and Jalapeno Popper adds a kick of pureed jalapeno peppers to cream cheese flavored ice cream, then finishes it with a raspberry habanero pepper sauce swirl. Wow! Not all flavors are available all the time, but there's always a bountiful selection.
With a setting in wine country, one of Cayuga Lakes Creamery specialties is its wine sorbets. These luscious dips feature grapes from eight local wineries and each is distinctive and super-tasty. Choices include Cobblestone Farm Winery Merlot Dark Cherry Sorbet, Goose Watch Winery Melody Lemon Sorbet and Buttonwood Grove Winery Reisling Orange Sorbet. Delicious!
If you need a birthday or special occasion cake, you'll find them here too, in six, eight and 10-inch sizes.
In addition to sweet treats, the Creamery has a café where you can order lunch from a menu that includes standard burgers, hot dogs, chicken and pork sandwiches, grilled cheese and the like. The café stresses that food is made to order, but if you're in a hurry, you can call ahead to place your order.
Cayuga Lakes Creamery
8421 Route 89, Interlaken
607-532-9492
Summer Hours: Monday – Sunday, 11:00 a.m. -10:00 p.m.
Spring and Fall Hours: Sunday – Thursday, 11:00 a.m. – 7:00 p.m.; Friday – Saturday, 11:00 a.m. – 8:00 p.m.
Winter Hours: Thursday – Monday, 11:00 a.m. – 7:00 p.m.
Cayuga Lakes Creamery is just a 10-minute drive from the Inn (we've tested it many times!). Come stay with us for a visit, and we'll point out all the other wonderful not-to-miss stops in the area too!