Frédéric R. Bouché was born to be a winemaker. After all, he comes from a long line of winemakers, going back to his great, great grandfather in Bordeaux, France. Fortunately for all of us wine lovers, Frédéric moved to Ithaca, and established his Ports of New York urban winery here.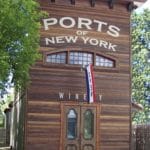 Port-style wine is ideal for an area such as ours, where cool weather makes you want to cozy up by the fire with a warming drink. Port is a fortified wine, and like with most wines, there is an art in how it's made. At Ports of New York, the method begins with Cabernet Franc, Merlot and Muscat Ottonel grapes, most of which are grown on Seneca Lake. During fermentation a grape spirit—something such as brandy—is added, which stops the process. The wines are then aged; Bouché ages his for at least four years to develop the distinct flavors. Mostly 17 percent alcohol with 8 percent residual sugar, Ports of New York varieties are neither sweet nor dry.
Red Meleau is a velvety and bold sip. It's a great aperitif with strong cheeses and charcouterie or post dinner with chocolates and dried fruits. White Meleau, which was a 2015 medal winner at the San Francisco Wine competition, has an elegant taste with a full body. Sipped with pate or fresh fruit and cheese, it's a delight. And of course both would make a perfect nightcap back at the Inn!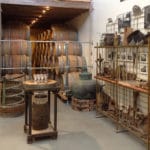 You can take a tour of Ports of New York winery and enjoy tastings as well as visit its Museum which has a wonderful collection of photographs dating back to 1920's France. Images before and after D-Day, tools of the trade and distilling and smuggling artifacts are also on display.
Ports of New York
815 Taber Street, Ithaca
607-220-6317
Tuesday – Saturday, 12:00 p.m. – 6:00 p.m.
Tastings, $3/person
Winery tours and tastings, $5/person
Sipping port under the stars is a near perfect way to end a day, and we can't think of a better place to do that than on the patio at the Inn. Why not give us a call and plan a visit soon!