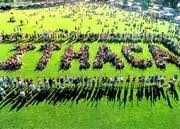 The Ithaca Festival celebrates the departure of students from Cornell University and Ithaca College. Over 30,000 people attend the four day festival. The Festival was established in 1977; it was originally named "Celebration Ithaca." A colorful parade began the festival from Cayuga Street to Lewis Street to Dewitt Park. On Friday and Saturday, the festival took place on the Commons, a closed off street filled in with pavers. The festival moved on Sunday to Stewart Park that is adjacent to Cayuga Lake. The parade had a multitude of costumed people and floats. Local businesses were represented, such as the Bed and Breakfast of Greater Ithaca, of which I am a member. I have attended many festivals in the past and have enjoyed them. We are not as eccentric as some groups like the He-man chain saws. It is a group of men with chain saws revving their chainsaws in a coordinated way to play music. The other one, which is my favorite entry is the Volvo ballet. Volvos were the most popular cars in Ithaca at one point. Since then, the Subaru has taken that spot and they also have a ballet with the mini cooper group. These cars are dressed up in tutus and they move gracefully down the street. Don't forget the Suffer Jets, our very own rollerblade team performing on rollerblades.Originally an arts festival, the music, crafts, and art are still here today. This year there was an Open Air Art exhibit that featured local artists creating art on Saturday. People were able to talk and watch the artists directly. There was more art in stores and various stalls on the Commons. This event gave the attendees an opportunity to get to know local artists.
Over 1,000 musicians, entertainers, and ensembles performed during the Festival. There were many music genres represented: Zydeco, rock, punk, Irish, country, classical, folk, jazz, Latin, and more. Locals came to support their favorite bands, such as Radio The Ape. Dance and karate groups provided entertainment as well. The musicians performed in various pavilions, stages, the CSMA building, and an amphitheater.
A Midsummer Nights Dream themed masquerade ball was held this year for the first time and the Sim Redmond Band performed there. The costume party took place in the Ithaca Farmers' Market. Tickets were priced at $15 for a fun night of dance and celebration. I wish I had been able to attend the masquerade. Our guests attended when they stayed in our Bed and Breakfast nearby Ithaca, NY.
The Spring Craft Show was held in downtown Ithaca NY Friday and Saturday and in Stewart Park on Sunday. Over a hundred artisans and craftspeople attended the craft show. The craftspeople were not only locals and represented a wide diversity of trades and regions. Ceramics, jewelry, art, photography, and more items were on exhibition and/or for sale.
The food is one of the main attractions at Ithaca Festival. There were many choices of food and stands on the Commons. Burritos were offered at different stands. One of the more popular stands was the Fry Bread stand. You could get original fry bread that was fried dough with powdered sugar. You could also get fried dough with strawberries and whipped cream. The food is freshly made and very delicious with fresh cold lemonade.
The Ithaca Festival, Ithaca NY is a dynamic and enjoyable experience. It starts every year the first Thursday following Memorial Day Weekend. The food, art, and music contributed to the atmosphere of fun and merriment. It is an Ithacan experience that should not be missed.
Innkeeper Rose Hilbert
POB 95, 112 E. Main St.
Trumansburg, NY 14886
info@f67.62d.myftpupload.com
www.gothiceves.com
1-800-387-7712
607-387-6033