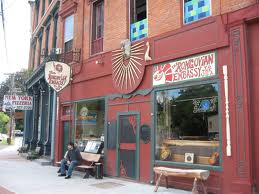 Note: The Rongo is now Garrett's Brewing Company opening Fall 2018. We are excited to check out this new brewery right in Trumansburg! 
One of my favorite places in Trumansburg NY nearby Ithaca NY is the Rongovian Embassy to the USA, known to the locals as the Rongo. It was one reason why Roman and I settled in the Finger Lakes region of NY, the Rongo is in walking distance from our Bed and Breakfast nearby Ithaca NY. We thought when we got old, we could use our walkers, roll up the street, have a beer and listen to music in the evening. I guess we think ahead when it comes to entertainment. It is located in Trumansburg nearby Ithaca NY, and was founded in 1973 as a bar/music venue. In the 1970's and 80's Savoy Brown, Orleans, Hot Sweets, and Duke Robillard were musicians and bands that you could find playing in the evenings. The Rongovian Embassy has had many owners, but the atmosphere has stayed the same throughout the years. It was originally well known for the amount and diversity of the beers, drinks, and names of the drinks that were served. There were 50-60 beers available – most of them were imported. The Rongo has a friendly close-knit atmosphere. It is located on 1 West Main Street. It is in the heart of Trumansburg and is surrounded by other shops and restaurants.
That is the story you find on the website but the story I heard once was that the Rongovian Embassy to the USA was opened for the purpose of providing a place for Vietnam Vets to hang out with each. The Vets were not greeted with arms open when they came back from the war and the Embassy was a safe haven for them. The part of the name, Rongovian, is shortened to the Rongo, which could be said like the Wrong Go!, a political statement to our presence and role in Vietnam. Many residents did not patronize the establishment for this reason in the past but this is not the case anymore.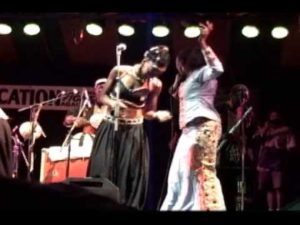 The kitchen is open for food from Tuesday to Saturday from 11:30-9 p.m. I particularly enjoy their delicious hamburgers but the menu is not the reason to go to the Rongo. Its the music and the community.
Musicians come from all over to perform at the Rongo. Independent and local bands are predominantly featured there. An eclectic style of music is the best way to describe what one might listen to when visiting the Rongo. Country, Folk, blues, Middle Eastern, and rock music are some of the genres of the upcoming groups to play at the Rongo. Bands perform primarily original works, as well as covers. If you do not like a type of music one night, you can return later that week and will most likely find a band that you do enjoy.
Innkeeper Rose Hilbert
POB 95, 112 E. Main St.
Trumansburg, NY, 14886
info@f67.62d.myftpupload.com
www.gothiceves.com
1-800-387-7712
607-387-6033