By Land or By Sea
Okay, in this case, it's by land or by lake but it works! Looking for a good wine tour when you visit the Finger Lakes?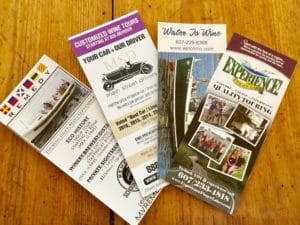 Here is a list of our favorite ones! Each one offers something different so it's up to you and what your style is.
Tour by Boat
We suggest either Water To Wine or Schooner Excursions, Inc for a water-based adventure. Water To Wine takes place on Cayuga Lake (more sweet varieties) while the Schooner Excursions is on Seneca Lake (on the drier side of life). Both offer private charter or go and make some new friends! The "True Love" (seen in the classic film High Society with Bing Crosby, Grace Kelly, and Frank Sinatra) is one of Schooner's entourage. Water To Wine is run by a great group of people that believe in a quality experience.
Your Car
Main Street Drivers is a company with services all over the US giving you the flexibility of choosing your path and being safe while doing so. Their mantra is "Your car + Our driver". A more affordable alternative to a typical car or limo service using the comfort of your vehicle.
Group Tour
Experience! the Finger Lakes offers a wide range of choices for area touring! Seriously – so many choices! Including tours of all three wine trails (Seneca, Cayuga & Keuka) cultural & food tours of Ithaca, falls tours, and more! An easy way to pick a tour is to check their availability calendar for the dates you are staying and pick your favorite. They sell out quickly so if you're interested make sure to book it ahead of time.
Private Group Tour
We highly recommend Quality Wine Tours if you are looking for a private experience with expert guides. An alternative to Experience! The Finger Lakes because it will be just your people. They have a variety of sized vehicles to accommodate 2-12 people. 
What About the Breweries? 
Schooner Excursions also offers a "Sails & Ales" journey on Tuesdays through September 4th bringing aboard the "True Love"  a local brewery each week.
Additionally, the Finger Lakes Beer Trail gives a list of their recommendations for tour services in the area. The knowledge of our local beer trail is still budding so it's exciting to see it grow. Trumansburg has its own brewery – Garrett's Brewing Company – located in the former home of the Rongo, a local watering hole. We are excited to have them in our local business circle!
Or for a DIY approach to wine tours look at our blog with a recommended wine day itinerary.