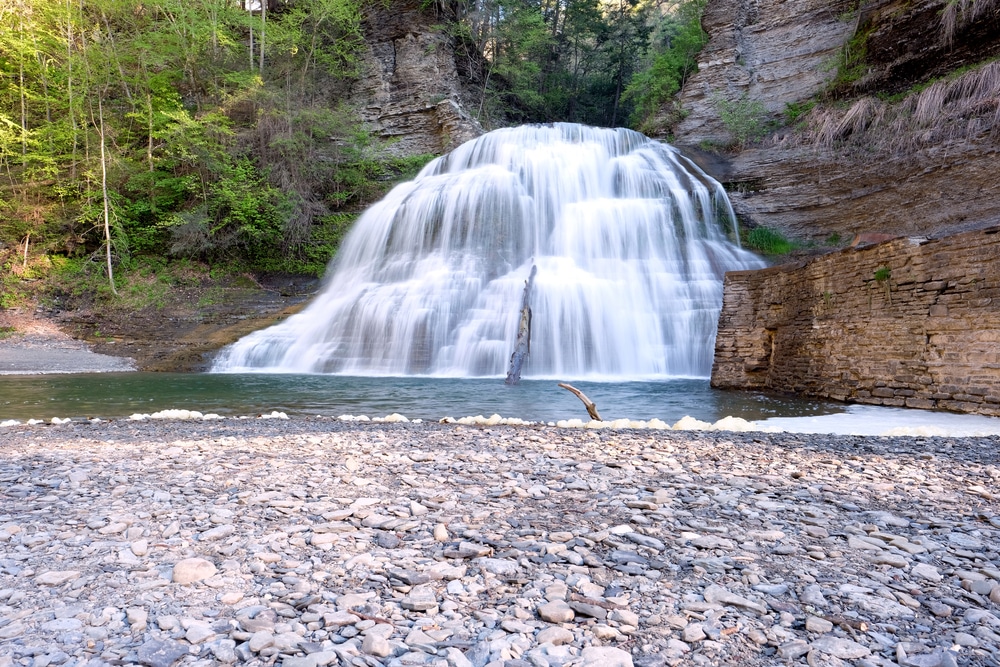 From stunning waterfalls and rocky gorges to well-known landmarks and beautiful hiking trails, Robert Treman State Park is a lovely place to head for a day outdoors—especially as the sunny season returns. You can't visit this State Park in the Finger Lakes without hearing about Enfield Glen, the narrow gorge with a series of waterfalls, and the 115-foot standout, Lucifer Falls. After just a few minutes of exploring Robert Treman State Park, you'll see why it holds the number two spot for best things to do in Ithaca on TripAdvisor. 
The Finger Lakes Region is known for its interesting rock formations, lakes, rivers, and waterfalls. And you'll find all of this at Robert Treman State Park, making it such a perfect place to get a great view of the rugged wilderness in this area. Some previous visitors note that this space almost feels like two different parks, with the upper area with more hiking opportunities and the lower area for swimming, picnic tables, and relaxing. Robert Treman State Park is only 20 minutes from our Bed and Breakfast in the Finger Lakes, making it the ideal destination for a quick scenic drive. 
As a guest at Inn at Gothic Eves—one of the best bed and breakfasts in the Finger Lakes —you'll have the perfect place to call your home base. Spend your days exploring the nearby state parks, waterfalls, Finger Lakes wineries, and fantastic restaurants, then return to your luxurious guest room to kick back, relax, and soak up our serene and peaceful lodging property. Additionally, we'll take care of your morning meal (included with your room rate), a delicious spread with seasonal menus and local ingredients. Start planning your next adventure to the Finger Lakes and reserve your room today!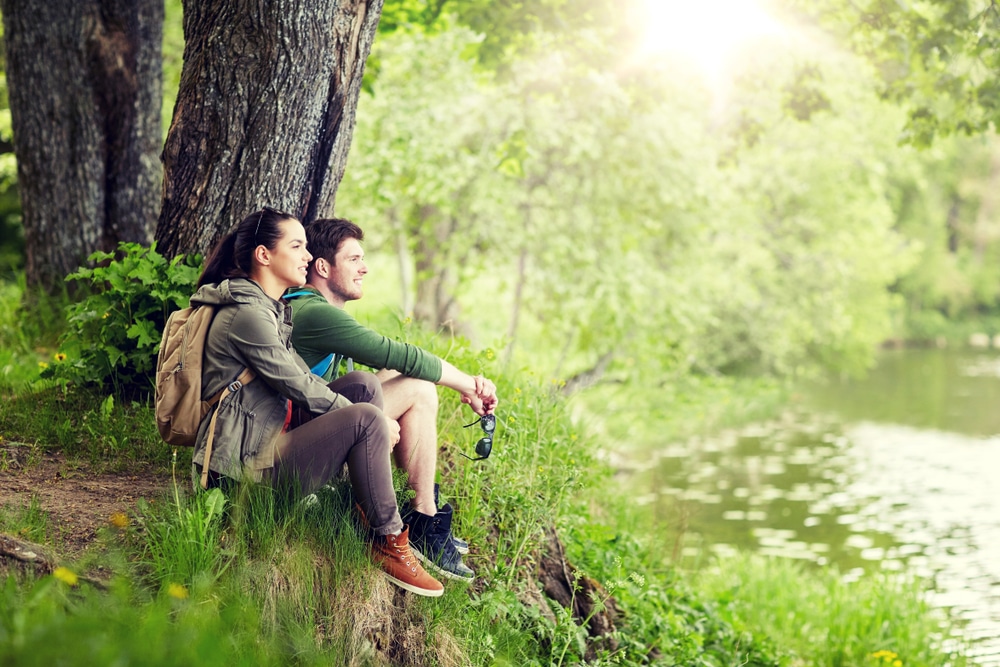 Best Things to do at Robert Treman State Park
As a guest at our Bed and Breakfast in the Finger Lakes, you'll be in the ideal location to explore the nearby state parks. One of the closest is Taughannock State Park (only five minutes) which is home to one of the most stunning waterfalls in the region. At Robert Treman State Park you'll encounter 12 of these cascading beauties, so it's also a great stop to add to your itinerary.
For a full list of some of our favorite waterfalls in the Finger Lakes, check out this selection near our B&B. "Waterfalling" has become a popular pastime!
Here's what to expect at Robert Treman State Park near Ithaca:
Robert Treman State Park encompasses just over 1,100 acres of land in the Finger Lake region near Ithaca. The land was owned by its namesake Robert H. Treman who was key in planting over 1,000 trees. He and his wife donated the land to New York State in 1920.
Enfield Glen runs through the heart of the park. This scenic gorge is often considered the highlight of a visit here. The gorge and waterfalls were formed by retreating glaciers more than 10,000 years ago. Erosion continues to change the course of the river and the rocky face of the gorges.
There are nine miles of hiking trails throughout Robert Treman State Park, including trails that wind along the bottom of the gorge. As you make your way along the gorge trail, you'll pass 12 different waterfalls, including the iconic 115-foot-tall Lucifer Falls. Don't forget to grab a photo from the cliff staircase!
Swimming in the stream-fed pools beneath the waterfalls is a popular pastime at the park, especially in the heat of summer. There's a diving board! Which is a great spot for photos, as well. You can wade into the clear waters and feel the spray of the lower falls misting through the air. Swimming is allowed in lifeguarded areas only.
The surrounding forest of Robert Treman State Park is mostly made up of Hemlocks and other hardwood trees, such as sugar and red maple, yellow and black birch, red oak, white pine, black cherry, and basswood. As you can imagine, this tree combination makes for some absolutely beautiful fall foliage in Autumn.
These forests are also a great spot for birdwatching. Species common to this area are wild turkeys, warblers, Eastern Bluebirds, pileated woodpeckers, Scarlet Tanagers, and owl species.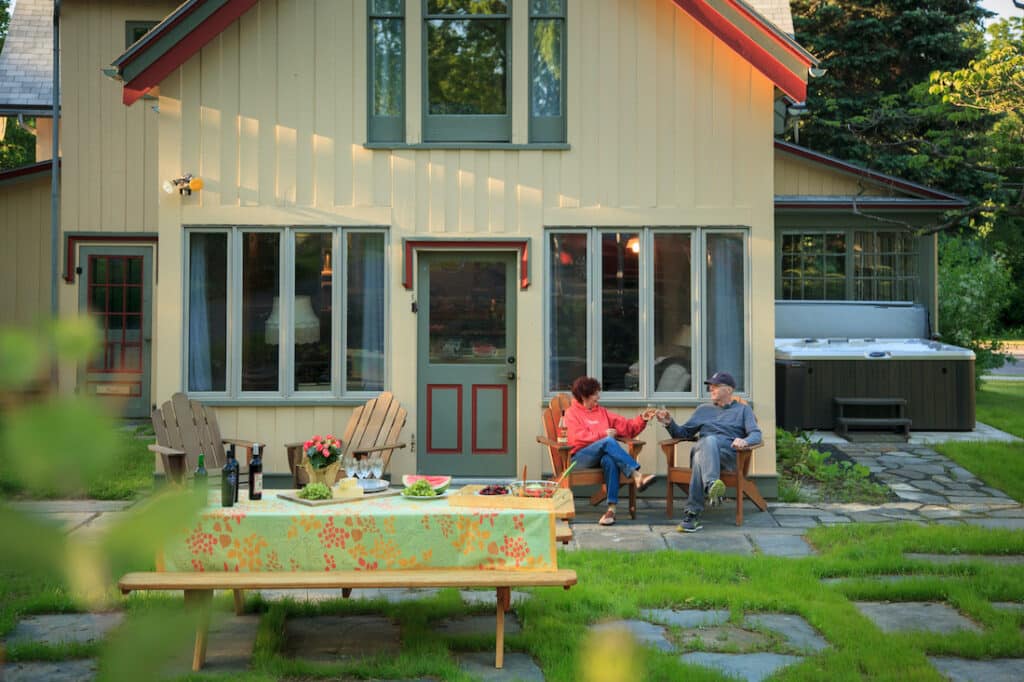 Join us at the Best Bed and Breakfast in the Finger Lakes
Though campsites are available at most parks in our area, including Robert Treman State Park, our Bed and Breakfast in the Finger Lakes offers a far more comfortable and luxurious space for you to stay. You can spend your days out in the Finger Lakes region's rugged wilderness but return to heaven on earth for the evening. With only eight impeccable guest rooms, beautiful garden grounds, and spacious shared areas, you'll find plenty of places to unwind in style. 
Soak your tired muscles in our outdoor hot tub, book a sauna session, or retreat to your suite with large, custom-designed showers for private steams. We even have the perfect package for this "Hot! Hot! Hot!" available through April 15, 2023. Slip into your robe, open a bottle of wine, and let the calming atmosphere relax you to the core. A delicious multi-course breakfast awaits you in the dining room in the morning, made fresh and with local, seasonal ingredients whenever possible. Even from our very own herb and veggie garden during the right time of year! 
Our Bed and Breakfast in the Finger Lakes is your perfect home away from home, and you'll feel at ease from the very moment you arrive. You don't need to look any further if you're looking for the perfect summer getaway spot or couples retreat. Join us for a few days, and enjoy the view, the wine, the food, and our hospitality. It won't take long to see why the Finger Lakes is such a popular spot in Upstate NY, and you'll leave wondering when you'll get the chance to visit again. Book your room at our Bed and Breakfast in the Finger Lakes today!