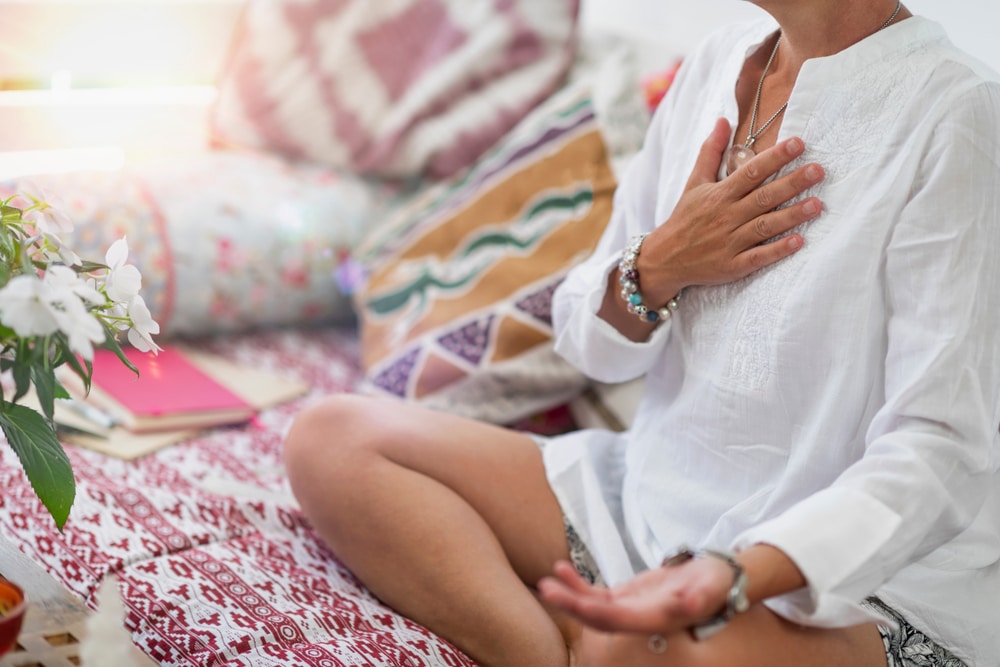 After a trying couple of years, we're all in the mode of resetting and finding our zen. One of the best ways to do just that is with a wellness retreat in New York, and our Finger Lakes Bed and Breakfast is the absolute ideal location to unwind, rejuvenate, and relax. Our luxurious space exudes an atmosphere and energy that eases stress almost instantly. Not only will you spend time in our on-site spa for treatments and healing practices, but you'll relish our garden grounds and impeccably-designed guest suites with comfortable appointments, special touches, and high-end amenities. 
Nourishing your body from the inside out is a key element to your wellness retreat in New York, and that starts each morning at our Finger Lakes Bed and Breakfast. Included in your lodging, we'll treat you to a beautiful farm-fresh breakfast. Local eggs, produce, proteins, cheeses from nearby dairy farms, and even veggies and herbs from our own garden will shine with our thoughtful preparations. We're more than happy to accommodate vegetarian and vegan diners, and as we're familiar with this cooking style, your meals will be full of flavor and creativity. 
You'll find our garden grounds are spectacular for your own practice of yoga, meditation, or low-impact exercise. And we offer a morning daily energy routine to start your day developed by Donna Eden. Inside, each of our eight guest rooms is perfect for downtime—you can spend your days working on your body and your evenings resting your mind. Take a long soak in the jetted tubs or steam in the oversized walk-in showers. Curl up by a cozy fire or in your big comfy bed with high thread count linens. You'll see there is a multitude of ways to unwind and reset at our Finger Lakes Bed and Breakfast this summer! Reserve your room today.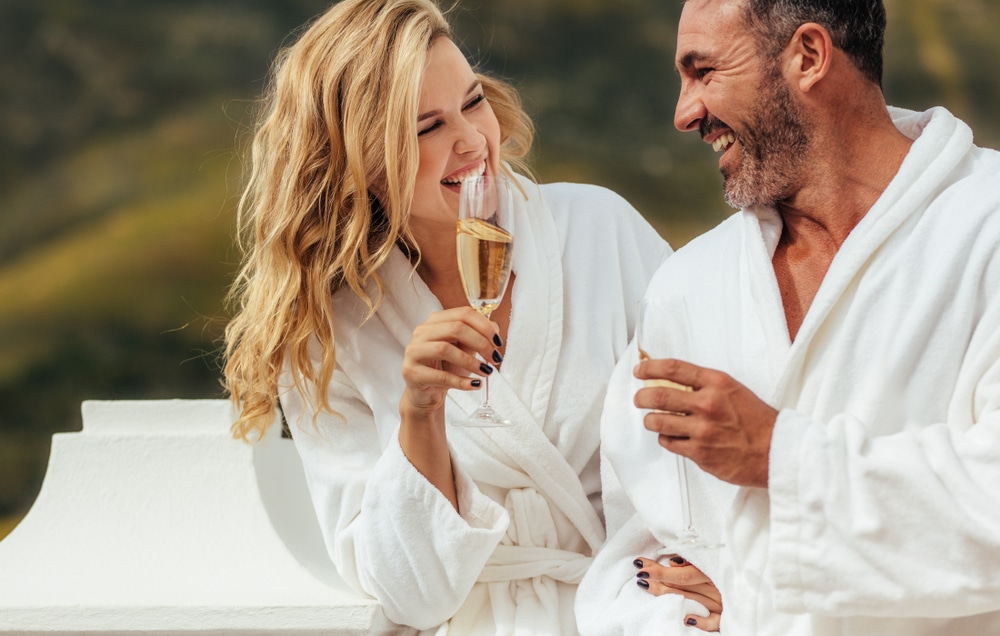 Energy Healing & Wellness Retreat in New York this Summer
If you're planning on exploring a wellness retreat in New York, Inn at Gothic Eves is a great place to start. You'll find our luxury lodging accommodations the perfect space to relax. You can spend your days in the spa, soaking in a hot tub or sauna, and experiencing healing work with one of our trained professionals. Here's what we offer at our Finger Lakes Bed and Breakfast for your wellness journey: 
It all starts with your warm and welcoming guest suite. Comfortable lodging accommodations are essential to creating a safe place to relax and unwind. Each of our eight guest rooms offers cozy beds, beautiful and fully equipped spa-like en suite baths, plush robes, and fantastic toiletries. 
Each morning of your wellness retreat in New York, we'll host morning daily energy routines to start your day developed by Donna Eden. These 20-30 minute sessions will ground you, integrate your Yin and Yang energies, and encourage your body to create space for energies to flow and other energy corrections to start your day. The start time will be at 9:30 am most mornings. Take-home instructions will be available for those who want to continue after returning home to their busy lives.
Be sure to join us before or after your practice for our scrumptious breakfast service. We provide light and healthful meals with ideal nutrients and fresh fruit and veggies to give your body the natural fuel it needs. 
The Spa at Gothic Eves is where you'll want to spend most of your time during your wellness retreat in New York. We offer traditional massage services (couples or solo), as well as facials, scrubs, and body wraps. These treatments aim to fully relax and rejuvenate you! 
Our state-of-the-art infrared sauna is the perfect place to destress. Our FIR sauna uses carbon fiber heaters that emit infrared light that the body absorbs the same way it soaks up sunlight – through the skin's surface – thereby allowing deeper tissue penetration. It's an excellent way to flush out toxins. Plan on a soak in one of our outdoor hot tubs afterward! 
Another practice you could include on your wellness retreat in New York is working with one of our energy healers. We offer crystal therapy and energy work, which can both get to the root cause of many issues of mind and body.  One-hour classes will start soon at the Spa. Where the topics may include stress and anxiety, hormone imbalances, pain reduction, meridian tracing, and many others.
Eden Energy Medicine individual appointments will also be available. Individual sessions will be addressing your personal energy system imbalances and correct them using the 9 energy systems of the body. More details on or wellness retreat in New York will be coming soon, so keep an eye on your newsletter, social media, and our blog. 
For those planning on staying for five days or more at our Finger Lakes Bed and Breakfast, we offer a fantastic package that is focused on wellness. The "Footloose and Fancy-Free" special offers guests a way to benefit from our spa services and sauna, and bundle the price with their lodging. For more details read on here.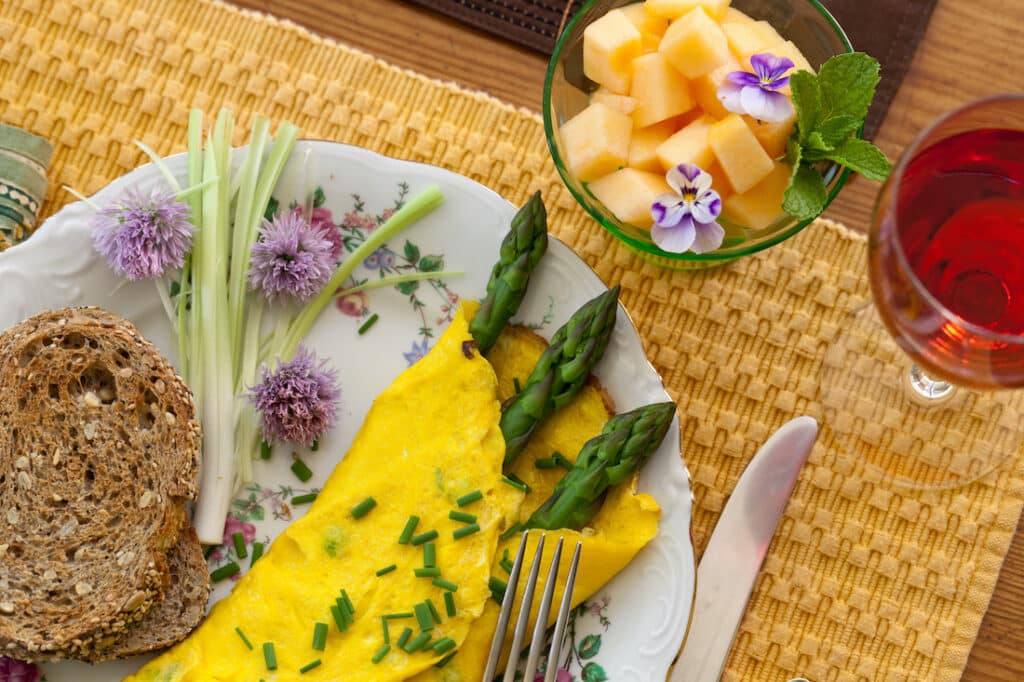 Wholesome & Healthy Meals at our Finger Lakes Bed and Breakfast
At our Finger Lakes Bed and Breakfast, we understand the importance of nourishing our bodies with clean and fresh foods. That's why each morning of your stay focused on your wellness retreat in New York will start with an organic, wholesome, and healthful meal full of fresh ingredients. Our Innkeeper frequents the nearby local farmers market in Trumansburg and Ithaca to find the freshest Finger Lakes ingredients. You'll love our savory and sweet preparations, fruit courses, and home-baked goods—the best way to start your day! 
Enjoy your morning meal in the dining room, furnished with a beautiful walnut table and upholstered chairs near the fireplace. Or join us in the newly renovated garden room with a beautiful view of the herb and flower gardens or in the coffee bar where you can watch the kitchen activities and see your breakfast prepared. Afterward, head out for a stroll on your grounds. Our landscaped property is the perfect place to enjoy the rest of your coffee or tea and plan your restful day ahead at our Finger Lakes Bed and Breakfast. 
For the latest updates on our options for your wellness retreat in New York, follow us on Facebook and Instagram. We can wait to be a part of your journey for peace within your mind, body, and soul. Book your reservation today!