Birders love the Finger Lakes Region.  No matter what time of year you visit, there are always different and interesting avian species to discover and observe.  The area's unique natural makeup of dry land and lakes is home to both waterfowl and earth-loving birds.  Our location on migratory routs of many different species makes central New York an ideal location to observe even those species that are not native to the region.  This mix of natural habitat makes this area the perfect place to find a very wide variety of birds.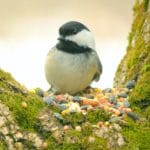 Visitors aren't the only ones to appreciate bird-watching as a hobby.  Locals have the benefit of a number of area organizations for support and information.
Nearby, the Cornell Lab of Ornithology helps spark interest in birding.  If you've ever had an interest in bird watching, study, or conservation, this is one destination you shouldn't miss.  This non-profit organization welcomes visitors throughout the week during daytime hours (M-H from 8am-5pm, F from 8am-4pm, Sa from 9:30am-4pm, and Su from 11am-4pm), except on special event days and holidays.  Any of ten faculty members will be on-hand to educate through a number of programs aimed at furthering both appreciation of, and scientific research of, birds.  They also offer guided bird walks throughout the warm months, with occasional special events thrown in for good measure.  Their website also contains an abundance of information, links to webcams, and instruction on birding as a hobby.
We also have two local birding organizations that you can contact for tips and trips.  The Cayuga Bird Club The Eaton Birding Society in Geneva can advise on areas to the north.
in Ithaca covers the south part of this area, and
As a small, quiet town, Trumansburg is an ideal location for birding.  Take a walk along the Trumansburg Creek for those birds that like water.  Observe from the Clubhouse at the Trumansburg Golf Club.  Even the area cemeteries provide quiet, serene places to view local birds.  Why, you could simply sit on a chair on the grounds here at the Inn at Gothic Eves and see plenty of area species!
Outside of town, there are an endless number of birding locations.  Take a ride along any of our picturesque back roads.  Head to Taughannock Falls Park to follow the Taughannock Creek or sit on the shores of Cayuga lake.  Try the Finger Lakes National Forest for a bird-watching hike.  Ithaca's Buttermilk Falls State Park is another great birding destination.  The Montezuma National Wildlife Center is another great birding destination.  Take a drive up to the Seneca Meadows Wetlands Preserve.  Of course you can always mix wine-tasting and birding at any of our area wineries.
Of course, you'll have a delicious breakfast to prepare you for your busy day of birding.  And you'll know that after a long day of watching your feathered friends, your cozy guestroom awaits you here at the Inn at Gothic Eves.  Arms and shoulders hurt from looking up and holding binoculars?  Take a soak in one of our Jacuzzi Tubs to chase away any discomfort and end your day on a perfectly relaxing note!