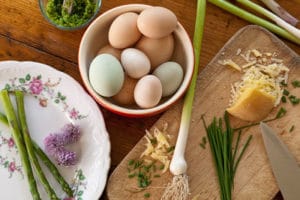 What door is open at The Inn at Gothic Eves? It's the door to the room that everyone always seems to end up in. Perhaps that's because the kitchen is a warm and welcoming place that encourages friendly conversation or maybe it's the delicious smells that waft out of it. Whatever the reason, the kitchen has always seemed to be a place where people feel at home. As an innkeeper, I always try to be responsive to my guests' needs. Since our Finger Lakes Bed and Breakfast opened, many of our visitors have made it clear that they'd like to be able to sit in the kitchen with me as I prepare breakfast. This wasn't possible with the Inn's original room design so this spring I've remodeled our kitchen. It's now a pleasurable, easily accessible place for anyone who's staying with us to relax in as the morning unfolds.
Here are a few things you'll enjoy in The Inn's new kitchen area:
• A breakfast bar where you can sit and savor your coffee while I cook the fresh and organic breakfast foods you enjoy so much. It's like having your own personal cooking show!
• Lots of windows you can watch the action in our yard from. If you're lucky you'll see birds, butterflies, and all sorts of other animal and insect life, along with our beautifully landscaped gardens.
• A conversational spot where you can learn more about the Finger Lakes Region as you get to know the other guests and your knowledgeable innkeeper.
At the Inn at Gothic Eves the kitchen door will always open for you to come in and share any ideas you have about recipes or ingredients or some of your favorite cooking tips. Once your breakfast is ready you can move to one of our two dining areas, to relish a healthy Finger Lakes-style start to your day.
Our breakfasts are served at our antique Empire walnut table by the fireplace in our dining room or in the garden room overlooking our gardens and include fruit, juice, and an entree like eggs with farm-fresh spinach and feta cheese, accompanied by locally baked breads. Our homemade jams come from our own fruit trees and I frequently incorporate edible flowers and fresh herbs as unique breakfast ingredients or to appealing garnish my dishes. Doesn't it make your mouth water just thinking about it? The best part of all is that you don't have to do a thing but relax and enjoy being waited on at your table!
Those of you who prefer a slower, more tranquil beginning to your day can have your partner bring you your coffee in bed so you can enjoy it in the privacy of your room. And, if you'd rather not eat with a group first thing in the morning, there's plenty of space to have a private breakfast. Make your reservation at our Finger Lakes Bed and Breakfast today and you can see for yourself!
Innkeeper Rose Hilbert
POB 95, 112 E. Main St.
Trumansburg, NY, 14886
info@f67.62d.myftpupload.com
1-800-387-7712, 607-387-6033