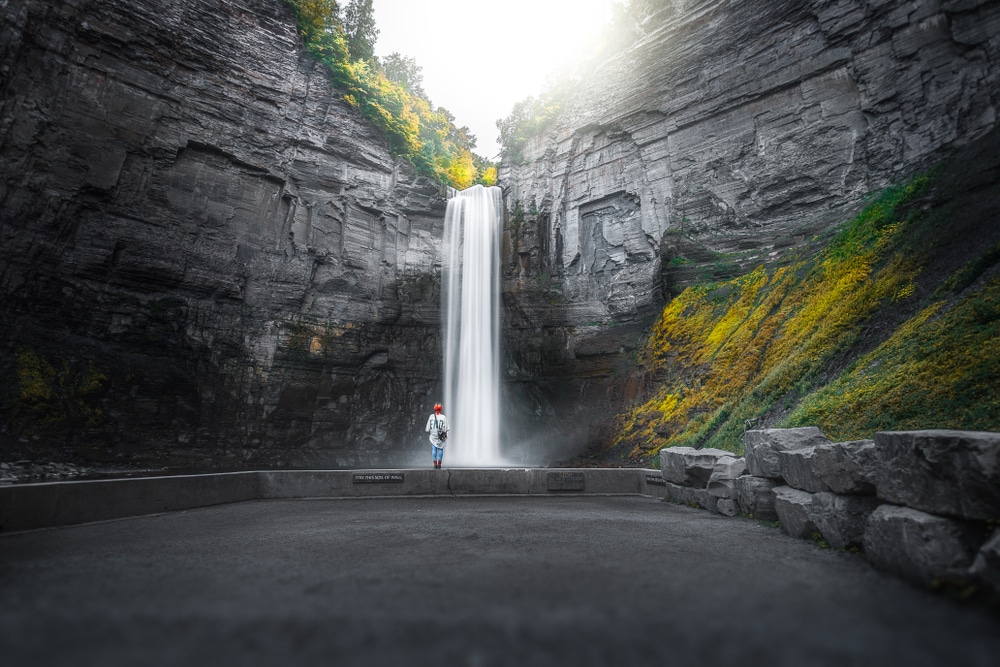 One of our area's most beautiful natural features is the collection of Finger Lakes waterfalls. This region was formed millions of years ago during the Ice Age, as glaciers receded, leaving behind stunning rocky gorges, cascading slopes, and 11 long, narrow lakes in the shape resembling the fingers of a hand. Many of these Finger Lakes waterfalls are easily accessible along hiking trails, and often along these wooded routes, you'll find more than one.
As a guest at our Trumansburg Bed and Breakfast, you'll be close to one of the most impressive Finger Lakes waterfalls: Taughannock Falls. This waterfall reaches 215-feet up a rock wall, the rushing waters cascading down into a bright green pool. It's one of the most Instagramable sights in the Finger Lakes! Taufhannock Falls State Park is a two-minute car ride or about 20 minutes by foot, making Inn at Gothic Eves the ideal place to rest your head in Upstate New York for waterfall adventures.
Get your reservation on the books and start planning your romantic Finger Lakes waterfall tour today!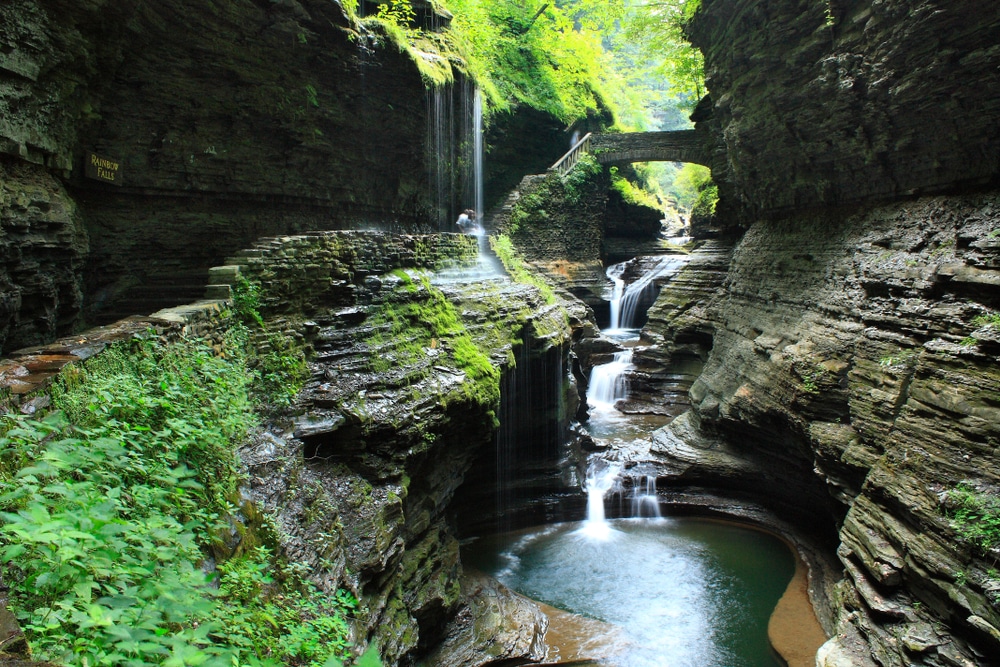 The Best Finger Lakes Waterfalls near our B&B
Taking a Finger Lakes waterfalls tour is such a lovely addition to any getaway, especially for those looking to add a little extra romance to their vacation. There's something magical about these natural water features cut into these rocky gorges, the crisp spray, and the awe-inspiring feeling that brings people closer.
Here are five Finger Lakes waterfalls to add to your itinerary:
Taughannock Falls: As a guest at our Inn, this Finger Lakes waterfall is a must-visit. People travel from far and wide to see this natural 215-foot beauty (taller than Niagra), and you'll only be a quick car ride from our B&B. Located within Taughannock Falls State Park, 400-foot rocky cliffs bookend the falls creating quite a sight.
Upper Falls at Taughannock Falls State Park: There's a second set of falls at this State Park that's well worth the view. Head up along the North Rim Trail to these 200-foot "hidden falls." This waterfall is impressive as it plunges into a deep vertical tunnel of rock that feeds the Taughannock below.
Buttermilk Falls: Located within Buttermilk Falls State Park and only about a 20-minute drive from our Inn, this falls is an easy trek from the parking lot (barely any hiking involved!) and a popular swimming and picnic spot. If you do want to get a hike in, the Gorge Trail is beautiful, with multiple other cascading falls over stunning rock formations.
Lucifer Falls: The sights at Robert H. Treman State Park are next on your waterfall itinerary. This nature area is also only about 20 minutes from our B&B. Lucifer Falls clocks in at 115-feet and can be accessed by the Rim Trail. Plan on wearing a bathing suit, as the base of the falls is a popular swimming hole.
Watkins Glen State Park: This is one of the most well-known parks for viewing Finger Lakes waterfalls. The famous Gorge Trail at Watkins Glen offers spectacular rock formations and unusual cliffs with more than 20 waterfalls hiding around corners and bends. The hike even takes visitors under waterfalls to feel the incredible cascade.
As always, allow our Innkeeper or helpful staff members to help plan your itinerary to these amazing Finger Lakes waterfalls. Let us know if you need directions or have any questions during your stay.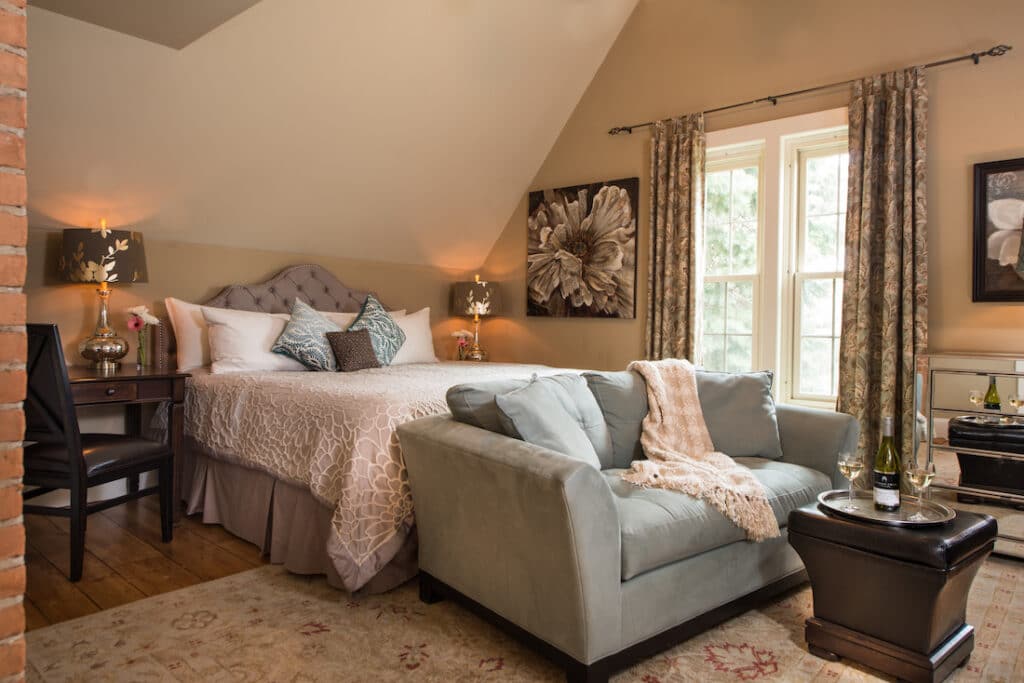 Romantic Lodging for a Lovely Getaway for Two
There's no better place to stay in Upstate New York than our Trumansburg Bed and Breakfast for a romantic getaway. Each of our eight guest suites is luxuriously appointed with beautiful high-end furniture pieces, fine linens, robes, and towels. The spa-like bathrooms are a relaxing retreat in their own right. You'll sink into our comfortable king beds each evening and feel the stress of the world melt away. In-room cozy fireplaces and seating areas are ideal for enjoying a glass of Finger Lakes wine with your special someone.
Each morning we treat all of our guests to a beautiful breakfast with seasonal recipes and ingredients (often picked right from our own veggie and herb garden.) You'll enjoy freshly squeezed juices, piping hot coffee, and lovely conversation with our staff and other guests if you so choose. During the warmer months, feel free to indulge in your morning meal on the outdoor garden patio space. We can't wait to host you for your next romantic getaway; book today!